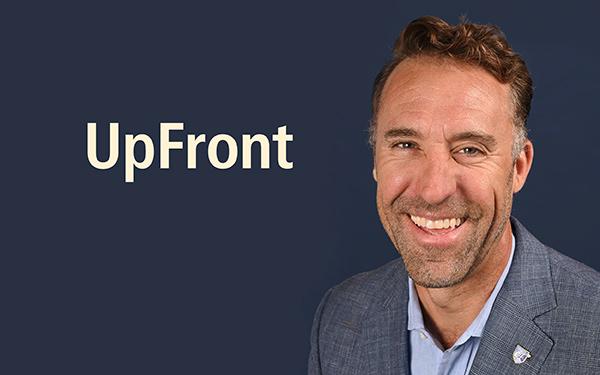 By Jeffery M. Freitas, CFT President
In early August, Luukia Smith, Lacy Barnes, and I ventured up and down the state on a three week Back-to-School, Forward Together Tour. We visited with early childhood educators, TK-12 teachers, classified workers, adult education teachers, and part-time community college faculty. We witnessed firsthand students learning in-person. We saw the incredible school communities our members have helped to build and visited campuses and classrooms to see CFT members in action.
We also listened to concerns and answered questions. Many of these were consistent across districts and divisions and reflect issues our unions have been grappling with since the onset of the pandemic. Members asked about school safety, COVID-19 protocols and mitigation measures, about supplemental sick leave and quarantine policy, about vaccines and COVID testing, and about contract tracing and infection notification. While California has made great strides with vaccinations and school safety, these are issues that require continual advocacy. CFT is committed to this work statewide and to supporting unions locally.
In addition to the anticipated questions, another issue proved to be a consistent refrain, regardless of job title, city, or district — and that was staffing. Everywhere we went, we heard that there are not enough teachers, librarians, custodians, bus drivers, faculty, counselors, and substitute teachers to serve the needs of students and school communities. Name the professional title — there are simply not enough of them.
"Safe staffing" or "staffing ratios" are terms we hear about often in healthcare, where nurses and healthcare providers have made the case for years that if a nurse is responsible for too many patients, the quality of care suffers and the overall system will fail to meet the needs of the very people it has committed to serve. In school settings, the outcome of short staffing is the same.
When there are too few teachers, class sizes grow to unmanageable sizes and students do not receive the one-on-one attention they deserve. When there are too few custodians, common spaces like bathrooms and hallways can't be cleaned frequently enough, an outcome that is unacceptable at any time, but especially during a global pandemic when cleanliness and safety are inextricably linked. Though this failure to adequately staff schools was brought into sharp relief during the statewide tour, it is nothing new. In fact, we have been talking about it for decades. The pandemic has only served to exacerbate the understaffing and it is a crisis that can no longer be ignored.
How we got here is not a mystery. First, we must acknowledge that there is an overall sense of worker unhappiness in the education profession. Education had long been considered an attractive field, one in which workers have job security, employer-paid healthcare, adequate pay, and safe working conditions. Unfortunately, there are exceptions, especially for contingent faculty and part-time support staff who are often not assured even basic worker protections and benefits.
But the years of attacks on public education and education workers have taken their toll. The work of education professionals has become increasingly stressful. A recent U.S. News and World Report study showed that, due to stress, "nearly 1 in 4 public school teachers may leave their jobs by the end of the 2020-21 school year, compared with 1 in 6 who were likely to leave prior to the coronavirus pandemic." While the pandemic has exacerbated feelings of stress and demoralization, those sentiments have been simmering for years.
However, there have been some silver linings in the past year. Governor Newsom recognized the critical role that educators and classified professionals play in our communities by prioritizing them in the early vaccine roll-out. And our members responded! The CFT learned in a poll taken in early September that 89% of members are now vaccinated, an incredibly high number for any professional category.
When treated with respect and recognized for their central role in our communities, education professionals are willing to step up to keep those communities safe and protected. The governor also signaled his recognition of education workers in the state budget by providing a super-COLA (cost-of-living adjustment) of about 5% for all public institutions.
These are positive steps, but not enough to turn the tide on the trend of worker dissatisfaction. Local union leaders know what is needed in their districts and must be listened to by state and local leaders. I had this experience when I was a local union president in Carpinteria and the state implemented a 20-1 student-to-teacher ratio, a 10% COLA, and helped create a strong Peer Assistance and Review program that prioritized mutual trust. I know that many of you have led your locals to similar victories. The CFT is lucky to count amongst its ranks members and leaders who know how to fight for and win gains for members. Work togethering, we can lead the way out of this crisis of staffing and low morale.
One way to address staffing issues is to take advantage of the state's recent investment in community schools. The concept of community schools is based on four pillars: 1) integrated student supports, 2) expanded learning time and opportunities, 3) family and community engagement, and 4) collaborative leadership and practices. Many teachers and classified professionals are already doing this, albeit on an ad hoc and unfunded basis, adding even more stress given the low staffing levels.
When community schools are successfully implemented, they can offer much-needed student supports like counseling, physical and mental healthcare, nutrition, transportation, and restorative justice. Creating space for these programs and staffing them appropriately, creates a healthier school community. Community schools can provide an opportunity to combine student support with fair wages and benefits for education workers to address the understaffing and overtaxing of our schools.
Political and community leaders have demonstrated their willingness to work with us, but we have to show them the way. We need smaller class sizes and caseloads so we can reach every child and give each one the attention they deserve; we need healthcare for part-time workers even if they work across multiple districts; we need salaries and benefits that allow us to live in the areas in which we work; and we must be given the opportunity to be a meaningful part of the decision-making in the educational systems to which we have dedicated our livelihoods.
Our multi-week tour around the state was inspirational. It gave Luukia, Lacy, and me an opportunity to see in real time how hard our members work and how much they stretch themselves for their students. From health and wellness centers, to ecological projects like a fish hatchery and a natural history museum, to a state-of-the-art culinary lab, the programs members have built with and for their students are truly incredible.
With more resources — and especially more staff — our members can bolster these excellent programs and help students grow into new and exciting areas of exploration and discovery. We have started to emerge from this pandemic; but it has shone a light on issues that can no longer be ignored — the staffing crisis being chief among them. Now is the time to turn this crisis on its head. Now is the time to join together and demand more for our members, for our students, and for our schools.