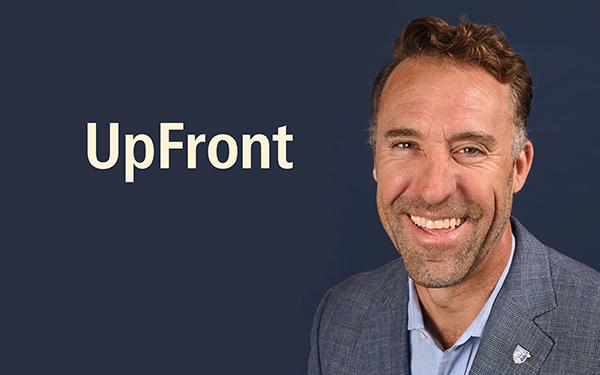 By Jeffery M. Freitas, CFT President
The last year and a half of my communications with you have told the story of the COVID-19 pandemic, our union's early responses to the changes wrought by the virus, our diligence in keeping school communities healthy and safe, and the first glimmers of hope as vaccines became available and community spread began to decline.
I hope this will be my last column devotes significant words to the effects of this global pandemic and what it has meant for CFT members and public education. There has been much loss. We have learned a lot about ourselves, our students, education systems, and communities. And we are ready to exit the COVID era. In many ways, it feels like the pandemic is "over." While that is almost true, and the light at the end of the tunnel gets brighter every day, diligence is still the watchword. As we proceed — safely and collectively — there are some challenges remaining, and some opportunities to seize.
More and more of the population is getting vaccinated. The vast majority of CFT members who wanted a vaccine have received one, in large part because our union asked Governor Newsom to prioritize education workers. Now teens aged 12-15 can get the Pfizer vaccine, and the CDC has indicated children ages 2-11 will have access by this fall. The speed at which vaccines became available has been simply amazing and instilled new confidence that re-opening our schools for in-person instruction will have the critical safety measure in place — vaccinated people. To move beyond the COVID era, we must act in a spirit of mutual responsibility and work to ensure that everyone who is eligible to get a vaccine receives one. This is a commitment we can and must make to one another.
We also have to maintain additional mitigation strategies. We must ensure COVID testing is available for all members of our school communities, especially for those not yet eligible for vaccination. Masks will still be important for indoor settings with large numbers of unvaccinated students. Cleaning and disinfection protocols and proper ventilation will be necessary for school facilities to remain safe for educators, classified staff, and students.
Luckily, state revenue increased during the pandemic year, which provides us an opportunity to fight for measures that will make schools safer, more welcoming, and better equipped to help students learn. Given the surplus revenue, we must demand smaller class sizes, more bus runs, more custodial employees for more frequent regular cleaning and deep cleaning. This is our opportunity to re-emphasize the socio-emotional health of students and staff through a resurgent focus on the arts, music, and physical activity. The additional funding Governor Newsom has proposed in his 2021-22 budget provides an opportunity to ensure a fully staffed complement of nurses and counselors.
For higher education, there is an opportunity to fund our systems at an all-time high level to maintain the quality education California is known for. We are in a strong position to bargain for long sought benefits such as employer-paid healthcare and pay parity for part-time faculty. With this additional funding there is no reason not to provide return rights for lecturers at the University of California. And given the immense expansion of distance education provided by our community colleges during the pandemic, the state must finally eliminate the failed experiment that is Calbright College and redirect those resources to local communities better equipped to serve the students for which Calbright was designed — but ultimately failed to help.
We have an opportunity to use now familiar online tools to try new practices in our TK-12 system. There is no doubt the best education is in-person. The social interaction, behavioral learning, and tactile-sensory skill building are all a part of what occurs from early childhood education through higher education, and those in-person modes cannot be replaced. But there are some students, especially in high school, who excelled in this remote learning environment, and we have an opportunity to help this small population continue to learn in a way that supports them and their families. We have new ways to meet with parents and students outside of the classroom, allowing for better communication with families while eliminating barriers of time and distance. In higher education, hybrid teaching may continue to be appropriate and lead to less freeway flying and more learning time.
At the CFT, we also faced challenges and are looking ahead to additional opportunities. We all adapted to running our unions virtually as a way to provide information and discuss ideas. We learned how to expand the virtual world and provide you essential information through webinars, telephone conference calls, Zoom town halls, virtual conferences, and even a very successful virtual Convention. We did all these things virtually to make sure we were listening to you and communicating up-to-the-minute information.
Yet this past year highlighted the inequities we know exist in California schools and communities, especially when it comes to racial and socio-economic disparities. Communities of color and poorer communities were hardest hit by COVID and will require serious attention as they recover not only from the pandemic but years of oppression and disinvestment. The new state budget has a goal of committing dollars to these communities, and it is our role as education professionals and community leaders to ensure they are spent where they are most needed.
The CFT is deeply committed, now more than ever, to continue its focus on social and racial justice work, calling out hate and creating safe spaces, both in person and virtually. As we step into a new future, we cannot leave the lessons learned during the pandemic behind. We must take this opportunity to shape a more just and equitable future.
As summer approaches, we also have the opportunity to take time to relax, catch our collective breath, and recharge our batteries for the coming school year. This year has undoubtedly been the hardest, professionally and personally, for many of us. CFT members have worked tirelessly to keep their school communities together — to show up for students and parents, to deliver meals and learning equipment, to check in with their own colleagues, and to balance many modes of instruction. You have earned your time to rest, and I sincerely hope each and every one of you takes time to connect with friends and family and that you have some down time before the new school year begins.
So, please, let's come back in the fall ready to meet the challenges and embrace the opportunities of the year awaiting us, a year that is sure to be exciting and invigorating, one that will renew our purpose and remind us why we chose to work in education. Let's move forward together and renew our collective effort to provide a better future for all students through the education systems we support.