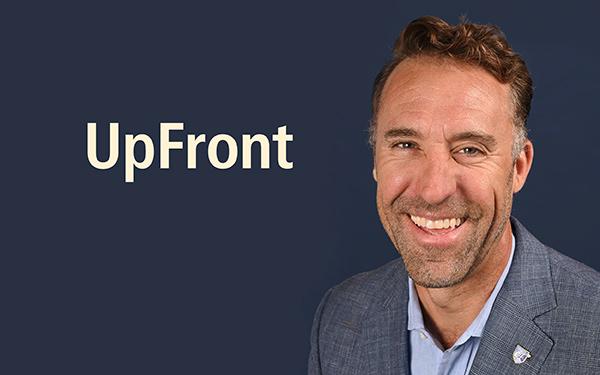 By Jeffery M. Freitas, CFT President
As I reflect upon the year that is reaching its end, the shock of all we have endured these past many months hits me anew. When we started this year, I felt hopeful with many opportunities for success and change.
I could see an end to Trump's disastrous presidency and the possibility of progressive change up and down the ballot; I could see promise of a state budget that would address many of the most enduring challenges for our communities, homelessness chief among them; and I could see educator-driven improvements for our schools and colleges. All of these changes would support the work our members do every day to provide California's students with the finest education.
But early on, the year dealt us adversity we never could have anticipated. Like so many of you, I have been utterly exhausted by 2020 and am ready for that ball to drop in Times Square, even though no one may be there.
Before looking forward, I want to acknowledge the immense challenges and endless hurdles we encountered in 2020. It proved to be a dark year for racial justice. We bore witness to the murder and brutalization of innocent Black people in the streets and in their homes. The atrocities on our country's southern border have continued with news of ongoing separation of migrant children from their families. The election highlighted incidents of voter suppression and disenfranchisement, and the current president continues to lie about voter fraud and election outcome, even after states have certified their votes and we near the inauguration of President-elect Biden. And lest I forget, the unprecedented event that derailed our country and much of the world: the pandemic.
COVID-19 has caused more than 300,000 deaths in the United States, the shuttering of schools for in-person instruction, and a split economy, in which the wealthy seem to be thriving, the middle class has felt remarkable pain, and the working class and the poor have been hammered into deeper poverty.
And yet despite these difficulties, I am once again greeting the new year with hope and looking forward to all we will do together in 2021. There are brighter days ahead.
Most importantly, a vaccine — possibly several vaccines — for COVID-19 are on the horizon. Once our frontline medical workers have received it, teachers and classified professionals will be next in line. When it is my turn, I am ready to stand with you, roll up my sleeve, and take the jab so that we can get to work for our school communities.
At a recent AFT virtual townhall, seasoned professionals from the CDC, the FDA, and the American Medical Association expressed confidence that medical professionals and the health and safety community are working together to bring us the most effective and safe vaccine in the shortest amount of time. With so much medical research underway and the Biden-Harris administration taking the helm in January, I believe we are close to seeing real relief from this pandemic and the disruption and isolation it has brought.
The new administration shows strong intent to select talented and experienced individuals for the most important posts in our federal government. California's own Xavier Becerra has been tapped to be the Secretary of Health and Human Services, and the list of possible candidates for Secretary of Education — including our own AFT President Randi Weingarten — demonstrate that Biden is committed to replacing Betsy DeVos with a qualified advocate for public education. Once again, our nation will have leaders who believe in serving the American people.
Even with a vaccine, we know it will take time to build immunity within the population and there will be a period when we continue to wear masks and social distance. But the promise of immunity gives us cause to start making solid plans to cautiously and carefully reopen schools for in-person instruction.
In the CFT, we will focus on and fight for the safest way to reopen schools for in-person learning while vaccine distribution begins. We will work with state and local governments to ensure the vaccine gets to those who need it most with an eye towards equity and fairness; no one should get it simply because they can pay more or "skip the line" ahead of essential workers and those with the greatest need. Before and during the distribution, we will continue to demand that appropriate safety precautions are being taken to protect our students and education communities.
We know the pandemic recovery and the long-term health of public education demand that we identify more sources of revenue. Therefore, we will continue our focus on a progressive taxation policy that asks billionaires and wealthy corporations to pay their fair share so that our schools and communities can be funded in the way they deserve.
Knowing these opportunities lie ahead, I am excited about the work we will do together as educators and as unionists to emerge from the disastrous year known as 2020. We can envision and build the future. With a plan and a road map to achieve equity, justice, and shared prosperity, we can improve our lives and those of our students and community members. I am honored to walk this road alongside you and look forward with hope for all we will accomplish together in 2021 and beyond.