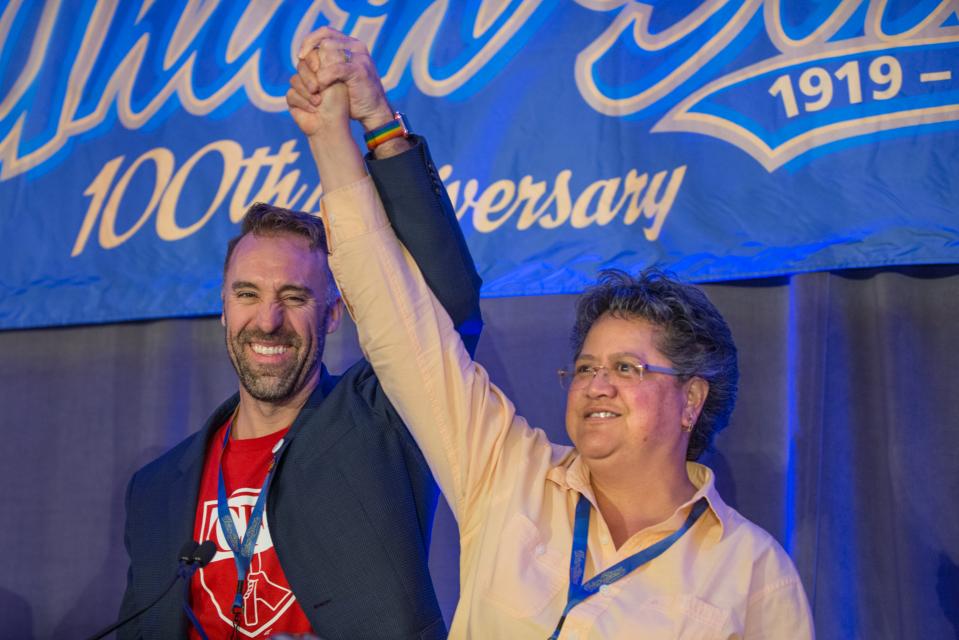 Results of the CFT officer elections were announced on May 1 after mail ballots were tabulated. The biennial election was held by mail due to the COVID-19 pandemic and a Virtual Convention. All newly elected leaders will take office on May 26, 2021.
President
Jeffery Freitas
Secretary Treasurer
Luukia Smith
Vice Presidents
The 24 vice presidents typically hold leadership positions in their local unions, and together they represent the broad spectrum of educators and support staff represented by the CFT.
Anthony Arinwine, United Educators of San Francisco
L. Lacy Barnes, State Center Federation of Teachers
Mary Bravewoman, San Francisco Community College District Federation of Teachers
Monica Casey, Jefferson AFT Federation of Teachers
Linda Chan, Citrus College Adjunct Faculty Federation
Britt Dowdy, Newport-Mesa Federation of Teachers
Ray Gaer, ABC Federation of Teachers
Gloria Garcia, Early Childhood Federation
Miki Goral, UCLA Faculty Union
John Govsky, Cabrillo College Federation of Teachers
Arlene Inouye, United Teachers Los Angeles
Matt Kogan, United Teachers Los Angeles
Steve McDougall, Salinas Valley Federation of Teachers
Amankwa Mckinzie, Compton Federation of Employees
Matt Meyer, Berkeley Federation of Teachers
Jason Newman, Los Rios College Federation of Teachers
Arcelia "Arti" O'Connor, Gilroy Federation of Paraeducators
Juan Ramirez, United Teachers Los Angeles
Jennifer Shanoski, Peralta Federation of Teachers
Linda Sneed, Los Rios College Federation of Teachers
Susan Solomon, United Educators of San Francisc
Nelly Vaquera-Boggs, Pajaro Valley Federation of Teachers
Joanne Waddell, Los Angeles College Faculty Guild
Kent Wong, UCLA Faculty Union
Division Council Officer Elections
The following officers of the division councils were elected by unanimous consent on March 20, 2021, for the 2021-23 term.
Early Childhood/TK–12 Council
President
Rico Tamayo, El Rancho Federation of Teachers
Senior Vice President
Elaine Merriweather, United Educators of San Francisco
Northern Vice President
Steven McDougall, Salinas Valley Federation of Teachers
Southern Vice President
Ingrid Gunnell, United Teachers Los Angeles
Secretary
Tanya Golden, ABC Federation of Teachers
Council of Classified Employees
President
Carl Williams, Lawndale Federation of Classified Employees
Northern Vice President
Janet Eberhardt, United Educators of San Francisco
Southern Vice President
Tina Solórzano Fletcher, AFT Guild, San Diego and Grossmont-Cuyamaca Community Colleges
Secretary
Patti Serafin, Palomar Council of Classified Employees
Community College Council
President
Jim Mahler, AFT Guild, San Diego and Grossmont-Cuyamaca Community Colleges
Northern Vice President
Jennifer Shanoski, Peralta Federation of Teachers
Southern Vice President
Joanne Waddell, Los Angeles College Faculty Guild
Secretary
Kathy Holland, Glendale College Guild & Los Angeles College Faculty Guild
Part-Time Faculty Representatives (4):

Geoffery Johnson, AFT Guild, San Diego and Grossmont-Cuyamaca Community Colleges
John Govsky, Cabrillo College Federation of Teachers
Linda Chan, Citrus College Adjunct Faculty Federation
Linda Sneed, Los Rios College Federation of Teachers
Council of Retired Members
President
Dennis Cox, ABC Federation of Teachers, Retiree Chapter
Northern Vice President
Ann Killebrew, San Francisco Community College Federation of Teachers, Retiree Chapter
Southern Vice President
Cecelia Boskin, United Teachers Los Angeles, Retiree Chapter
Secretary Treasurer
Sandy Baringer, UC-AFT Retiree Chapter