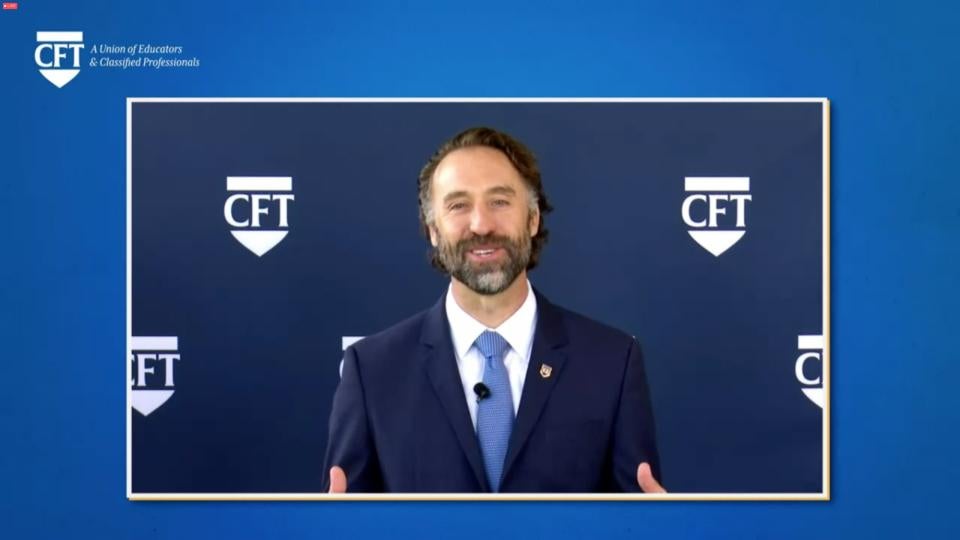 Good morning, CFT. I'm thrilled to be here with all of you—my fellow CFT leaders, all my union siblings, CFT and local union staff, and invited guests.
This year's Convention has a lot of firsts. It is my first State of the Union speech as CFT president and my first time presiding as chair of the Convention. This is the first of our biennial conventions which we approved in 2018 through a constitutional amendment by this very body. And, this is the first-ever virtual CFT Convention. While we are making the best of the current circumstances, I sincerely hope it will be the last virtual convention.
Moments spent together in the governance of our union and in the camaraderie of our work are the highlight of my work as the CFT president, and I am so looking forward to the days when we can once again be together in person.
I would be remiss were I not to address from the beginning, the reason that we are not together in person this year. In March of 2020, the COVID-19 pandemic spread throughout the United States and life as we knew it changed virtually overnight.
California, under the leadership of Governor Gavin Newsom, took the right approach and shut down as much as possible, as quickly as possible. For us, that meant closing the doors to our schools and colleges to keep our school communities safe.
But our courage and tenacity during these last 12 months have been amazing. The way we have risen to the challenge, the way we all pulled together to keep the school year going, the way we looked out for one another and for our school families, have been the most inspiring experience of my professional career. Never before have I felt more profoundly that "there is power in a union."
There have been many moments in the past several months when the public narrative about our profession has failed to acknowledge our significant contributions to not only the academic growth of California's students, but to their socio-emotional health and their very physical safety. That failure of acknowledgement is especially true as we have advocated for the safest in-person instruction measures, most critical in this moment of a global pandemic. And some of you are now providing that in-person education with those very safety measures in place.
To those who say we have not been providing an education to the students of California while teaching remotely, I harken back to words spoken by our State Superintendent of Public Instruction Tony Thurmond, who said: "We didn't lose a year of school. We preserved life."
And speaking of working remotely, who'd have thought a Zoom chat box would bring such important moments of friendship and consolation? All I know is that I have found solace and inspiration in the moments we've shared in a virtual environment and the late-night phone calls we've had.
I remember the layoff negotiations I attended with Carl Williams of Lawndale to let management know that the entire CFT was behind the members, and management then rescinded the layoffs.
I remember talking to Laurisa Stuart from Rescue Union and Debbie Hopper from Sonora about their districts having in-person classes, even before a vaccine.
I remember learning about Barbara Baer and Theresa Laughlin at Palomar and how they provided training to faculty members on remote learning so they could continue providing education to their students.
And I also remember the call from Gloria Garcia, president of Local 1475, to let me know that her members, who were already required to be back in person, were finally able to secure vaccines through the support of our staff. All of these experiences were due to the pandemic.
* * *
There is a light at the end of the COVID-19 tunnel.
We now have multiple vaccines. And from our advocacy, we as essential workers were prioritized to get the vaccine. And now well over 600,000 school workers have received a first vaccine shot, and many of those are already fully vaccinated.
Now, let me remind you, CFT was forged in the fire of the last pandemic that this country experienced. This union was established in 1919, when the U.S. was still reeling from the effects of the 1918 flu pandemic. That national disaster did not stop us from coming together to chart a course for the future then, and it won't stop us now. As we did at the moment of our founding, we find ourselves at a moment to once again Rise Up, Recover, and Rebuild.
While it can't be overstated that the COVID-19 pandemic has had a major impact on every single person in the world, there were other crises we were also dealing with this past year. Our very democracy was under attack.
We have endured four years of a presidential administration and a political party that has waged an unprecedented attack on our democracy. The insurrection on the U.S. Capitol on January 6 did not happen in a vacuum. That attack was a manifestation of years of simmering white supremacy that the former president brought out into the light, stoking the fires of racial hatred and mistrust of the government.
The false narrative that he and his most ardent and vicious supporters continue to spread about the results of the 2020 Presidential Election is not simply the story of a single news cycle. Rather it is an intentional effort to disenfranchise voters and prevent Black and Brown people, working people, and those in poverty from participating in our democracy.
But we fought back and continue to rebuild our democracy. Whether it is the work that our former Secretary of State and now U.S. Senator Alex Padilla did here in California or the she-roic work that Stacey Abrams did in Georgia in the effort to expand and protect voting rights.
The right to vote is one that must be protected and defended. And so we must continue to fight to protect that right to vote for all Americans.
And in this fight to protect democracy, this past Presidential Election was one of the most important elections of our lifetime. CFT members once again went above and beyond the call to show up for that election, and to bring sorely needed change to our country.
Despite being in lockdown, CFT members and retirees made more phone calls to their fellow members than we have ever done before — over 75,000. We called Arizona, Colorado, Florida, Nevada, and Wisconsin—all critical swing states for the Presidential Election—to help make sure that Joe Biden and Kamala Harris were elected president and vice president of the United States.
And after doing all that in November, we turned around and did it again in December and January, joining Labor Federation phone banks and sending thousands of postcards to Georgia to help elect Jon Ossoff and Raphael Warnock to bring the Senate under Democratic control for the first time in years.
I highlight this work that we did for these campaigns because as we are already beginning to see—elections matter. After years of congressional gridlock and the horrors of the Trump administration, we are in a moment when we can begin to take action on the immense challenges that we face.
No one election will solve our country's ills. And many of the crises that we must confront will take years to address in a meaningful way, regardless of electoral politics.
But it is undeniable that meeting the challenges of the moment and of the years to come will be different with a president who has already begun to demonstrate a commitment to working families, to unions, and to public education; indeed, a president who is proud to be married to Dr. Jill Biden, a community college professor who is herself a member of a union.
Another crisis that President Biden has taken action on so quickly is climate change, thankfully, after years of climate denial in our federal government and a president who called climate change "a hoax." President Biden has rejoined the Paris Agreement, named John Kerry as climate envoy, and the United States is once again part of the global community committed to tackling this crisis.
Our union, too, is committed to being a part of addressing climate change. In fact, the CFT made history when it became the first statewide labor organization in the United States to adopt a Climate Justice Agenda in 2016, and Jim Miller from San Diego leads our efforts by also representing us on the AFT Climate Change Task Force. This very body—the delegates to the CFT Convention—passed a resolution committing the union to push for green legislation, move toward divestment in fossil fuels, and educate members about climate change.
There are clear reasons why the CFT is committed to being an active participant in the fight against climate change. Unions have long led the fight to protect workers' health on the job and at home. Climate change is increasingly putting workers' and their families' health at risk with hotter temperatures, historic droughts, catastrophic wildfires, extreme weather events, more infectious diseases, and worsening air quality. As educators we have placed our bets on the future, and we believe that our interests are interwoven with the interests of our students and the communities we serve. Climate change threatens all of us and those who cynically deny it are declaring war on the future.
These crises—a pandemic, threat to democracy, and climate change, on their own present challenges and responsibilities that demand the best of us. However, the need to act with urgency becomes even more apparent when we acknowledge that there is one overarching crisis that has both engendered and exacerbated them all. And that is the profound racial inequality and injustice that is cemented into the very foundation of this country.
* * *
Our country was born and built on the backs of enslaved Black people. Most of us live on stolen indigenous land. And the treatment of immigrants, from the days of the Chinese Exclusion Act to the current border crisis in which Mexican children are literally in cages, is a part of our country.
The dismantling of racist systems demands that we first acknowledge their existence from the very birth of this country. Only then can our work begin. As John Lewis said, "Ours is not the struggle of one day, one week, or one year. Ours is not the struggle of one judicial appointment or presidential term. Ours is the struggle of a lifetime, or maybe even many lifetimes, and each one of us in every generation must do our part."
In reflecting on the crises that I've discussed here today, I believe that it's imperative that we address the ways in which systemic racism has made each one worse for the Black and Brown and Indigenous members of our communities.
The COVID-19 crisis has hit communities of color the hardest. In the United States, Hispanic people are 70% more likely than white people to become infected with the coronavirus; Black people are 50% more likely and Native American people 80% more likely. In all three groups, people are dying from COVID-19 at nearly three times the rate of white people.
The reasons for these rates of COVID are not a mystery. Black, Brown and Indigenous communities have higher rates of poverty, higher rates of incarceration, fewer options for healthcare, and are starved of resources to fight this virus. All of this stems from centuries of systemic racism.
The fight for the very soul of our democracy is likewise linked to America's failure to reckon with its racist past. Restricting voting rights to anyone who isn't a wealthy white person isn't a new tactic. Poll taxes and Jim Crow laws worked to prevent Black people especially from participating in our democracy, and the recent attempts at roll purging and disenfranchisement is continuation of that work and what Stacey Abrams has called "Jim Crow in a suit and tie."
Climate change, too, most impacts Black, Brown, and Indigenous people and communities. While wealthy white lawmakers like Ted Cruz can seemingly opt out of both the conversation and the impacts of climate change and fly off to Cancun at the first hint of discomfort, communities of color around the world do not have that luxury and are demanding that global lawmakers and advocates take this crisis seriously.
Environmental justice advocates have long noted that Black, Brown, and Indigenous communities are more likely to be affected by environmental factors like air pollution and toxic waste and are more likely to live in areas that experience events like hurricanes, floods, and droughts. The fight for environmental justice cannot exist without the fight for racial justice. Understanding how hundreds of years of ignoring the disparities in our communities, and how red lines have been drawn along racial lines, is a necessary starting point in the fight for climate justice.
In tracing the ways it impacts our current moment in a pandemic, our fight for our democracy, and our efforts to confront the climate crisis, it only becomes more clear that racism is a creature whose tentacles reach into every aspect of life in America. I am hopeful that our union—the CFT—has committed itself to take on this beast in the ways that we, as educators and as unionists, are best suited to do.
While we have done some work on racial justice, we have much more to do. We must recommit to fight against racism. We will continue to work with our community partners and labor partners to protest racist acts, to pass police reform laws, to get ethnic studies in our classrooms, and to diversify ranks of educators to reflect the communities of our state and much more. We need to take the next step and be more exacting and thoughtful in everything we do. If we do not have justice in our society, if we do not erase the systemic and institutional racism that exists, how do we eliminate poverty, how do we stop acts of hate, how do we end the prison pipeline, how to we end police brutality and murder, how do we make the dream of life, liberty, and the pursuit of happiness a reality for everyone? We must be an anti-racist organization.
We have seen overtly racist killings over the last several years, including by the very people who are supposed to serve and protect, and we know this is nothing new in our country's history. But we must pause and recognize those who live in fear every day because of who they are, and those who have lost their lives due to institutional and overt racism—including the six Asian women killed last week in a mass murder action. So, I would like to pause for a moment to recognize the lives we have lost to racism.
* * *
After that recognition, let me state once again, that we will continue the work to expand the pursuit of justice, equity, and opportunity for all into every corner of our work.
In fact, to fund the very services in our communities and our public education system we must continue to fight for revenue so that every student in California—a state that is the fifth largest economy in the world—has the resources all students need to be successful.
Over the years, we at CFT have become experts at fighting for a fair piece of the pie when it comes to school funding; it is also true that the pie is proving to be not big enough to equitably meet the needs of everyone in our state.
From the Millionaire's Tax, to Prop 30, to Prop 15, CFT has long been a leader of the fight for more funding for our schools and colleges. Over the last 18 months, we fought hard to gather signatures for Prop 15, a long-planned effort to bring fairness to the corporate property tax structure.
While our first attempt to correct this injustice this past November's ballot was not successful, our coalition of unions and community groups remains committed to the concept, and this is a fight that is far from over.
We are continuing to work toward expanding the pie of the state's revenue. Just two weeks ago, CFT proudly joined legislative leaders from throughout California to introduce the California Tax on Extreme Wealth, ACA 8. Sponsored by CFT, the legislation would implement a 1% tax on wealth in excess of $50 million per household in our state, with an additional 0.5% on wealth in excess of a billion dollars, to raise over $22 billion a year to fund our recovery and to rebuild our economy. Go to our website and there is prominent button to take action on the Extreme Wealth Tax right now.
California is home to some of the wealthiest people in the world, and it is unjust that they have not only survived but thrived during the pandemic, raking in record profits while our most vulnerable communities have gone without resources and bore the brunt of this public health crisis. In fact, we have more billionaires in the state than just one year ago, while millions of Californians filed for unemployment.
We will not stand idly by and allow this to go on without a fight, and CFT is once again prepared to take the lead in this righteous fight to correct a gross injustice. We are ready to be the first in the country to tax extreme wealth.
Part of the fight for long-term investment in our public schools is ensuring that new dollars are spent with an eye towards equity and justice, and in a way that shores up California's public education system to serve all of our state's students in the decades to come.
To that end, with your approval, the CFT will be rolling out a Vision for the Future of Public Education that highlights the priority that public education can and should be so that as we rise up out of the ashes and recover from the COVID-19 pandemic to rebuild for a stronger future, our public education system is resourced appropriately and with a strong enough foundation to take on the challenges we face. It is:
a vision that fully funds all of our public education systems;
a vision that provides education from early childhood through a post-secondary degree (with no debt);
a vision that respects educators and classified professionals who reflect the diverse backgrounds of the students and communities;
and, a vision in which students don't go hungry, are not homeless, and their mental and physical health is cared for.
The CFT will prioritize this Vision for the Future of Public Education as the focus of our education policy work both as we recover from the COVID-19 pandemic and during the years to come because California should be a leader in providing the best public education system in the country, and only by prioritizing students, educators, and classified professionals will this vision become a reality.
And speaking of prioritizing educators and classified professionals, throughout this Convention, you have and will continue to hear about our new identity. Please know this work is about more than a new logo or a new name.
CFT is a union of educators and classified professionals—we are all CFT. Our new identity reflects our commitment to inclusivity and demarginalization. Our new identity embraces our diversity and highlights our commitment to valuing each other and standing together to successfully meet the challenges we are experiencing now and those that surely will come our way. Our shield shows our strength and connects us to our national siblings and affiliate—the AFT—because we are stronger through the work that we pursue together.
* * *
I believe that the past year will make us stronger than ever before; indeed, it already has. I believe that the trials we have endured have caused us to reflect on who we are and who we want to become and have given us this moment—however unasked for—to take bold action towards creating the future we can build together as we Rise Up, Recover, and Rebuild.
We must Rise Up and defend our democracy, act on climate change, demand justice and the end to systemic and institutional racism.
We can Recover from this pandemic and create safe spaces for ourselves and others.
We will Rebuild our education system with a bold vision for the future.
We will Rebuild our communities to embrace our individuality and our diversity.
We will Rebuild and rebalance our society so that there is equity in our economy and opportunity for all.
And I know we will do this, because we are united, because we are all CFT.