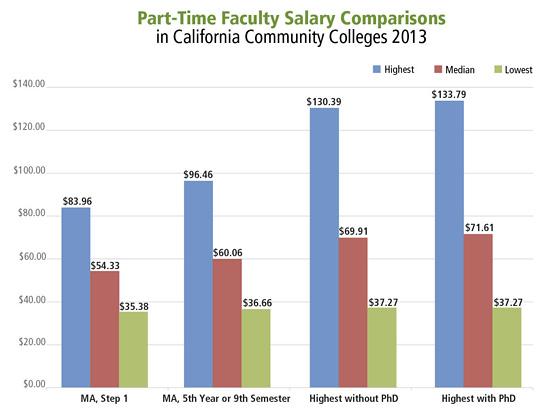 Have you ever wondered how your pay rate compares to that of other part-time faculty throughout the state? Who gets paid for office hours and how much? Will you earn more if you have a doctorate? What percentage are you earning of what full-timers make at your college for their teaching duties?
These questions are much easier to answer with the release of CFT's comprehensive part-time faculty salary study, undertaken at the request of the Part-Time Committee. This information-rich 20-page document offers data and rankings for part-time faculty compensation at all 72 California community college districts.
Additionally, it offers hourly wages of full-timers at each college, converted from annual salaries at various points on each salary schedule, permitting readers not only to compare full-timer compensation across colleges but also to compare it to part-timer compensation at the same points, at that college and at others. This study shows how dramatically compensation for part-time instructors varies throughout the state, along with how close to "pay parity" part-time faculty are at every community college.
The average highest possible hourly wage for a part-time faculty member without a Ph.D. is $72.70 but $145.41 for a full-timer; add just a few dollars to get the average highest possible hourly wage for those with doctorates ($74.69 for part-timers, $149.32 for full-timers). How about the lowest and the highest paid in the state? Part-timers' hourly wages range from a low of $37.27 per hour to a high of $133.79, while full-timers' range from $54.56 to $204.02 per hour.
How part-timers advance on the salary schedule also varies widely. The study contains data for every district about the nature and pace of schedule advancement, requirements for the highest step and column, and notes about longevity bonuses and other forms of additional compensation.
"This can be an extremely valuable tool for locals that do not fare well in the rankings," says Cabrillo College digital media instructor and CFT Part-Time Faculty Committee Co-Chair John Govsky. "If the data show your local on the lower end of the scale, the local can more forcefully argue for raises."
Further, locals may be inspired by the approach taken in another district to advance salary, increase longevity compensation or provide paid office hours for part-time faculty. Individuals and locals now have a solid basis on which to identify elements of specific contracts for citing precedents and finding functioning alternatives to the status quo during negotiations. A contract may provide language that can be successfully used or adapted by another local union.
And while the study was undertaken and completed by the CFT, it includes data for all community college districts in California. Sharing this data with districts without union affiliation may galvanize lower-ranked locals to explore the benefits of getting organized.