CFT capped an unforgettable year with its first virtual Council of Classified Employees conference. The November 14 online meeting focused exclusively on life with the COVID-19 pandemic.
There were also warm moments of old friends seeing each other, the occasional technical glitch, and a madcap show of goofy eyeglasses.
CCE President Carl Williams welcomed the virtual participants, who appeared in thumbnail windows around the computer screen to be as happy as Williams was to be gathered together — at a distance.
"These conferences are our training ground," Williams said. "We always hope you learn something valuable here, whether it's live or virtual."
The president of the Lawndale Federation described the last seven months of coping with the worst public health crisis in a century and fighting school district management trying to shift the economic burden onto employees.
"First we're treated as 'essential,' then we're exploited through layoffs and cuts," he said. "This has been the best — and the worst — year of my life," he said.
A chat box in a corner of the screen came to life. Participants posted enthusiastic comments. "I was wondering what a Zoom union conference would feel like, and I have to say this makes me feel energized, connected, and proud to be part of this union!"
Then the learning kicked off.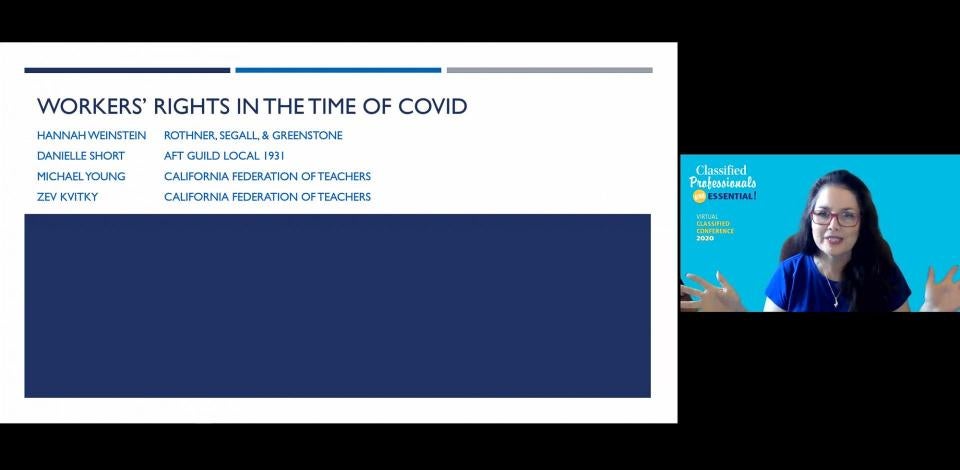 Workers' Rights in the Time of COVID
The panel discussion featured two attorneys, who put legal issues into layman's terms, and two CFT staff members, who put federal and state pandemic politics into context.
Legislators and public health officials are responding to the coronavirus crisis with new programs and by strengthening the existing safety net. Congress spearheaded federal relief efforts, including additional unemployment benefits and paid leave. Many of the federal stimulus programs are over or will soon end.
AFT local unions are also stepping up for safe conditions on the job. "The laws cover all employees, but union members can negotiate higher standards and benefits," said CFT General Counsel Hannah Weinstein.
Panelists discussed these state and federal relief efforts.
If there is a COVID exposure at work, Assembly Bill 685 requires California employers to notify all workers at the site, their union, and public health officials within one day. Employers must also notify exposed workers of all COVID-related benefits.
If an employee's illness is related to the coronavirus, Senate Bill 1159 directs the California Workers' Compensation system to presume it is an occupational injury and allow the worker to get benefits if specified criteria are met. (See our helpful FAQ)
The California Family Rights Act (CFRA) provides 12 weeks of unpaid leave if an employee, spouse or child is sick.
Protections under federal law include the Families First Coronavirus Response Act (FFCRA), which has provided emergency paid sick leaves and expanded the Family and Medical Leave Act (FMLA) since April 1. The FFCRA will expire December 31. The Americans with Disabilities Act (ADA) can protect vulnerable employees.
Returning to Work During the Pandemic
The discussion continued in a workshop, where AFT Local 1931 Counsel Danielle Short laid out a cardinal rule of workplace safety: "Employers are obligated to provide a safe working environment."
Weinstein followed with a pillar of labor law: "School administrators have a duty to bargain."
That includes wages, hours, safety conditions, leaves and other working conditions. It does not include managerial decisions, such as the school calendar or layoffs (although unions can bargain the effects of layoffs).
CFT has compiled a checklist for reopening schools safely. Short advised local unions to review the checklist with administrators when updating health and safety agreements. "Every bargaining table is different," she said, "but it helps to go through this with management."
Best Practices for Distance and Hybrid Learning
Evan Lundeen, assistant director of the AFT Paraprofessional and School-Related Personnel Department, shared some of the best practices gleaned so far about online learning. He reviewed the nuts and bolts of Zoom function and demonstrated chat box tips and techniques such as a "thunderclap" that can break up screen monotony.
Participants shared ways they have learned to keep younger students in particular engaged, and discussed challenges such as students not wanting to turn on their cameras.
"I wish our district would have a workshop like this one," one participant said. "The presenter gave some excellent, practical and easy-to-implement ideas. I just never thought about how to do that on a computer screen or with the chat box."
Minimizing Stress in the Workplace
"Chronic stress is a real thing," said CFT Training Director Zev Kvitky. "It's hard to avoid and difficult to diagnose. It can affect us on campus, but also sheltering in place."
Stress is part of our personal and professional lives. If you mix demanding workloads, insufficient staffing, unrealistic work expectations and bullying, the result is burnout. That can lead to heart disease, asthma and depression.
"Workplace bullying is totally unacceptable, but is often 100 percent legal," Kvitky said. "For example, if an employer treats everyone badly, it's legal, but if they treat a few people differently — because, for example, they're a person of color or over 40 years old — it's illegal."
The law offers workers little control over demanding jobs and supervisors, he said. Collective action can include surveying staff, establishing a health and safety committee, and a wellness program.
Techniques to manage stress aren't complicated, but require commitment: eat a healthy diet, exercise regularly, get enough sleep, and make time for a hobby or to relax.
Kvitky urged participants to seek professional counseling if needed. "Seeing a counselor isn't a sign of weakness. It's a sign that our lives are too complex."
After the learning, the fun began
After three hours of presentations and workshops, attendees were ready to wind down. They donned crazy glasses under the theme "Celebrate Classified with 20-20 Vision" and heard from CFT officers.
"Without the classified, this union is not a whole," CFT President Jeff Freitas said. "We already knew that classified employees are essential workers. That's how it was pre-pandemic, during the pandemic, and after the pandemic."
Secretary Treasurer Luukia Smith concurred. Smith is the first classified employee elected to a top CFT office and she preceded Williams as president of the Council of Classified Employees. "CFT understands that classified employees are essential, and they live that, not just say it," she said.
The good times onscreen continued. Conference organizers held a raffle, and a raucous scavenger hunt for household items such as a packet of soy sauce and even more obscure — your high school yearbook and a print TV Guide (Lawndale's Desiree Groves had one!)
CCE President Williams later summed up the event as a great success, especially for the CCE's first attempt to stage a virtual conference. "People stayed and gave us their Saturday afternoon."
One first-time participant said, "I was a conference 'virgin' and this has made me want to attend in person in the future, when the risk of COVID is gone."
Another conference veteran summed up the online experience saying, "I think people really enjoyed coming together remotely. It was so good to see the faces we missed."
— By Steve Weingarten, CFT Reporter, and Jane Hundertmark, CFT Publications Director