Labor and Climate Justice Education Committee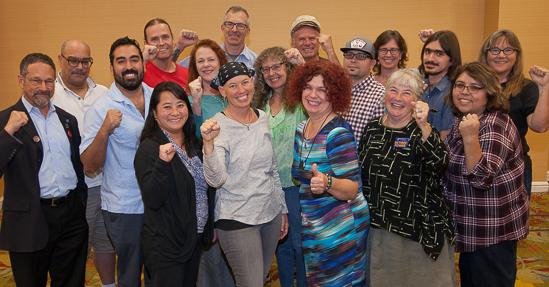 The Labor and Climate Justice Education Committee helps teachers reach students with information about the history and current place of the labor movement in American democracy. In recent years, the committee has begun addressing climate justice issues for members and students. Committee members are classroom teachers, faculty from community college and university labor studies programs, and classified employees.
The committee meets several times a year to plan, develop and evaluate various programs. These include development of lesson plans on labor and workshops for educators and unionists to give them access to these materials and tips on teaching about labor. The committee also tracks public education policy relating to teaching about labor and oversees work on two long-term projects – Golden Lands, Working Hands and the Collective Bargaining Education Project.
The CFT Labor and Climate Justice Education Committee is available to assist educators in all aspects of teaching young people about the labor movement, and welcomes comments and suggestions about these topics. Communications may be directed to CFT, 2001 Center Street, Suite 600, Berkeley, CA 94704.
COMMITTEE PROJECTS
Labor curricula available to members
The committee has developed lesson plans on labor for students at all levels of education, from preschool coloring books to college and university readings, to union-based new member orientation programs. Find the most popular and enduring lessons and materials here. These are available for free as pdf download, or for sale in print.
Committee member Bill Morgan is author of the most recent elementary curriculum, FarmWorker Comix, with artwork by the late legendary comic book artist Spain. He also authored Mission Labor, a bilingual English/Spanish pamphlet for fourth grade social studies. Phyllis Chiu's smash hit, Yummy Pizza Company, has been revised as the Yummy Strawberry Company. Find them all here!
Climate Justice Toolkit
The newest committee project is a series of flyers about climate justice and what members can do to take action. Find information about our campaign and the toolkit here.
Golden Lands, Working Hands
An award-winning 10-part, three-hour video series that originally aired on California PBS stations, this curriculum brings labor history alive for high school and college students. Praised by educators, labor leaders, and students, Golden Lands Working Hands explores California history from the point of view of its working families. Available for purchase on dvd.
Collective Bargaining Education Project
The Collective Bargaining Education Project was founded in 1997 to promote education about how labor and management resolve workplace conflicts through the methods developed in collective bargaining negotiations. Using a simulation/role play method, the award-winning program brings lessons throughout the year to high school students in the Los Angeles Unified School District and elsewhere.
Committee member Linda Tubach is bringing the Collective Bargaining Education Project to a school district near you, and you can ask her to bring it to yours.
Labor History Month – May
In 2012, Gov. Jerry Brown signed AB 2269 to establish Labor History Month in May. Its purpose is to encourage schools "to commemorate this month with appropriate educational exercises that make pupils aware of the role the labor movement has played in shaping California and the United States."
The California Labor Federation and CFT were co-sponsors of AB 2269 (Swanson, D-Oakland) and continue to work with friends in the Legislature and the labor movement to disseminate information and instructional materials, and carry out the spirit of the law.
Safe Jobs for Youth Month – May
May is also "Safe Jobs for Youth" month. Visit youngworkers.org to find curriculum and learn about what you can do in your community to educate and protect working teens. Find lots more info for teens, parents and employers. Watch for the annual poster contest!
Speaker's Commission on Labor Education
Founded by Assembly Speaker Robert Hertzberg in 2001, the Commission helps students understand the role of the labor movement in history and contemporary society. Its projects have included legislation, exhibits, and supplementary Social Studies curricula approved by the California Department of Education. Each year the Commission supports Labor History Month with events and information throughout the state.
View one exhibit about Native American Labor in the Missions.
Education and Labor Collaborative
The Education and Labor Collaborative was founded by a group of progressive university teacher preparation professors interested in why there is little labor education in K-12 social studies, and dedicated to remedying that problem. Members of the CFT Labor and Climate Justice Education Committee serve on its advisory board. It has held three conferences and published a book, Organizing the Curriculum, on the topic.
In 2008, several committee members traveled to the United Federation of Teachers offices in New York to join like-minded educators and labor activists in the first conference. In 2009, the conference was held at Antioch University and in the offices of United Teachers Los Angeles, on the theme of "Teaching for a new 'New Deal.'"
National K-12 Labor Education Conference
The committee proposed a resolution at the CFT Convention in 2008 to call on the AFT to sponsor a national K-12 labor education conference and task force. Thanks to networking at the Education and Labor Collaborative conference in New York, a similar resolution then passed the United Federation of Teachers. Working together, the CFT and UFT helped the resolution pass that summer's AFT Convention. A similar resolution passed the national AFL-CIO Convention in September 2009. Pledges of support have come from the United Association for Labor Education and the International Labor Communications Association.
Committee Members
Kelly Mayhew, Co-Chair, AFT Guild, San Diego & Grossmont-Cuyamaca Community Colleges
Ben Todd, Co-Chair, Oxnard Federation of Teachers & School Employees
Diane Bush, UC-AFT Berkeley
Mindy Chen, Los Angeles College Faculty Guild
Kimberly Claytor, Newport-Mesa Federation of Teachers
Jose Colon, Berkeley Federation of Teachers
Carmen Esterman, United Teachers Los Angeles
Fred Glass, San Francisco Community College District Federation of Teachers
Leo Gonzalez, Santa Cruz Council of Classified Employees
Ann Killebrew, San Francisco Community College District Federation of Teachers, Retiree Chapter
Frank Lara, United Educators of San Francisco
Teresa Laughlin, Palomar Faculty Federation
Ruben Mancillas, ABC Federation of Teachers
Stacey Michaels, United Teachers Los Angeles
Jim Miller, AFT Guild, San Diego & Grossmont-Cuyamaca Community Colleges
William Morgan, United Educators of San Francisco
Melvin Pritchard, West Valley-Mission Federation of Teachers
Alexander Schenck, Salinas Valley Federation of Teachers
Lou Siegel, Los Angeles College Faculty Guild
Yim Tam, United Teachers Los Angeles
Linda Tubach, United Teachers Los Angeles
Daryl Hemenway, Staff Liaison