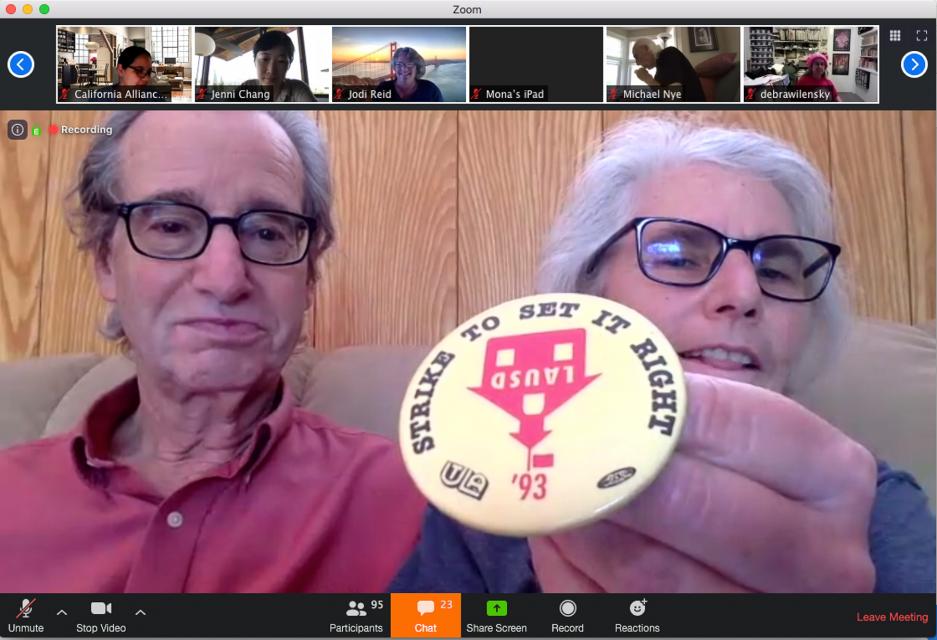 By Susan Morgan, President, AFT Local 1931 Retiree Chapter
As a retiree chapter, one of our current challenges is to find new ways to stay connected, be supportive, and sustain our esprit de corps. The current pandemic has increased challenges for retirees, many of whom were already dealing with the social challenges of isolation and loneliness. These newly heightened mental health concerns are real, and our task is to find meaningful ways to connect with our members to support our common union values and goals.
Prior to the COVID-19 virus our retiree chapter held monthly activities to keep our members moving, informed, and engaged. By doing so, we have been able to build a diverse retiree chapter with both classified and certificated members on our executive committee.
Now, because of the pandemic most of these activities have been suspended. Because we are staying at home, we had to look at our vulnerable population and identify resources that might be useful during this challenging time. The recommendations below came from our chapter members and executive committee members. From this we gained a greater understanding of the pandemic and our chapter communication to our members has improved as well.
First, we sent resources to our members that focused on providing information and entertainment. We let our members know about several resources they might find useful now or in the future. Here are a few examples of what we shared with our members.
To support the arts, the Berlin Philharmonic has allowed free access to over 600 concerts.
Dr. Laurie Santos from Yale University produced an excellent podcast, "Beat Your Isolation Loneliness."
We identified numerous worldwide art museums that had developed free virtual tours.
---
For more arts and entertainment at home, see the Culture & Calm section in the CFT COVID-19 Resources.
---
Second, as the seriousness of the coronavirus grew and it became clearer that we were going to be homebound for a longer time, we began to look at mental health issues. Our communication to our members included a wide range of resources.
Third, realizing that this virus was going to continue for many months we turned to resources for helping our retirees meet their basic needs. For basic needs we looked at well-established organizations and newly formed support services.
We let our retirees know that during this time, all medical organizations have expanded their services and specifically their mental health services
We let members know how to access a local database, 211sandiego.org, that provides information related to current resources for food, utilities, housing, financial, childcare, healthcare, public benefits, mental health, and transportation.
In terms of food, we shared the San Diego Hunger Coalition website, where you can find multiple food distribution centers where there is no requirement to access food.
Since many of our retirees are either babysitting or homeschooling, we let our retirees know that a local internet provider is allowing free access to Connect2Compete services that offers a free phone, remote desktop support, and resources for discounted and refurbished equipment.
Fourth, in addition to identifying meaningful links and websites for our members, we have other useful ways to continue our chapter work.
Our members write letters of support for issues the Guild is supporting such as releasing refugees and migrants from detention centers and rent strikes.
Chapter members can participate in union-sponsored Zoom meetings and webinars to access resources related to union-membership assistance.
As medical services evolve, we are updating our members to let them know about newly established services for this crisis.
Our collective understanding of this pandemic is evolving day-by-day, hour-by-hour. Many retiree concerns lie ahead, and not all of our retirees are equally affected by COVID-19. The racial inequalities of African American, Latino, and Native American retirees that existed before this pandemic have only been heightened. Our most vulnerable populations need our support in activities, drives, and resources that focus on their concerns.

Susan Morgan, an ESL teacher for more 35 years and department chair for 10, is president of the AFT Guild Retiree Chapter, AFT Local 1931-R. The Guild represents faculty and classified staff in the San Diego Community College District and faculty in the Grossmont-Cuyamaca Community College District.