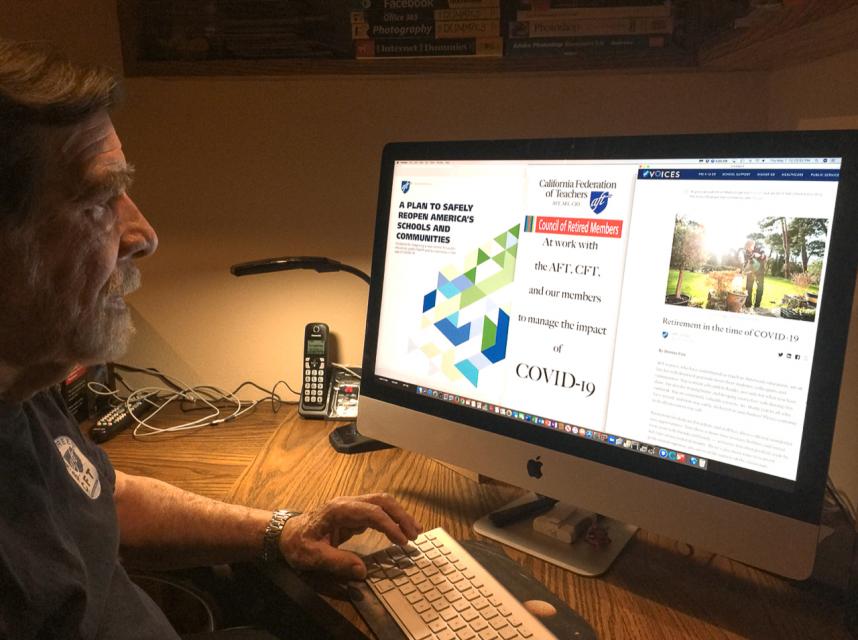 By Dennis Cox, Southern Vice President, Council of Retired Members
AFT retirees have contributed so much to American education, and are in line for well-deserved gratitude from their students, colleagues and communities. You warrant a heartfelt thanks for what you have done, and for staying home and keeping yourselves safe during this outbreak. You are extremely valuable citizens. So, thank you to all who have served, and are now staying safely sheltered in your homes! Please continue to do all you can to stay safe.
Retirement for dedicated teachers and staff has always offered wonderful new opportunities. Now there is more time to enjoy hobbies and social recreation with friends and family — activities too often pushed aside by full-time instructional demands. There's also more time to reinvest professional expertise into areas of life outside of the classroom.
Right now, however, the world of retirement has drastically changed. States have issued stay-at-home orders to prevent the spread of COVID-19, and seniors are being urged to take more precautions because they are at higher risk of getting sick. Dismiss those who have absurdly suggested seniors sacrifice themselves to save an economy crippled by the malfeasance and ineptitude of self-serving politicians. But don't ignore the advice of medical professionals calling for older adults to safely shelter in place as much as possible until this horrible health crisis ends.
Social distancing and sheltering in place don't mean having to endure isolation or living in fearful separation. There are still helpful, positive ways to get involved, especially in response to this pandemic. Here are some suggestions:
Give friends and family regular emotional and spiritual support. We need to boost each other's morale.
Share ideas on ways to stay healthy and positive, such as careful online shopping, preparing nutritious meals, and using other online resources for personal recreation.
To help those actively teaching online, develop and share online lessons and academic resources for useful and interesting subjects. Share tips on the most effective ways to use computers and online applications.
Stay current with ongoing activities (political and otherwise), take part in organization conference calls, and share timely political information and links.
Share your ideas on effective ways retirees can support their parent locals. Applaud the work done by active teachers and education professionals.
Take a moment to thank a health professional.
And finally, as often as possible, keep in touch with other retirees by joining us on the AFT's retiree Facebook page. Be safe, stay active and make the abundant benefits of Retiree Power a reality.

Dennis Cox is southern vice president of the CFT Council of Retired Members and a member of the ABC Federation of Teachers Retiree Chapter, AFT Local 2317-R.