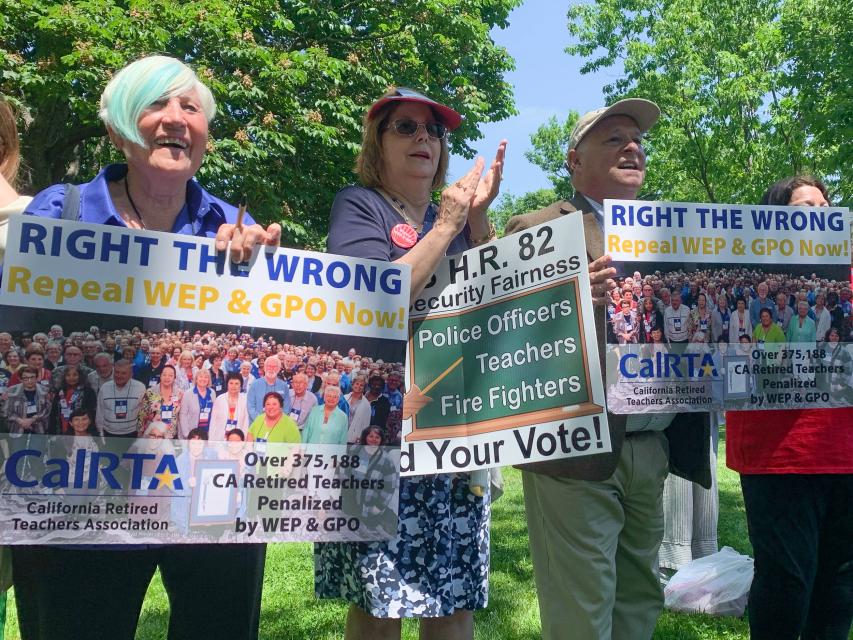 Political season is in full swing and, with days to go until California's June 7 primary, CFT retirees are already looking ahead to the November 8 General Election.
"I can't tell you how many people have told me they are mad as hell and 'ready to do something' because of the leaked Supreme Court ruling on abortion rights," said Mike Nye at-large representative on the CFT Council of Retired Members.
Retiree activists are educating younger Americans about the history of voter suppression, phone banking for issues and candidates, lobbying state legislators on Zoom, and working with the current Congress to repeal unfair pension offsets.
• • • • •
AFT Legacy Project targets voter suppression
In early May, CRM President Dennis Cox and members Mike Nye and Bill Philipps joined an online workshop on voter suppression with politically active retirees across the country.
The AFT Legacy Project is mobilizing seniors to help educate younger Americans about voter suppression and get them to the polls in November.
"Retirees have a wealth of understanding of what has gone on in the past," Cox said. "We want them to share their experiences with voter suppression."
Cox grew up in Ohio, and was drawn to the Rev. Martin Luther King, Jr. and the civil rights movement as a young college student in the early 1960s.
"As a white kid in the Midwest, my limited understanding of voter suppression was that Black people in the South weren't allowed to express their will. Now I see that it's much more pervasive.
"Voter suppression isn't 'someone else's problem.' Its aim is to divide working people, and that hurts all of us."
Legislatures in Texas, Florida and other Republican-controlled states have blatantly redrawn voting districts to ensure their continued dominance.
"If labor doesn't work together effectively to mobilize voters this year, we will lose the House and Senate," Cox said. "It helps that their efforts are open and transparent. These aren't 'dog whistles' about racism. These are bullhorns."
Cox also pointed to Georgia's Stacy Abrams and other successful local efforts to defeat suppression. "And that's open and transparent, too. It gives us hope."
• • • • •
AFTerburners hone their telephone skills
The pandemic severed many traditional avenues for grassroots outreach, but volunteers found new and creative ways to engage AFT members.
AFTerburners is one of the most successful programs. A group of retirees coined the name and began working to increase member engagement, voter education, and turnout in cities holding key primary or general elections.
Other retiree groups soon took the name and AFTerburners became a national network. During the 2020 election season, the group completed 291 phone bank shifts for a total of 445 hours and 16,112 calls.
President Bill Philipps struggled to keep Santa Cruz's Federation of Retired Educational Personnel working together during the pandemic. AFTerburners gave Philipps and his activists a platform to connect with union voters in other states.
"I don't like partisan politics," he said, "but this was talking about the issues we are most concerned about with like-minded union members in Georgia, North Carolina — all over the country. We rallied them around healthcare, pensions and Social Security."
Before the pandemic, Philipps and his members would have driven to Nevada and other nearby states to help with outreach. "I miss meeting people in person, but I'm happy that we're still making big changes from right here at home."
• • • • •
CARA lobbies online, prepares postcard campaign
The California Alliance for Retired Americans draws activists from community and labor backgrounds, evaluates legislation and candidates from a progressive stance, and has developed a strong outreach program to promote its recommendations.
CARA action teams in the Bay Area recently held Zoom interviews with candidates for local sheriff and district attorney positions as well as congressional seats. On May 20, retiree Mike Nye, former CFT Secretary Treasurer, and the Contra Costa-Solano team held an online lobby day.
"Everyone knows in advance what questions they will ask and what role they will play," Nye said. "Each team has a 'moderator' to keep the discussion on track, and a 'nailer' to pin down wishy-washy responders."
CARA is focusing its summer and fall mailings on swing districts ranging from Sacramento and the San Joaquin Valley to Los Angeles and Orange Counties. Postcard blitzes are key to the Senior Vote Program for the November General Election.
"They're even more effective with seniors than phone calls," Nye said.
• • • • •
"Right the Wrong" and repeal WEP-GPO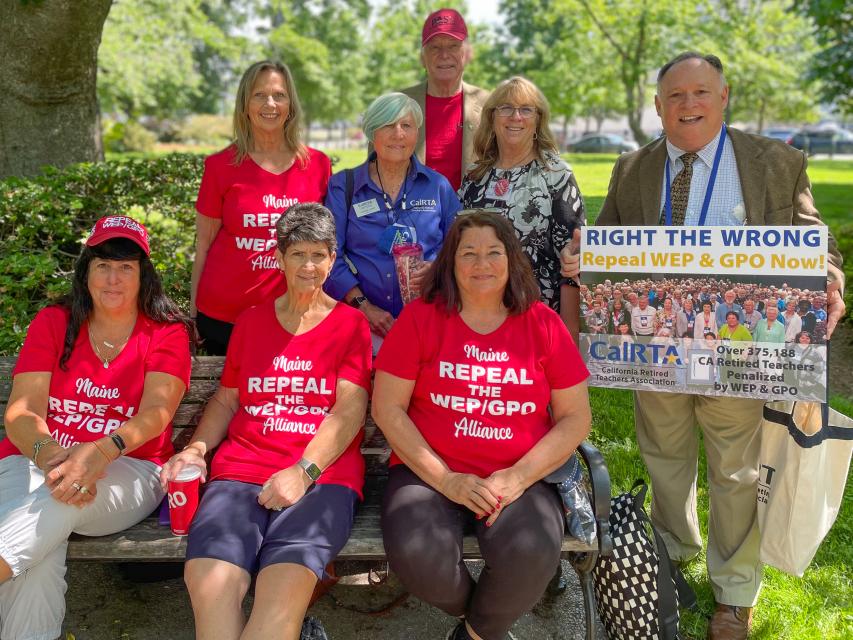 About 60 retired educators and other public sector veterans rallied outside Congress May 18 to demand the repeal of two pension offsets that have shredded their earned benefits for 45 years.
The group then went inside and lobbied their Congress members to repeal the Windfall Elimination Program (WEP) and Government Pension Offset (GPO). Congress passed both bills in 1977.
The WEP and GPO cut or eliminate pension benefits for nearly 3 million retirees from public agencies that don't participate in the Social Security system. That includes a third of all school employees in California and 14 other states, as well as city, county and state employees in 26 states.
California teachers are often shocked when told that even a partial CalSTRS pension will disqualify them from receiving survivor benefits from a deceased spouse with Social Security. The hammer falls hardest on widows. About 70 percent of those affected by the GPO are women.
---
Will you be affected? Find out in our WEP/GPO Repeal Toolkit.
---
Retirees from different unions and labor organizations formed the National WEP-GPO Repeal Task Force to lobby for legislation ending the offsets to Social Security benefits and public pensions.
"Our slogan is 'Right the Wrong.' Congress created the WEP/GPO problem and they must fix it," said JoAnn Copp of the Newport-Mesa Federation of Teachers Retiree Chapter. Copp and about a dozen activists from California attended.
This year the task force is supporting two important bills. H.R.5723 carried by Rep. John Larson, D-Connecticut, is comprehensive legislation that provides a wide range of improved Social Security benefits as well as a funding mechanism that accompanies the repeal of the WEP/GPO.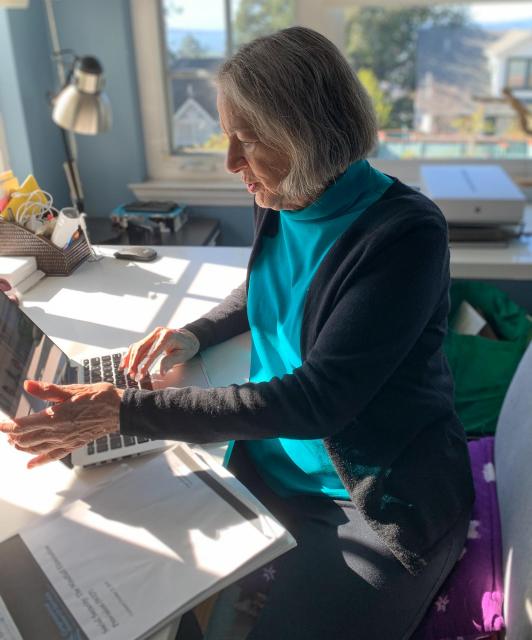 The task force also supports H.R. 82 by Rep. Rodney Davis. The Illinois Republican has worked to repeal WEP/GPO for more than five years. By mid-May the bipartisan bill had 274 co-signers, including 199 Democrats and 75 Republicans. If Davis can add 16 more supporters — 290 are needed to demand a floor vote in the House — and H.R. 82 passes, Senator Sherrod Brown has sponsored similar legislation, S.1302, in the upper chamber.
Copp encouraged retirees and the public to show their support by joining more than 89,000 people who have signed a national petition to repeal WEP-GPO. "We hope to reach 100,000 signatures by the end of June."
— By Steve Weingarten, CFT Reporter