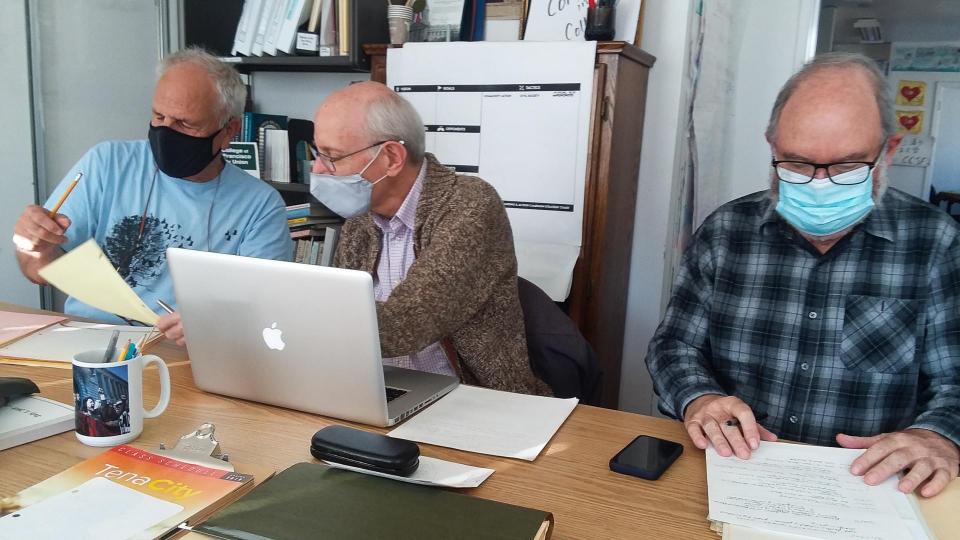 By Bill Shields
Janitors organize live onstage, in multiple languages. A domestic worker ponders the meaning of life as she mimes ironing clothes. Dancing hotel workers tell how they won a good contract. These stories emerged from an oral history project called Work Tales produced by the Labor and Community Studies Department at City College of San Francisco. I spent 25 years teaching in this department.
When I retired recently and joined my colleagues in the AFT Local 2121 Retiree Chapter, I asked, "Why not us? Why shouldn't we tell our work tales?" Chapter President Ann Killebrew replied, "Why not, indeed?" Other retirees were eager too. The president of our local, Malaika Finkelstein, supported the idea "one hundred percent." With that, we were off to the races.
Our project addresses the question, "How do we preserve and make best use of our history?" To answer this, we began a deep dive into our meeting notes, photo and banner collections, and especially, our individual and collective memories. We found this to be exhilarating. Yet, with new challenges facing the local, we wondered if this was something we could sustain.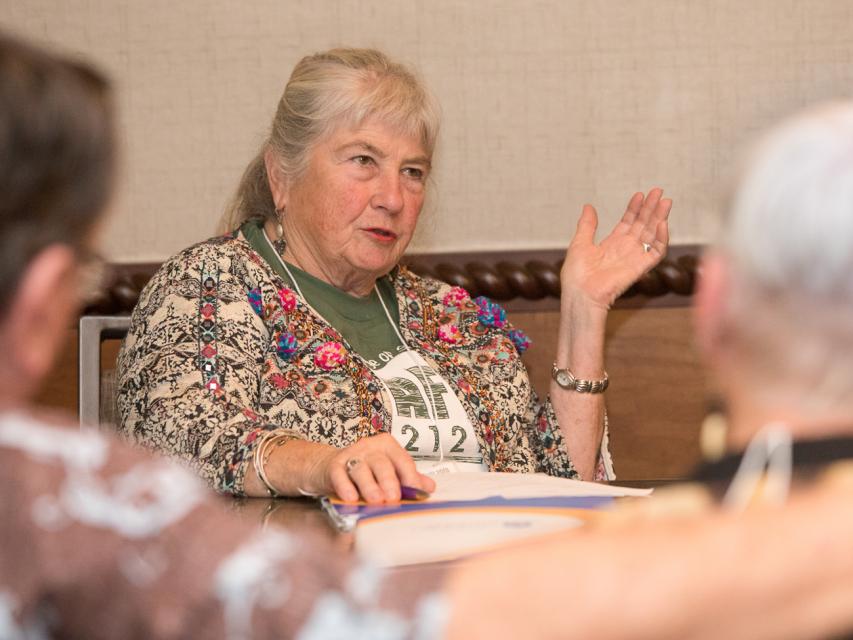 CFT members may remember that AFT Local 2121, aided by our CFT and AFT siblings and community allies, beat back an attempt by anti-union accreditors to shut down our college. Now, however, the attackers are at it again, pushing a new plan for fiscally unnecessary layoffs. Given this, how can we afford to study our history? The answer, from our leaders and members was, how can we not?
"By doing this oral history, we will acknowledge those people whose courage brought us to where we are today," said Killebrew, a retired nurse and healthcare educator. Killebrew is also northern vice president of the CFT Council of Retired Members and works with retiree chapters around the state. "We can offer their experiences to all future unionists."
Finkelstein, a teacher in the disabled students program and an experienced union activist, agrees. "It's easy to imagine that everything around us is how it's always been. It can be hard to see the work that got us here," she said. "But if we learn about the struggles and the people that led to this moment, then we can imagine ourselves joining the fight."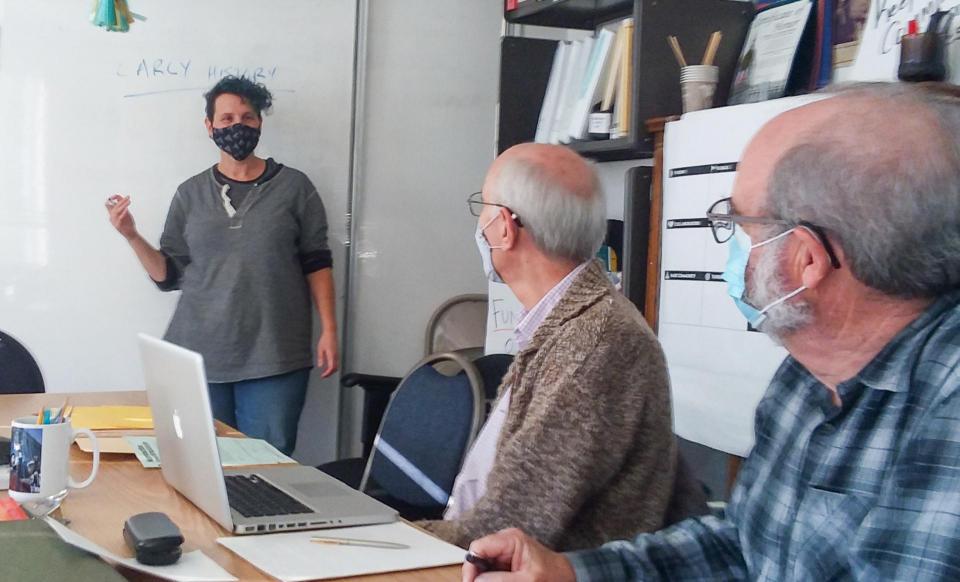 Our history project builds on earlier ones like that led by Local 2121 member and retired CFT Communications Director Fred Glass, who produced the history book 70 Years, A History of the California Federation of Teachers, 1919-1989.
"I learned a lot from working with local CFT activists in the late 80s and recording their history for the union's 70th anniversary," said Glass, "lessons that I carry with me to today." As an example, he cited the importance of coalition building within the labor movement and in the surrounding community. "Solidarity is critical."
AFT Local 2121 was founded in 1971, splitting from AFT Local 61, when City College of San Francisco took over the adult education program from the San Francisco Unified School District. From the beginning we needed to support all faculty.
"There were divisions between faculty teaching main campus credit courses and those teaching non-credit in community centers," recalls retired ESL teacher and oral history committee member Ron Bixler. "When we won the election to represent everyone, the first president was from adult ed, the vice president from credit. This arrangement alternated through our first four administrations."
Retired math teacher Guy De Primo recalled the local's early years before teachers won collective bargaining rights in California. "Under meet and confer, our local pushed for retirement, medical and dental benefits, pro rata pay and job rights like tenure for part-timers." De Primo, now secretary of the oral history committee, said, "Over the next four decades, with stubborn persistence, we made significant gains on many of these issues."
Through our strong union contract, the San Francisco Community College District Federation of Teachers, AFT Local 2121, now represents about 1,100 faculty members, librarians, and counselors working at the seven campuses and many community agencies across the city, as well as online. The local's retiree chapter, AFT Local 2121-R, boasts about 125 members.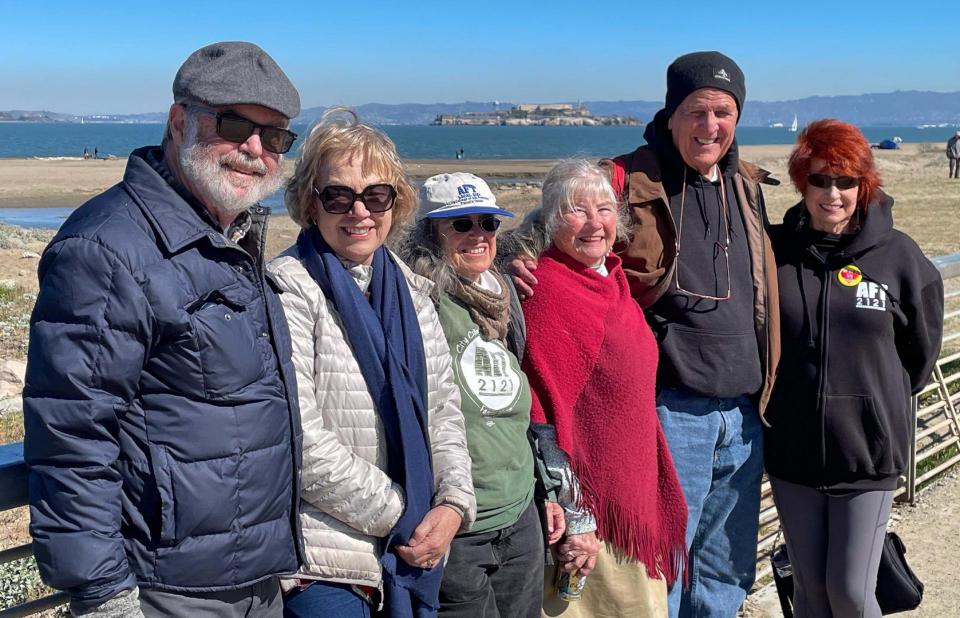 Born as it was during the tumult of the early 1970s, our local was also of necessity engaged in broader social issues. Labor educator Joe Berry remembers this well. "Our best moments have been when we fought consciously for faculty of color, part-timers, women, LGBT and disabled folks, our classified fellow workers, and our students. When we have forgotten that is when we have stumbled."
Berry, now retiree representative to the Local 2121 executive board, added, "Solidarity must constantly be rebuilt, bottom up as well as top down."
Our committee's archival research includes seeing who attended general membership meetings and executive board meetings and what they debated over the years. This helps direct our selection of veteran activists to be interviewed. We have read our way through most of the local's first decade.
We are now ready to recruit volunteer interviewers from the local, arrange training for them, and begin capturing the memories of our longest timers. Who will do the training? Retiree Harvey Schwartz, a celebrated oral historian who has recorded the stories of unions such as the International Longshore and Warehouse Union, will help. So will our colleagues at the San Francisco State Labor Archives and Research Center.
As it did with Work Tales, the Labor Archives will establish an AFT Local 2121 collection for our histories, records, buttons, picket signs and song sheets. Interim Director Tanya Hollis called it "an invaluable contribution to the archive's holdings on organizing in higher education in the Bay Area."
Retired Director Catherine Powell will provide training in oral history techniques, description, and preservation. If all goes as planned, the collection at the Labor Archives will be available online for future union activists, researchers, faculty, and students. These materials would thus be available to our CFT siblings around the state.
Fifty years ago is a long leap, however. What anecdotes do we have to share from succeeding decades and more recent years? Our committee members lived many of these moments. Here's a preview.
"I remember the early 1980s when the counselors in the "centers" — Mission, Chinatown, and so on — were paid much less than the counselors at what we called City College, even though everyone had to have a master's degree. We met with the administration, and I argued that this situation was unfair. We won and from then on, everyone got paid the same."
— Renato Larin, retired counselor and former executive board member
"In 2010-11, it became clear we couldn't move funding measures in the city without building local power. This led us to think more strategically about engaging with the Labor Council, community groups, politicians and the CFT as a whole. This helped us win passage of a parcel tax to fund the college, one of the first in the state. This led to more CFT work, on the Millionaire's Tax and Proposition 30. When the ACCJC attacked us in 2012, we were ready to fight back and secure support statewide, because of this earlier revenue work."
— Alisa Messer, English teacher and local president from 2010-14 during the accreditation attack
"It was one of the best organizing campaigns I've ever participated in. It included a formal complaint against the ACCJC by AFT Local 2121 and the CFT, a lawsuit by City Attorney Dennis Herrera, and lobbying with the U.S. Department of Education. It also included outreach to community groups and, through speaking teams, to community colleges statewide. At some of these chancellors and board members attended, along with fellow unionists, and supported us. When we won, it was a victory for the whole community college system of California."
— V. Tarikhu Farrar, retired African American Studies teacher, a leader of the staff-student coalition Save CCSF, and key participant in the fightback
Will all of these rich anecdotes lead to an oral history theater production like we produced with Work Tales? We're not sure yet. First, we must help the local commemorate its 50th anniversary, which, due to the pandemic, will continue throughout 2022.
De Primo has already distilled nuggets from our early years and submitted them to Alan D'Souza, the union activist and college librarian who's leading the celebration. The aim is to put these, along with interview excerpts and other materials, on the union's website for Local 2121 members, CFT members, and the community at large. We are also planning a panel presentation by our surviving founders.
As for the lure of the footlights? Friends of the local will recognize the name of dance instructor Kathe Burick, whose choreography has enlivened many a union picket line, rally, and convention stage. She was intrigued when I mentioned the possibility of a staged version of our work. Her feet started tapping before the conversation was over.
Perhaps retired labor educator Pam Tau Lee puts it best when speaking of the ongoing presence of our elders in our lives. "I love learning about the heroes and sheroes and their acts of radical love in the struggle to defend, protect, and grow a truly authentic community college for all."
For more than 50 years, AFT Local 2121 has been learning from our victories and our challenges, and building a strong union presence at a vital San Francisco educational institution. Our oral history project ensures that our local's rich history will be passed on to current and future members, the larger community and the labor movement.
AFT 2121 elders will speak, and we invite our siblings to listen.

About the Author
Bill Shields taught in the Labor and Community Studies Department of City College of San Francisco for 25 years, and also served as department chair. His subjects included labor history, workplace rights, and labor storytelling. He continues to direct Work Tales, the oral history project he started with the department. Prior to working at City College, he did substitute teaching in San Mateo County high schools and worked as a staff person for UNITE HERE, Local 2. Shields grew up near the mighty steel mills of Cleveland's Cuyahoga River Valley and the shores of Lake Erie.
For more information on how to start an oral history project in your own local union, large or small, please contact Shields at billshieldssf@gmail.com.