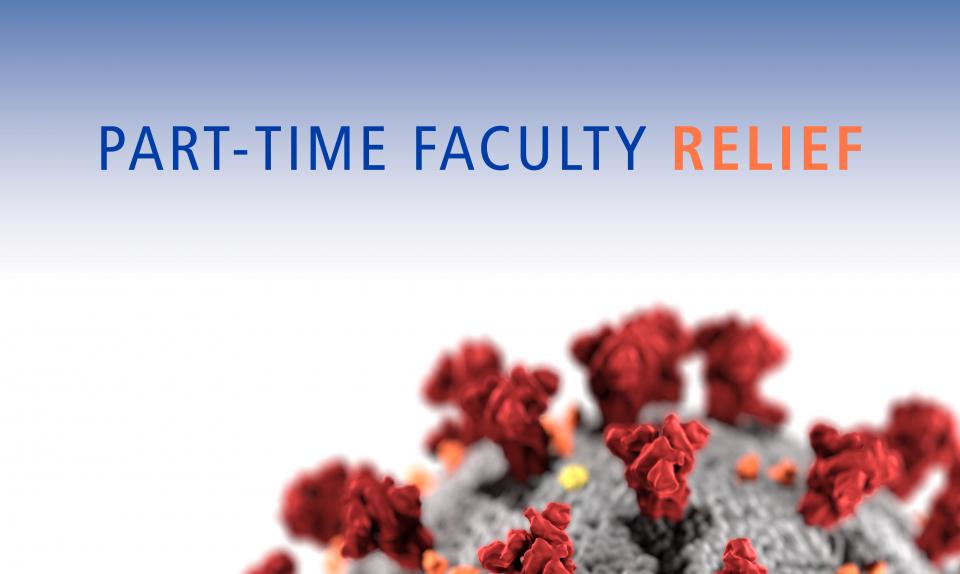 In the wake of the COVID-19 crisis, part-time faculty — beyond dealing with protecting the health and safety of themselves and their families — are facing threats to their economic security, including loss of income, access to health insurance, and their capacity to pay for housing and utilities.
It is essential part-timer faculty are aware of recent actions taken by the federal government and state of California to provide relief for people facing these challenges.
The CARES Act and Unemployment Insurance
The recent passage of the federal "Coronavirus Aid, Relief, and Economic Security Act" or CARES Act, specifically addresses the concerns of income lost due to a loss or reduction in work.
First, for families making under $150,000 per year, and individuals making under $75,000 year, which includes the large bulk of part-time instructor households, there are tax-free payments of $2,400 for married couples, and $1,200 for individuals or head of households. Families with dependent children under the age of 16 will receive $500.
There is further relief in the form of increased unemployment benefits. Starting the week ending April 11, the CARES Act adds an unemployment benefit of $600 per week, which will last through July 25. This means that, if you would have normally received the maximum benefit of $450 per week, this payment will be supplemented to $1,050 week throughout this period. This $600 benefit also applies to workers who are underemployed, so even a worker receiving a $100 weekly unemployment benefit will see their benefit increase to $700 a week.
Additionally, unemployment benefits will be extended an additional 13 weeks for those whose claims would normally have been exhausted from March 29 through December 31.
While there are part-time instructors who are still working, and some who have been laid off with pay and are technically still employed, there are many part-timers who also work outside of academia, or who have a partner who has lost work or income. In addition, with summer soon approaching, many part-timers whose teaching assignments have ended or have been reduced can apply for unemployment insurance.
Health insurance and Covered California
On the health insurance front, starting March 20, Covered California extended its enrollment period through June 30, giving those who may have lost their coverage due to a reduction in load or loss of job (or their spouse's job) the opportunity to get coverage on their own.
Covered California also provides subsidies for reduced insurance rates, and with the significant loss of income, some part-timers and their families may qualify for low-cost or free health coverage through Medi-Cal. Additionally, Covered California is offering free COVID-19 testing and tele-health treatment by phone or video rather than requiring people to appear in person.
Additionally, the Families First Coronavirus Response Act, or FFCRA, requires community colleges to either increase or expand paid sick leave at the employee's regular rate of pay, as well as expand paid family and medical leave.
Housing, student loans & utilities
As for housing, as a result of the federal CARES Act, there is until May 31, a suspension on evictions for failure to pay rent, which extends through July — but only if the landlord's mortgage is backed by a federal entity like Fannie Mae or Freddie Mac. Those who have federally-backed house mortgages may be able to suspend mortgage payments up to 12 months due to job loss caused by the coronavirus.
Additionally, in California, through Gov. Gavin Newsom's executive order, evictions are suspended through May 31 if non-payment is COVID-19 related.
Similarly, payments on federal student loans — including direct loans, Perkins loans and Federal Family Education Loans owned by the U.S. Department of Education, are suspended as of March 20 through September 30. During this time borrowers do not have to make payments and interest will not accrue.
Additionally, on April 23, Gov. Newsom announced an agreement with 21 of 24 private loan servicers in California for a 90-day forbearance on loan payments to assist the more than 1.1 million Californians with privately held student loans.
Finally, on April 2, Gov. Newsom passed a measure that will prohibit water service providers from shutting off service to residential customers due to non-payment as a result of COVID-19. Further, according to the California Public Utilities Commission, all investor-owned utilities are suspending disconnections due to non-payment for both residential and commercial customers until further notice.
The COVID-19 outbreak is creating hardship and challenges, but these resources can at least help part-timers through the immediate crisis.