The ongoing COVID-19 experience for part-time instructors has demonstrated their great collective strength and resiliency, despite limited pay, benefits, job security, and often minimal support.
Several local union leaders — who are part-time faculty — report that beyond the initially hectic and at times frenzied process of transitioning to remote instruction and services, faculty have more or less still been able to teach a semblance of their face-to-face course.
Barbara Baer, co-president of the Palomar Faculty Federation, reported that over a two-week period, faculty were mostly able to make the transition. Similar sentiments were expressed by Linda Sneed, a part-time faculty rep at Cosumnes River College for the Los Rios College Federation, Dan Portillo, president of Part-Time Faculty United at College of the Canyons, and Mark Miller, president of Part-Time Faculty Association of Allan Hancock College. That said, these same leaders see a variety of concerns their locals will face going forward.
• • •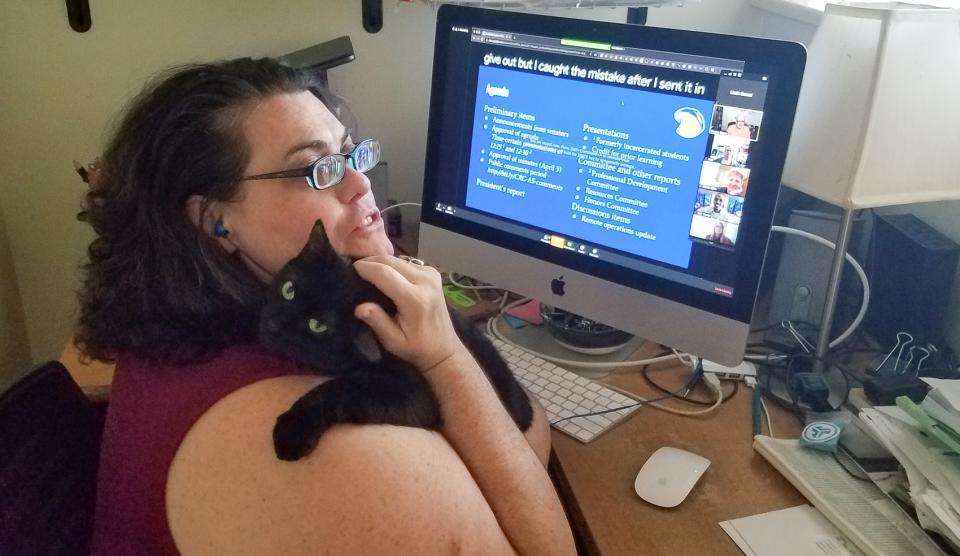 Los Rios' Linda Sneed, an English instructor and CFT vice president, speaks of part-time faculty seeing a drop in assignments, most particularly for math instructors in the summer. Like many other community college districts, the plan in Los Rios is for summer classes to be fully online. Job security is a number one concern among part-time faculty, yet at the same time many other faculty are still thinking about cost-of-living-adjustments in what is sure to be a difficult discussion in light of the economic downturn caused by the pandemic.
On a positive note, the Los Rios Faculty Part-time Faculty Caucus is experiencing a tremendous upsurge in interest. Since the COVID-19 outbreak and subsequent shutdown of in-person classes, the caucus has held six remote gatherings, with initial meetings having between 40-50 first-time participants. More than 300 part-time faculty have joined the discussions.
• • •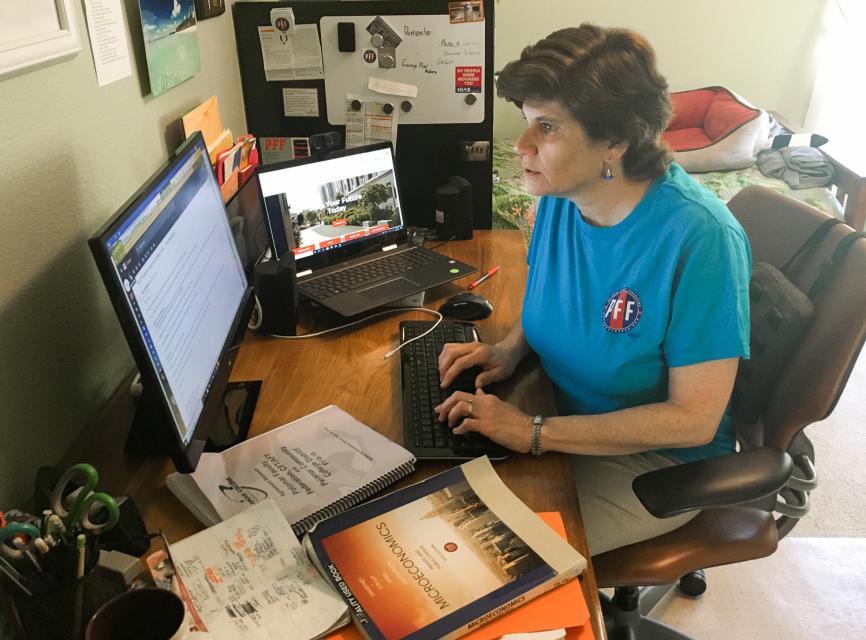 At Palomar, there have been more immediate faculty needs. AFT Local 6161 Co-President Barbara Baer reports that she had seven requests for emergency grants of up to $500 to help faculty secure equipment, like laptops conducive for remote teaching. Other part-time faculty have spoken to Baer about their partner's loss of work, particularly in the service industry.
However, in a significant union accomplishment, Baer said the local secured class cancellation pay for classes that are being tentatively scheduled for the fall, but may not go as a result of lost enrollment.
Baer, an economics instructor, is a little more optimistic than some because financial troubles at the college last year forced severe class cuts. "They can't really cut more or the district will lose money," she explained.
Now Baer's main concern is health insurance for part-timers. There is only a $200,000 fund provided for part-time health coverage, a drop in the bucket for the over 800 part-timers in the district. Because many part-timers get their insurance elsewhere, there are only 38 taking part in the program, and even these faculty are not fully covered.
• • •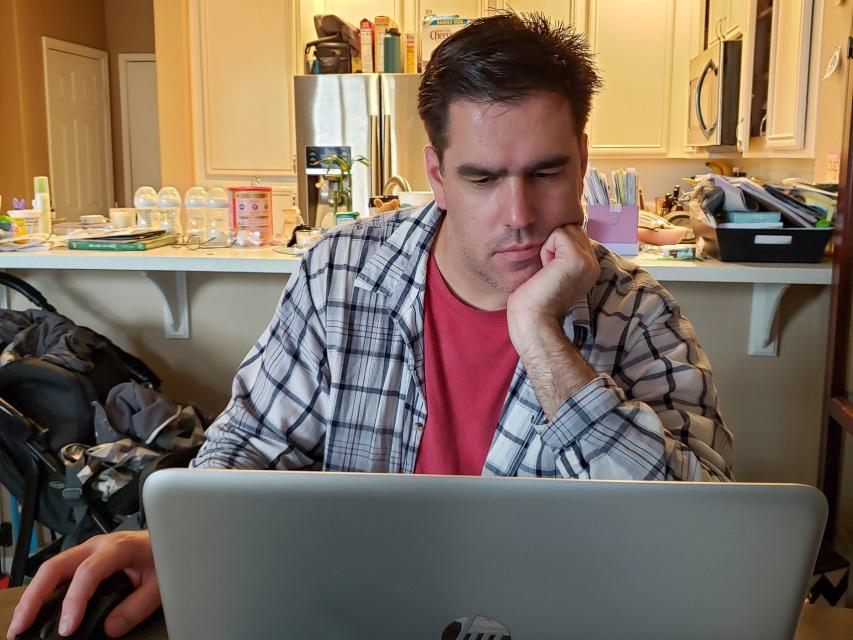 Dan Portillo, president of AFT Local 6262 at College of the Canyons has similarly been working on equipment issues for about 20 adjuncts while trying to get others into training programs for the online transition. In terms of summer online teaching, the district is apparently planning a three-phase rollout of five-week courses in two phases, and longer ten-week classes spanning the entire term.
When it came to dealing with the district, Portillo credited the local's chief negotiator, who helped him push hard with administration. Having many years prior experience in the corporate sector, Portillo explained, "he has the knowledge and awareness to look in detail at California Education Code and make sure the district is adhering to them in our contract."
• • •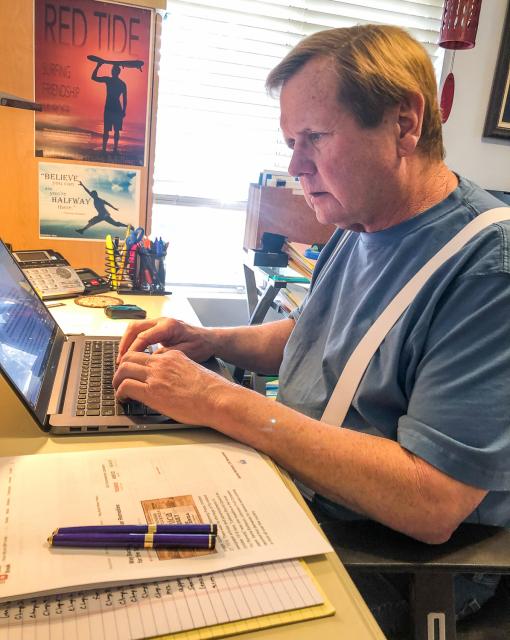 One of the many burdens in the push to remote teaching is that part-timers are rarely compensated for their work to convert classes or obtain training. For Mark Miller and the part-time faculty at Allan Hancock College in Santa Maria, such was not the case.
Drawing off language in the Allan Hancock full-time faculty contract, which mandated full-timers be paid approximately $1,725 for converting their classes to online, Miller and the local were able to secure a proportionate stipend based on load, meaning that for a person teaching 60 percent load, they were able to receive 60 percent of $1,725, or $1,035 dollars.
Another concern that Miller's local is wrestling with is childcare. Whether it be the cost of getting childcare, or the simple fact that the lockdown is making it hard to find childcare at all, many part-timers are having to teach and deal with children simultaneously.
Miller, an English instructor, also pens a monthly column in the Santa Maria Times. For his April installment, he sent out a request to union members asking them to describe how they are coping with COVID-19 and the sudden transition to teaching online — and got an amazing response. Miller is now surveying his students and is once again getting a great response that will form the basis of his column in May.
These union leaders acknowledge there is an uncertain road ahead with the state budget, which will undoubtedly take a big hit. That said, the increased involvement of part-time members driven by the coronavirus pandemic, along with their leaders fighting for needed resources, benefits, stipends, and public recognition will be how they meet the challenges ahead.
— By Geoff Johnson, AFT Guild, San Diego and Grossmont-Cuyamaca Community Colleges, Local 1931