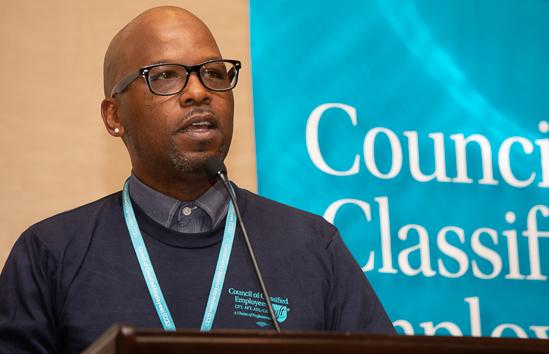 On September 1, Carl Williams was elected to join 39 other AFT Vice Presidents from across the U.S. and Puerto Rico. Williams joins two other vice presidents from California, a group that has included former CFT Presidents Mary Bergan and Joshua Pechthalt over the years, and now current President Jeff Freitas.
Williams, who heads the CFT Council of Classified Employees and the Lawndale Federation of Classified Employees, is the first classified employee from California to serve as an AFT vice president, as well as the first Black member from our state on the AFT Executive Council.
"And that's out of 1.7 million members," he said. "This is a real honor for me, and I am humbled."
Williams has chosen a life rich with the support of community values. From fostering youth to being a church deacon and now a union leader, here's what Williams had to say about his path to becoming an AFT Vice President.
How has raising a family and fostering children helped prepare you to be a union leader?
I count on a high level of support from my family. My wife and I have raised our three children, and we have also fostered 68 kids over a period of 10 years. Some stayed a few days and others for years, but we remain in contact with many of them. They come and go, and are always welcome. Family is family, and home is home.
I also count on a high level of support from my local union's executive board. That same family spirit is how we have built the Lawndale Federation.
How has your work as a community activist and church deacon prepared you for union work?
I'm an ordained deacon at the Los Angeles Community Church in South Los Angeles. My union and my church are both working for similar goals — to build up the community and the people who live there, to make things a little better than we found them.
Regular services have been paused because of the pandemic, but our congregants are addressing the issues that affect us the most.
How did you get involved in union work and how have your local leadership roles prepared you for national leadership?
I began working for Lawndale schools in my 20s. I was hired as a noon duty supervisor but soon transitioned to become an instructional assistant. Five years later I was hired as a custodian.
I was working out of class and didn't even know it. Folks had been afraid to speak up, but I knew that was my money and I wanted it. I filed a grievance and a week later the director of human resources handed me a check for what I was owed. I thanked her and took it, but didn't even realize until later what a big victory that was.
In any case, I've learned from all the union trainings and folks I've met in every position I've held at CFT. The best ideas I ever got were from other union members and leaders.
What are your priorities as president of the statewide CFT Council of Classified Employees and how will they inform your work as an AFT Vice President?
Engaging in the Council of Classified Employees prepared me for this moment. When you have a problem and don't know how to respond, the greatest advantage is having people around to learn from. I want to make that opportunity available to all classified leaders and members through the CCE. Also, I continue to learn more on the AFT's Program and Policy Council along with Tina Solorzano Fletcher, our CCE Southern Vice President.
AFT created a national Social Justice Task Force in the wake of Trayvon Martin's murder. Then CFT formed a Racial Equity Task Force in 2016. What was it like to serve on both task forces?
It's great to be part of a union that cares about me as a worker and as a Black man. There's no question where AFT and CFT stand on these issues. Social and racial justice are at the core of what we are all about. We can't stand aside or be silent.
Over the course of a year, the CFT task force hammered out a pioneering report that set goals for moving towards racial justice in the state educational system and in the union.
What will your work on racial justice bring to the AFT?
I'm bringing my experience as a Black man living in L.A., which has a history of these acts. I look forward to exchanging ideas and sharing my experiences and what CFT has done.
Today social media is bringing tools and knowledge to the fingertips of young people. I want us to encourage them, while we speak to their fears and tell them how it is for us.
What do you hope to achieve as an AFT Vice President?
I've always thought there wasn't enough attention given to West Coast classified and I'm hoping to really change that. The AFT calls us Paraprofesssionals and School-Related Personnel, or PSRPs. Here in California, some places of employment call us support staff, and public schools and colleges call us classified employees. I want the world to know we are essential and this work cannot be done without us.