The polls closed in Hawaii, the westernmost voting site in the United States, at 1 am eastern time on November 4. At 2:28, less than two hours later, President Trump sent out a tweet announcing that he'd won the election.
Millions of votes had yet to be counted, especially those cast by people voting early because of the coronavirus. But Trump demanded that counting stop, and made false charges of election rigging. He immediately filed suits in Pennsylvania, Michigan and Georgia to stop the count.
In response, people across the nation poured into streets and public places to protest, and to demand that all votes be counted. It proved to be a tumultuous few days, that started with demonstrations calling for protecting the vote, and ending with celebrations that an honest count in Pennsylvania had sealed Trump's defeat.
At noon on Wednesday in Oakland a crowd of several hundred people held homemade signs, and raucously cheered speeches denouncing Trump's move to, in effect, steal the election. Chants of Count the Votes! reverberated across Oscar Grant Plaza, in front of Oakland City Hall. The building itself was draped with three enormous orange banners with the same words, painted by David Solnit, an artist whose work is a constant presence at California social justice protests.
CFT members were a visible presence, in blue t-shirts emblazoned with the AFT logo, and "Count Every Vote" on one side and "Democracy Defender" on the other. They were encouraged to come to the rally, and to others planned in coming days, by the CFT Executive Council, which passed a resolution four days before the election outlining its commitment to defending democracy.
Prominent among the principles was "Every vote must be counted." The CFT quickly organized trainings — Mobilizing to Defend Democracy — to prepare members for actions like that in Oakland, to respond to the threat to invalidate the election and the vote of the people, and to do that safely.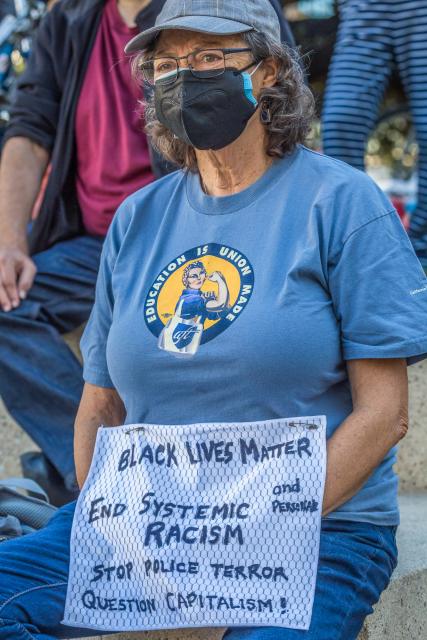 For Margot Pepper, a member of the Berkeley Federation of Teachers, 55-hour work weeks and 20 hours of report cards couldn't keep her from showing up and raising her voice.
"I cannot in good conscience," Pepper explained, "stay home from protests defending the right of our votes to be counted, while teaching my students mandated curriculum about voting rights. How can my students ever believe we have a democracy when the president himself behaves like a scofflaw? Martin Luther King, Jr. warned us, 'freedom is never voluntarily given by the oppressor; it must be demanded by the oppressed.'"
One prominent member of the Richmond Progressive Alliance, Jovanka Beckles, addressed the crowd, saying the only way to ensure the results of the election will be respected is for people to make their voices heard in large numbers. "We're the only ones who can truly make sure every vote counts."
Saabir Lock­ett, direc­tor of the Faith Alliance for a Moral Econ­o­my (FAME), prefaced a prayer by saying, "This is about going on the offen­sive with love, light, and right­eous resis­tance. Every­one — no mat­ter what creed, race or gen­der — has a right to have their vote count­ed. Any dec­la­ra­tion of vic­to­ry with­out count­ing all votes is a slap in the face to democ­ra­cy and to the every­day hard­work­ing peo­ple who believe in the process."
Then, on Saturday, the news media announced that Biden had won Pennsylvania, giving him the number of electoral votes needed to make him president. People poured into the streets in spontaneous celebrations, dancing and shouting.
In San Francisco a rally had been planned by the Bay Resistance network and Bay Area labor councils, to show popular support for demands that vote tabulation continue until the last vote is counted. That rally, followed by a march, became a celebration as well.
CFT President Jeff Freitas spoke to the crowd before the march started. He credited Biden's victory to the determined efforts by thousands of people, educators prominent among them, to bring out the vote especially in the battleground states. Many California activists traveled to those states to help mobilize people to the polls, while others worked the phone banks from home. "This victory belongs to you," Freitas said.
As the marchers made their way up Market Street to Union Square, San Francisco educators, especially from City College faculty union, AFT Local 2121, and United Educators of San Francisco, AFT Local 61, made up a large and boisterous contingent.
UESF retired social studies teacher Ken Tray exulted, "This is a conspiracy — a conspiracy of 75 million people! Actually more than 75 million American voters decided this election — that's how democracy works."
— By David Bacon, CFT Reporter