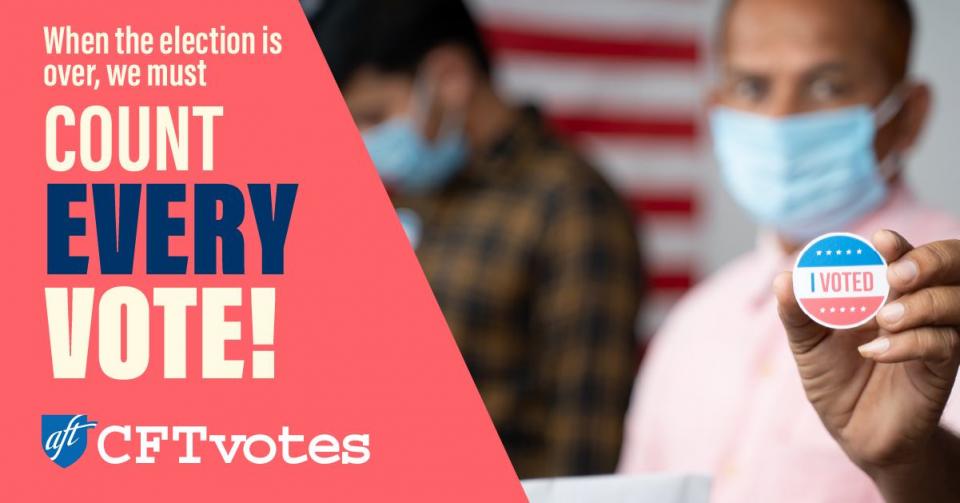 Last Friday, the CFT Executive Council unanimously passed a resolution outlining our union's principles to defend American democracy. The resolution follows a similar resolution passed last week by AFT and highlights four key areas that the CFT believes must be protected:
Every American citizen registered to vote must be able to vote.
Every vote must be counted.
The electoral verdict must be respected.
We will not be intimidated. When democracy is in danger, we will be in the streets and in our workplaces with our colleagues in the labor movement and allies in the community, defending it against its enemies — foreign and domestic.
Community actions this week
As part of this commitment, the CFT has begun organizing for the post-election period, when as expected, President Trump prematurely claimed victory and attempted to stop the counting of mail ballots in swing states.
We urge you members to take part in actions on November 4 and November 7 (with the focus for a mass turnout on November 7). See below for actions in your area:
NOVEMBER 4
NOVEMBER 7
CFT trainings this week
We urge local unions to have at least one union leader and/or staffmember attend one of this week's special CFT trainings — Mobilizing to Defend Democracy. This training will explain the scenarios we may face in the coming weeks that threaten democracy and the right to have every vote count. Participants will practice the skills needed to organize and mobilize others to join us in action, and learn how to participate in these critical mass actions while protecting the health and safety of everyone involved. This training is strongly recommended for anyone who plans to join the upcoming mobilizations to defend democracy.
The trainings will be held at the dates and times listed below. Click on the links to register your attendance.