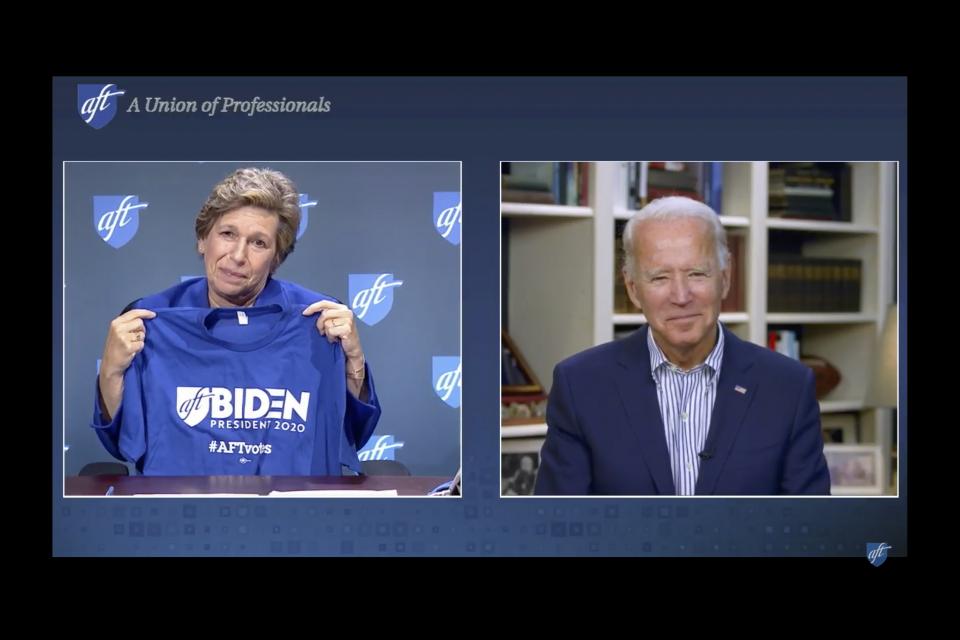 The nearly 4,000 delegates at the AFT Virtual Convention endorsed Joe Biden for president in the general election, with 90 percent voting in favor.
The decision by the AFT follows the most inclusive and extensive presidential endorsement process in the union's history, conducted over many months and involving more than 300,000 AFT members, that ultimately led the AFT Executive Council to submit the endorsement.
"Joe Biden is the deeply decent, experienced, caring and competent leader America needs to guide our nation through the three crises we face today—a global health pandemic, an economic crisis and a long-overdue reckoning with racism," said AFT President Randi Weingarten. "This is not simply about defeating Donald Trump. We need a president who will help change course so this country is a place of fairness, opportunity and hope. Biden will be that president. He shares our values, has the support of our membership and is the leader we need in this unprecedented time. We will do everything we can to get out the vote in November."
The resolution passed by delegates highlighted the stark contrast between Biden's vision for America and President Trump's cruel, divisive, catastrophic agenda, including his actions to worsen our triple crisis. It reads, in part, "This election is about what kind of country we want to be — not simply to restore the basic norms of decency and democracy, but to ensure everyone in America has the freedom and opportunity to live without fear and to pursue a better life."
Biden spoke at AFT Convention, where he highlighted much of his vision for the nation, as detailed in the resolution, including:
Investing in public education; supporting educators and paying them adequately; expanding community schools to meet the social and health needs of children as well as their instructional needs; and prioritizing deep learning focused on the skills and knowledge kids need to succeed, not an overreliance on testing;
Building on the Affordable Care Act to ensure every American has access to affordable healthcare and cutting healthcare costs;
Investing in higher education, providing student loan relief, and making four-year public colleges and universities tuition-free for all students whose family incomes are below $125,000;
Ensuring the right of all workers to unionize and collectively bargain;
Restoring the Voting Rights Act and protecting the voting rights of every American;
Strengthening America's commitment to racial justice and rooting out systemic racism from our laws, our policies and our institutions; and
Rebuilding our economy to enable opportunity and prosperity for all, not just the rich and big corporations.
In her State of the Union address to convention delegates, Weingarten noted that the Democratic Party platform, born out of the Biden-Sanders Unity Task Force recommendations the AFT helped draft, is the most progressive in history. She set a goal of 100,000 actions a month — phone calls, texts and emails — to ensure we elect Joe Biden and a Congress that can enact his agenda.