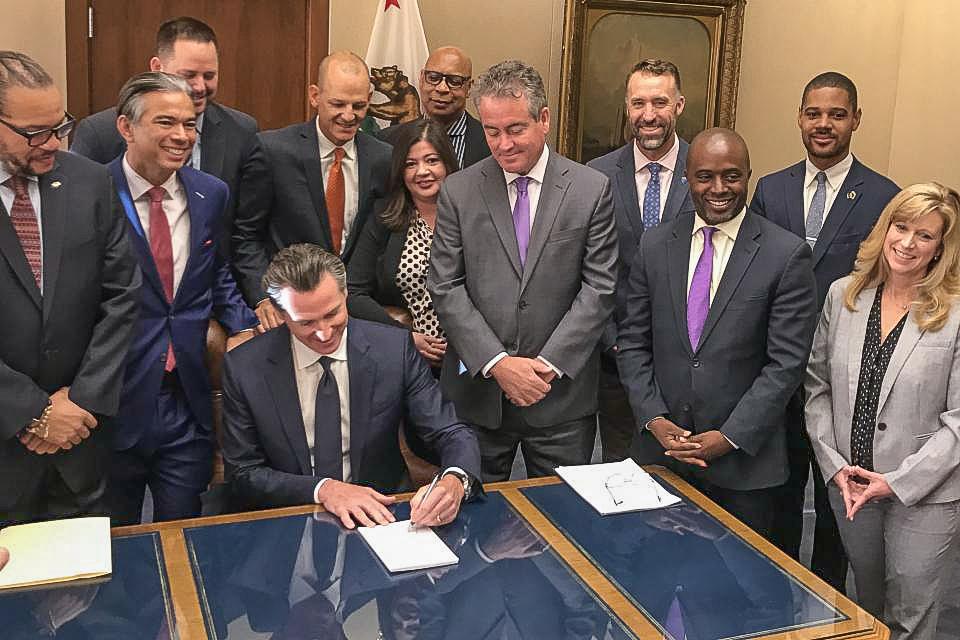 In October, Gov. Gavin Newsom signed a bumper crop of new laws that will benefit classified staff across the state.
"We did well this year," said CCE President Carl Williams, "but it also shows how much more we can accomplish if we lobby harder and smarter."
Legislative advances included shorter probation periods for staff, charter reform, and a second year of free tuition for eligible students at community colleges. Newsom, however, would not sign a bill providing at least six weeks of paid maternity leave for classified and certificated employees.
:::
Classified probation cut in half in non-merit K-12 districts
The governor signed CFT-sponsored Assembly Bill 1353 allowing all K-12 classified staff to obtain permanent job status no later than six months or 130 days of paid service.
The bill carried by Berkeley Democrat Buffy Wicks evened up a misalignment in the Education Code that set a one-year limit on probation for classified in non-merit districts, but a six-month limit for merit-district employees.
"Six months is more than enough time to know if a classified employee will work out," Williams said. "It doesn't take a year to tell."
About 60 percent of classified staff in California public schools work in merit districts. Many non-merit districts already conform to the merit district the six-month limit through collective bargaining agreements.
:::
Charter oversight now in hands of local school officials
CFT co-sponsored California's landmark charter legislation signed by the governor. Assembly Bill 1505 overhauls the Charter Schools Act of 1992 by moving oversight from state officials to local school districts and county offices of education.
Under AB 1505 (O'Donnell, D-Long Beach) local boards can close charters or block them from opening if they impede neighborhood schools from operating or don't serve all students equitably. The bill also requires a state-level background check for charter staff and makes proper credentials mandatory for educators.
:::
Paid maternity leave bill vetoed
Newsom vetoed CFT-sponsored Assembly Bill 500 that would have required K-12 and community college districts to provide at least six weeks of paid maternity leave to certificated and classified employees for pregnancy or related conditions.
"Providing every California worker with paid family leave is a noble goal and a priority for my administration," Newsom wrote in his veto message.
"However, this bill will likely result in annual costs of tens of millions of dollars that should be considered as part of the annual budget process and local collective bargaining. Moreover, this proposal should be considered within the broader context of the Paid Family Leave Task Force, which is assessing increased paid family leave for all of California's workers."
San Diego Democrat Lorena Gonzalez, also former leader of the San Diego & Imperial Counties Labor Council, carried the CFT bill for the second time.
:::
Tuition-free community college doubled
California now offers two years of tuition-free community college for first-time, full-time students. Gov. Newsom expanded the state's College Promise program, which had provided one year of free tuition. The 2019-20 budget includes $42.6 million to support a second year of free tuition for about 33,000 students.
"The full cost of attending institutions of higher learning is still far too high," the governor wrote, but this is "a meaningful step toward chipping away at the cost."
Meanwhile, AFT members led by union President Randi Weingarten recently fanned out across Capitol Hill to talk with legislators about improving equity and funding for higher education on a national scale.
"House Democrats have stepped up with a proposal that meets the needs of the struggling and the striving by creating a genuine pathway to college affordability," Weingarten said.
The College Affordability Act would invest more in colleges and universities that have suffered decades of disinvestment, and revamp loan forgiveness so it remains available for those who need it.
"This set of reforms," Weingarten said, "will bring many families closer to the dream of a college degree without the associated crushing debt."