Campus Equity Week Toolkit
Ideas and tools for campus education and activism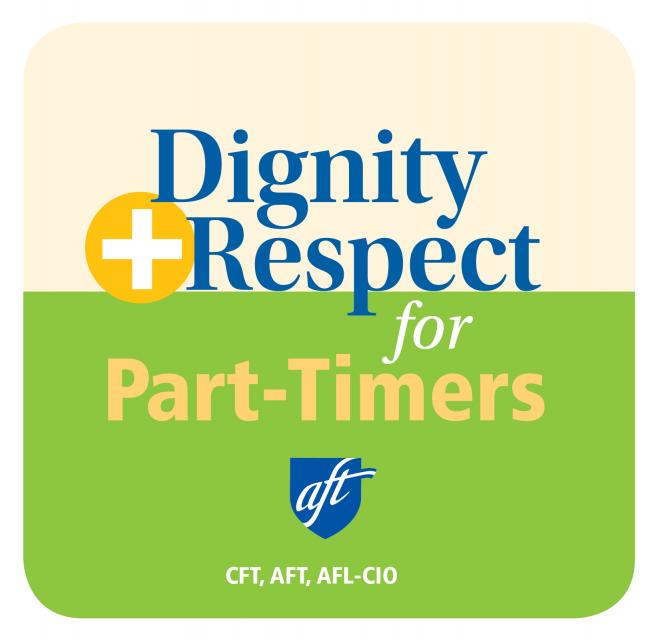 OCTOBER 25-29, 2021
Campus Equity Week is a time of education and activism that draws attention to the working conditions of faculty working on temporary, low-paid contracts, who now constitute the majority of college instructors. In general, the time to plan actions is during the last two weeks of October.
Officially, the date for Campus Equity Week is October 25-29, but what's more important is that campus communities (faculty, students, staff, and administrators) to get the word out this fall before the budget and legislative process begin.
This toolkit, compiled by the CFT Part-Time Faculty Committee, contains materials to plan activities in your local union. Make it happen at your campus!
AFT resources from past years
RALLY SIGNS
These rally signs are 17 in x 11 in. There are four message signs and a blank sign. (The message signs also have a blank on back for local messaging if you desire.)
FLYERS
This series of flyers is based on the first nationwide survey of adjunct and other contingent faculty to be circulated since 2013 — the Contingent Faculty Quality of Life Survey. The 52-question survey was completed by 3,076 contingent faculty in 2019 — adjuncts/part-time faculty, full-time non-tenure track faculty, and graduate employees. AFT advertised the survey via email and social media, and was able to draw some robust conclusions about the conditions faced by this new majority of college faculty in the United States.
More Faculty Resources
Letters
Call for volunteers, generic
Campus Equity Week, generic
Articles
Crossing the divide: The conversation that adjunct and full-time faculty need to have
Resources for Working with Student Groups
Sample posters and more
Adjunct Faculty Working Conditions Poster
Campus Equity Week (button art)
Ten Action Items
Resources to Circulate to Students
CSU hurts students by hiring too many part-time lecturers | The Sacramento Bee
Myths about college degrees and the jobs economy | Changing Universities
The effects of contingency on student success and the professoriate| Peer Review
The $15 minimum wage is a moral imperative | 1199 SEIU Healthcare Workers East
The danger of telling poor kids that college is the key to social mobility | The Atlantic
Underpaid and restless | The Chronicles of Higher Education
Why don't American students strike? | The Nation
Why it's so hard for the poor to get ahead today | The Atlantic
Resources for Community Outreach
News Articles on Adjunct Issues
Adjuncts and Poverty
Adjuncts and the affordable healthcare act| American Association of Community Colleges
The professor charity case | Pacific Standard
The highly educated working poor adjunct professors| jimhightower.com
Vermont students, workers object to tuition dollars being used to fund poverty wages|truthout.org
Your college professor could be on public assistance| NBCNews.com
Corporatization
Instead of a war on teachers, how about one on poverty| Salon.com
Unethical Academia | Huffington-Post.com
Who are these unsung heroes of academe?| Current Issues in Education
Who is Professor Staff And How Can this Person teach So Many Classes | Center for the Future of Higher Education
Who Needs Faculty?| Campaign for the Future of Higher Education
Denial of Rights and Respect
How to screw an adjunct, Part I
Part-time school, college staff may lose state health benefits | The Seattle Times
University adjuncts are often denied a share of shared governance, study finds | The Chronicle of High Education
Plotting a Course
The way forward: It gets complicated
Women and Adjunctifation
Why women leave academia and why universities should be worried| Guardian Professional