Climate Justice Toolkit
Flyers & teaching resources for educators, unions

FLYERS
Distribute this topnotch suite of five flyers at your union meetings and use them in your classroom too. Help spread the word about the CFT Climate Justice campaign.
CFT Climate Justice Agenda
The name says it all. Simple and straight forward, the core tenets of our climate justice campaign.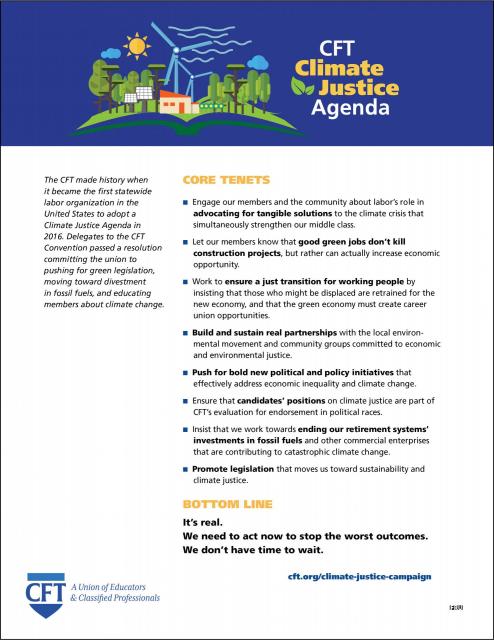 Ten Reasons CFT Members Should Care About Climate Justice
Solid reasons why we should all care about climate justice, with a bit of humor too.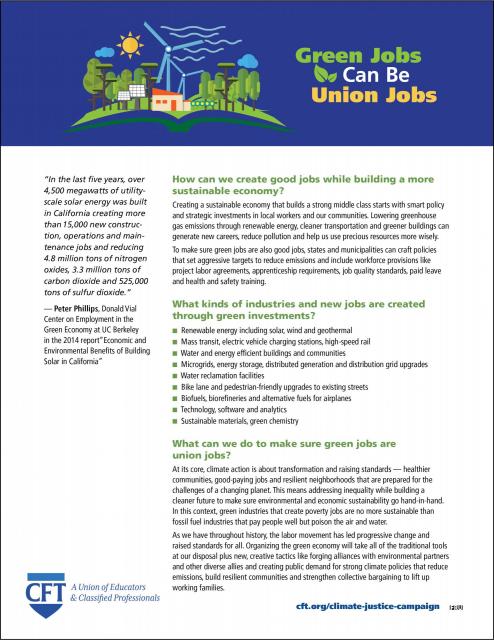 Climate Justice Myths & Realities
Debunking the myths put forward by climate deniers with solid science.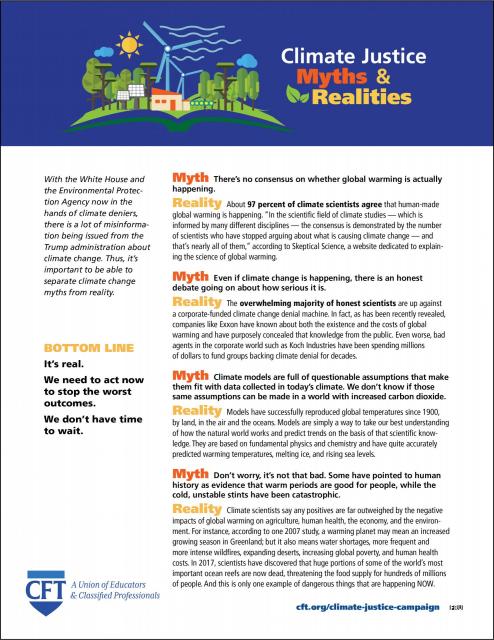 Why Teach About Climate Change?
What's at stake for present and future generations? Our students' future is in peril.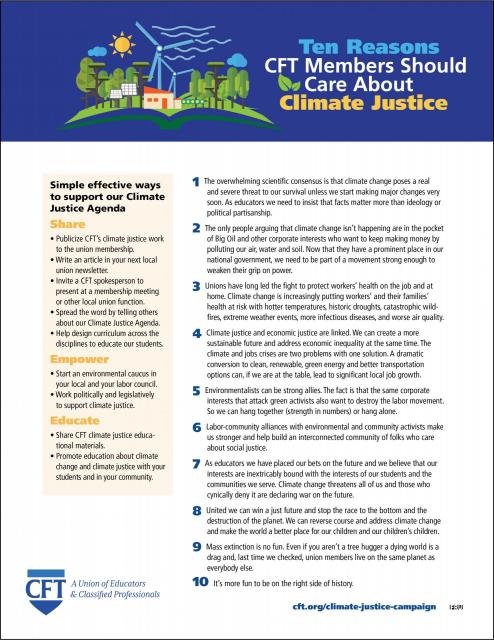 Green Jobs Can Be Union Jobs
How we can create good union jobs while building a more sustainable economy.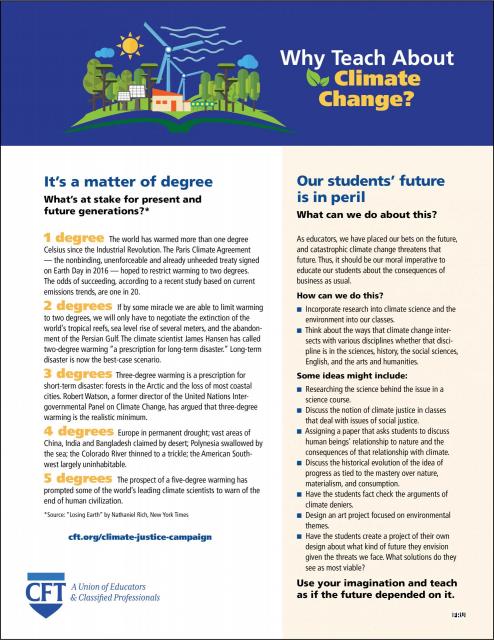 TEACHING RESOURCES
NEW CFT RESOURCE!
The Climate Crisis: A Brief Primer for Educators This primer from the Labor and Climate Justice Education Committee provides a big picture overview of the climate change crisis and encourages educators and others to take positive steps that will build resiliency for our students and labor. Developing ways to adapt to the changes in climate are part of an essential paradigm shift that will provide students, labor, and to a larger extent, humanity, the greatest opportunity to have a healthy, productive, and sustainable future.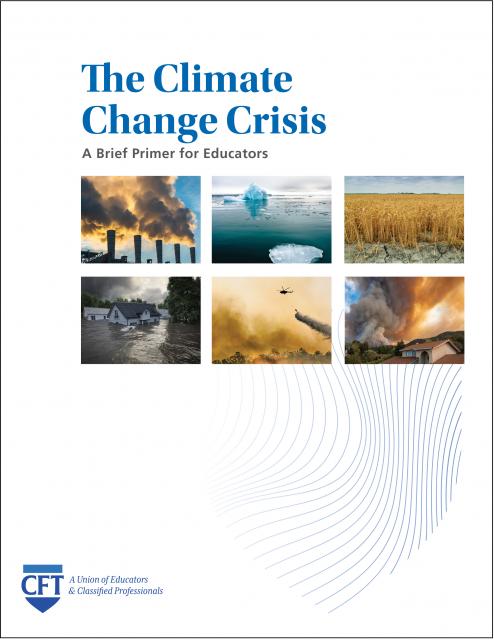 AFT American Educator: This special issue features numerous inspired articles including how to teach climate change in a polarized environment and how to teach using short stories.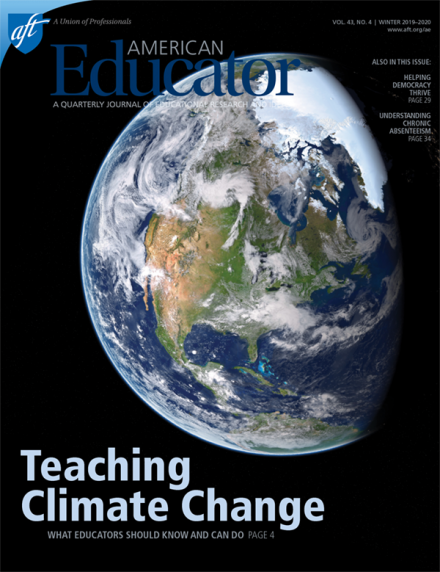 AFT Share My Lesson: Climate change lessons and resources from AFT's premiere website Share My Lesson. The collection includes the science of climate change, endangered species, resource depletion, and stories of human activism.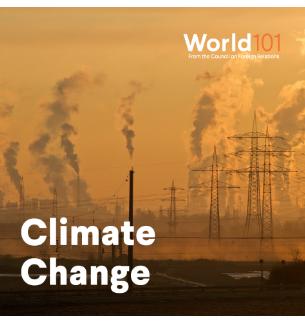 RESOLUTIONS
The following resolutions crafted by the Labor and Climate Justice Education Committee have been passed by delegates to CFT Conventions in recent years.
CFT NEWSROOM
These stories describe CFT's groundbreaking positions on climate justice.
Find all of our member stories related to climate justice in the CFT Newsroom.
RELATED LINKS
Teachers Unions Could Move the Climate Strikes Into Phase 2
In These Times, November 4, 2019
San Diego and Imperial Counties Environmental Caucus
The first labor organization in the nation to adopt a climate justice agenda. Find the group's mission statement and other resources here.
Labor Network for Sustainability
The organized voice within the labor movement for policies that are ecologically sustainable while also advancing the movement for good jobs and a just transition for workers and communities hurt by the effects of climate change and by the transition to renewable energy.
TAKE ACTION
Invite a member of the CFT Climate Justice Task Force to present to your local at a membership meeting or other local union function.
Email inquiries about the Climate Justice Campaign to committee chair Jim Miller, AFT Guild, San Diego and Grossmont-Cuyamaca Community Colleges, Local 1931.