Climate Justice Toolkit
Flyers & resources for educators, unions

FLYERS
Distribute this topnotch suite of five flyers at your union meetings and use them in your classroom too. Help spread the word about the CFT Climate Justice campaign.
CFT Climate Justice Agenda
The name says it all. Simple and straight forward, the core tenets of our climate justice campaign.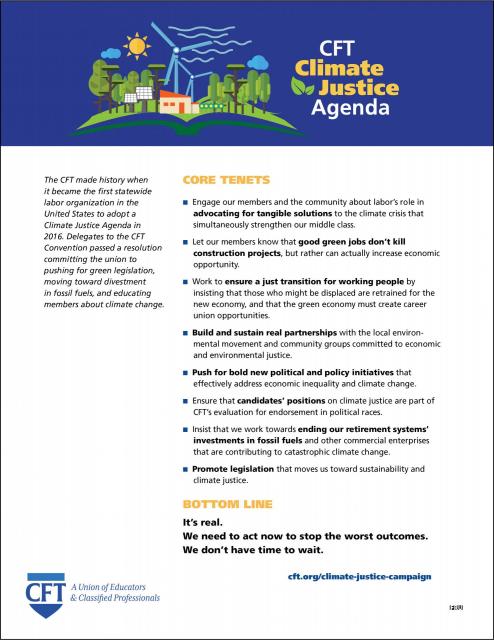 Ten Reasons CFT Members Should Care About Climate Justice
Solid reasons why we should all care about climate justice, with a bit of humor too.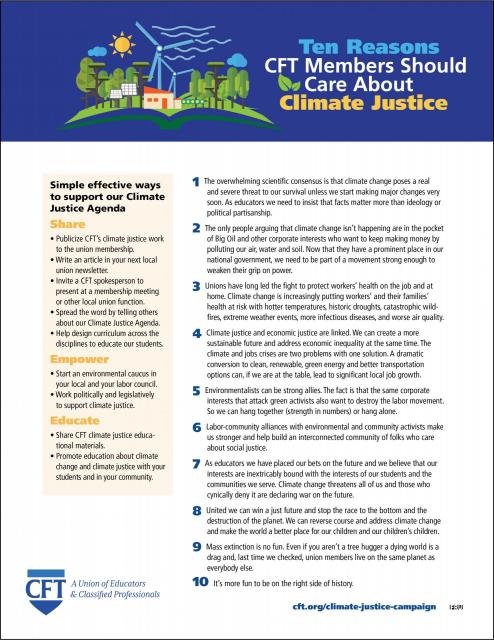 Climate Justice Myths & Realities
Debunking the myths put forward by climate deniers with solid science.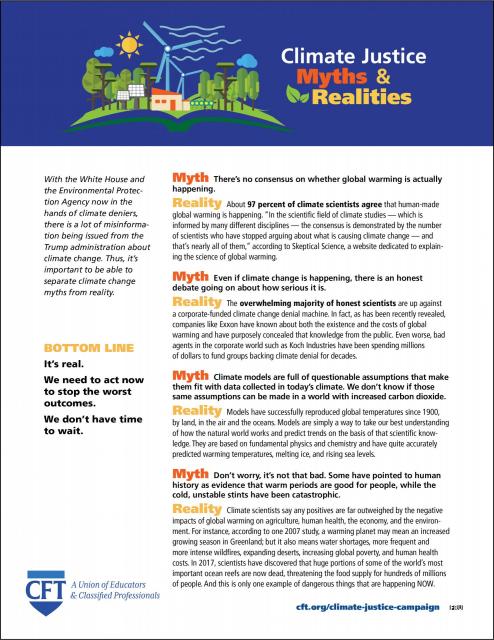 Why Teach About Climate Change?
What's at stake for present and future generations? Our students' future is in peril.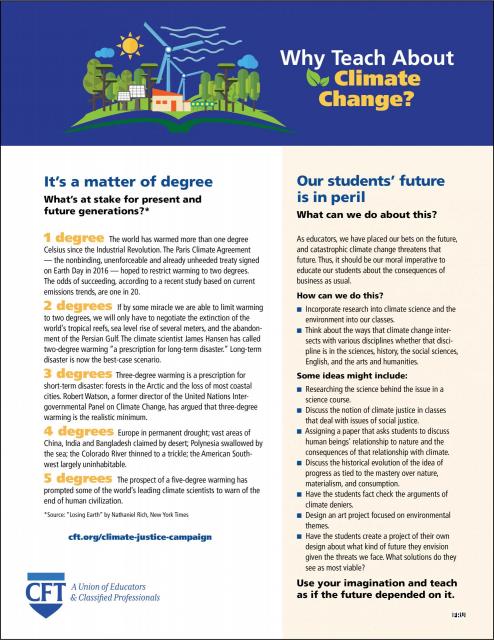 Green Jobs Can Be Union Jobs
How we can create good union jobs while building a more sustainable economy.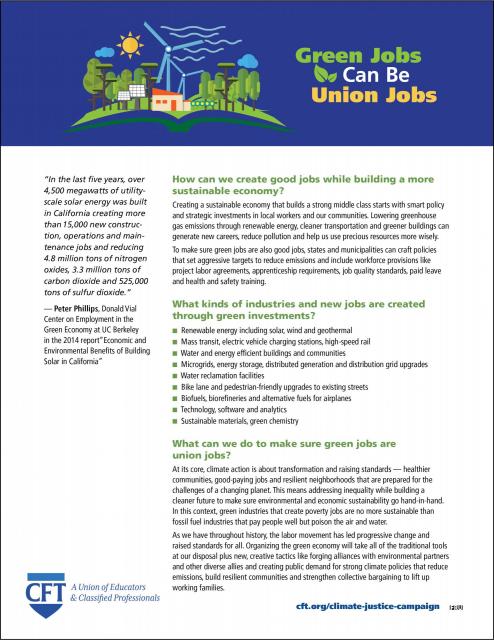 TEACHING RESOURCES
NEW CFT RESOURCE!
The Climate File
This booklet is designed to introduce students to the climate crisis that is engulfing the Earth and its inhabitants — animal, plant, and human. Actually, it's a series of starting points for further reading and research, for organizing and for effective action on climate justice. The sooner all of us, especially young people become informed and active, the better future for all of us.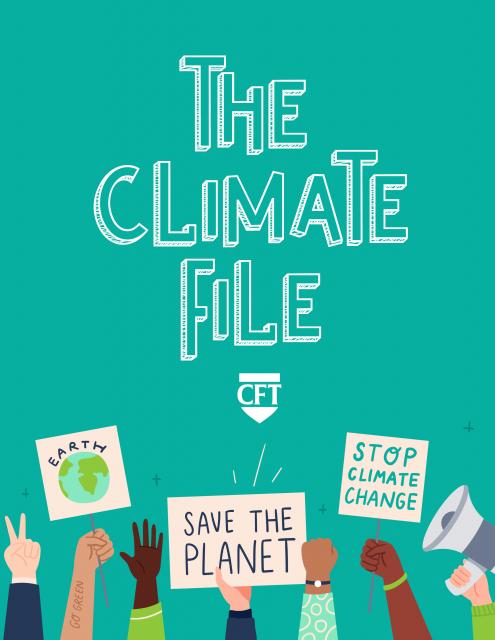 NEW CFT RESOURCE!
The Climate Crisis: A Brief Primer for Educators
This primer from the Labor and Climate Justice Education Committee provides a big picture overview of the climate change crisis and encourages educators and others to take positive steps that will build resiliency for our students and labor. Developing ways to adapt are part of an essential paradigm shift that will provide students, labor, and to a larger extent, humanity, the greatest opportunity to have a healthy, productive, and sustainable future.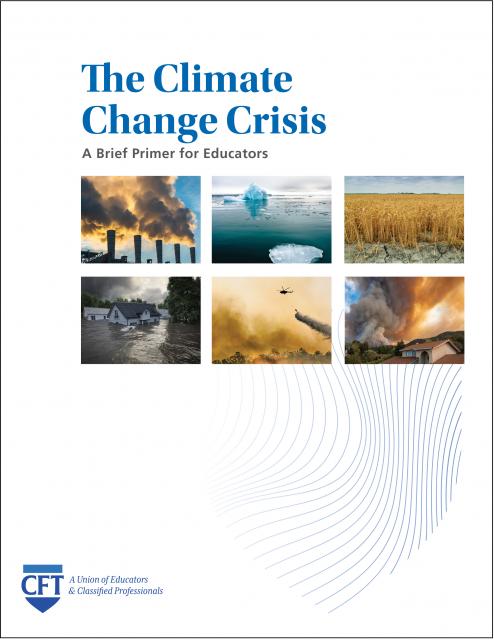 "The Pollin Report" — A Program for Economic Recovery and Clean Energy Transition in California
The CFT and a broad range of labor unions sponsored the Pollin Report, which concludes that a clean energy transition in California is a realistic goal and workers do not have to be left behind to accomplish it. The groundbreaking Pollin Report was released in June 2021 by the Political Economy Research Institute at the University of Massachusetts Amherst. (178 pp) Read our article about the Pollin Report.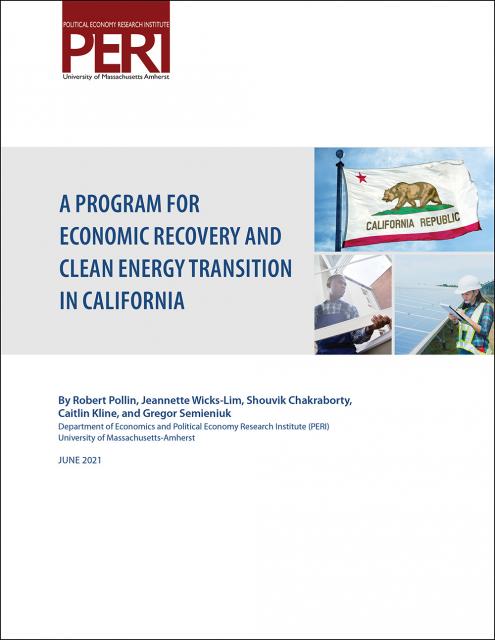 The Pollin Report Fact Sheet — California's Climate Goals Will Create One Million New Jobs
This two-page fact sheet provides a quick and visual summary of the Pollin Report.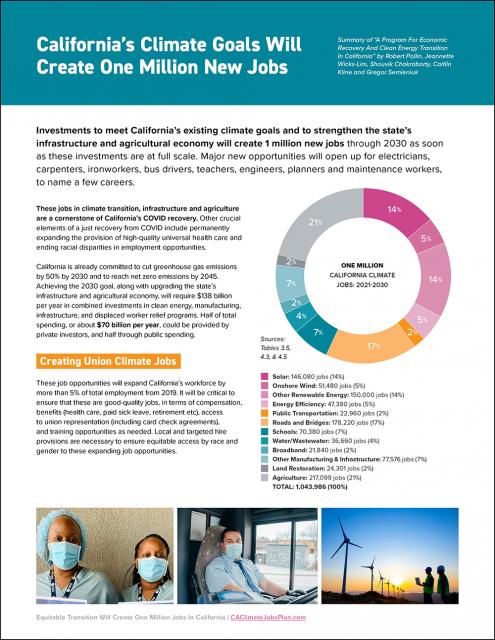 AFT American Educator
This special issue features numerous inspired articles including how to teach climate change in a polarized environment and how to teach using short stories.

Also from American Educator: Combining Games and Critical Thinking to Fight Misinformation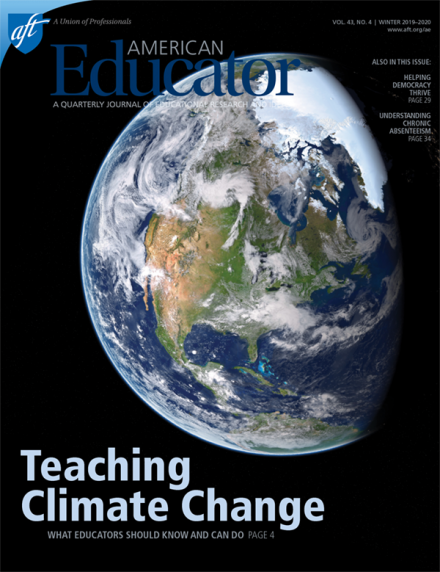 AFT Share My Lesson
Climate change lessons and resources from AFT's premiere website Share My Lesson. The collection includes the science of climate change, endangered species, resource depletion, and stories of human activism.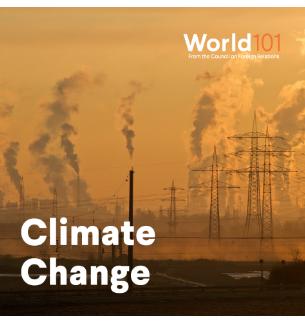 RESOLUTIONS
The following resolutions crafted by the Labor and Climate Justice Education Committee have been passed by delegates to CFT Convention and State Council.
NEWSROOM
In the CFT Newsroom
The stories below describe CFT's groundbreaking positions on climate justice. Find all of our stories related to climate justice in the CFT Newsroom.
From the general media
PARTNERS
The CFT partners with these advocacy organizations to work for climate justice.
California Labor for Climate Jobs
Nineteen unions, including the CFT, have endorsed Dr. Robert Pollin's report: A Program For Economic Recovery and Clean Energy Transition in California.
Labor Network for Sustainability
The organized voice within the labor movement for policies that are ecologically sustainable and advance the movement for good jobs and a just transition for workers and communities hurt by the effects of climate change and the transition to renewable energy.
Last Chance Alliance
CFT is a member of this alliance whose vision for California's future replaces exploitive and polluting fossil fuels with clean energy, healthy communities, and good jobs.
In San Diego County
San Diego and Imperial Counties Environmental Caucus
The first labor organization in the nation to adopt a climate justice agenda. Find the group's mission statement and other resources here.
San Diego Green New Deal Alliance
A coalition of 60-plus local businesses, environmental, labor, social justice, public health, faith, and community-based organizations dedicated to the fight for climate, jobs, and justice.
SanDiego350
Building a movement to prevent the worst impacts of climate change and climate injustice through education, outreach, mobilization and public policy advocacy.
TAKE ACTION
Invite a member of the CFT Climate Justice Task Force to present to your local at a membership meeting or other local union function.
Email inquiries about the Climate Justice Campaign to committee chair Jim Miller, AFT Guild, San Diego and Grossmont-Cuyamaca Community Colleges, Local 1931.