Climate Justice Toolkit
Flyers and info for educators and unions

FLYER SERIES
Distribute this topnotch suite of flyers at your union meetings and use them in your classroom too. Help spread the word about the CFT Climate Justice campaign.
CFT Climate Justice Agenda
The name says it all. Simple and straight forward, the core tenets of our campaign.
Ten Reasons CFT Members Should Care About Climate Justice
Solid reasons why we should all care about climate justice, with a bit of humor too.
Climate Justice Myths & Realities
Debunking the myths put forward by climate deniers with solid science.
Why Teach About Climate Change?
What's at stake for present and future generations? Our students' future is in peril.
Green Jobs Can Be Union Jobs
How we can create good union jobs while building a more sustainable economy.
TEACHING RESOURCES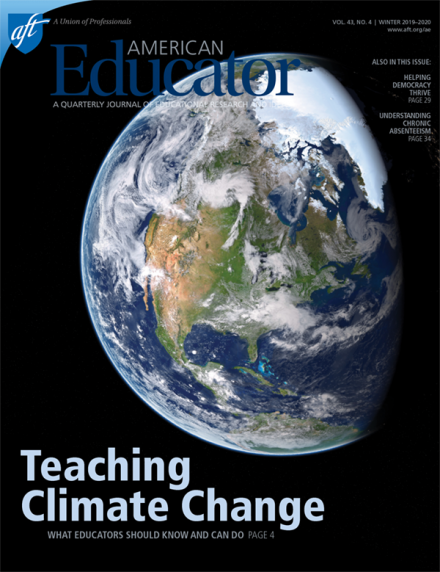 AFT American Educator: Special issue on teaching climate change
RESOLUTIONS
CFT ARTICLES
CFT becomes first U.S. union to
 adopt Climate Justice Agenda
Read about the work of the CFT Climate Justice Task Force
Climate justice: CFT becomes first statewide union committed to climate justice
CFT Convention delegates pass Resolution 29
RELATED LINKS
Teachers Unions Could Move the Climate Strikes Into Phase 2
In These Times, November 4, 2019
San Diego and Imperial Counties Environmental Caucus was the first labor organization in the nation to adopt a climate justice agenda. Find the group's mission statement and other resources here.
Labor Network for Sustainability is the organized voice within the labor movement for policies that are ecologically sustainable while also advancing the movement for good jobs and a just transition for workers and communities hurt by the effects of climate change and by the transition to renewable energy.
TAKE ACTION
Invite a member of the CFT Climate Justice Task Force to present to your local at a membership meeting or other local union function.
Email inquiries about the CFT's Climate Justice Campaign to committee chair Jim Miller.