Under the Convention theme "Activate Labor for Justice," climate was highlighted when the CFT became the first statewide union to pass a resolution "committing the CFT to a climate justice agenda."
Jeremy Brecher, the founder of Labor Network for Sustainability and the author of more than a dozen books on labor and social movements including Strike!, gave a talk about labor's role in solving the climate crisis.
Brecher, who is dyslexic, began by saying the bumper sticker, "If you can read this, thank a teacher" applies to him. While some people wonder about the future of the labor movement, he gave examples of movements that show its relevance.
"Occupy Wall Street put inequality front and center in American political consciousness," he said. "Since I finished revising Strike!, there have been revolts like Fight for 15 and Black Lives Matter. Another is the movement for public education and to reclaim our schools."
All of these are a force for meeting the needs of working people, Brecher said. While some argue that we have to choose between a healthy economy and a healthy climate, what really kills jobs is climate change, he said, pointing out the impact increasing floods and droughts have on lives and work.
The Labor Network for Sustainability did a report showing that making the energy transition and reducing greenhouse gases can mean creating ten times the number of jobs lost. But he cautioned it is vital to be sensitive to those afraid of losing work.
"Any job is important if it's your job," he said. "The slogan I propose is 'No worker left behind.' And that has to be part of the climate protection agenda."
Brecher said working for climate justice shows labor as a force for the general good, not a special interest.
"More specifically, it presents educators as defenders of youth and defenders of our future," he pointed out.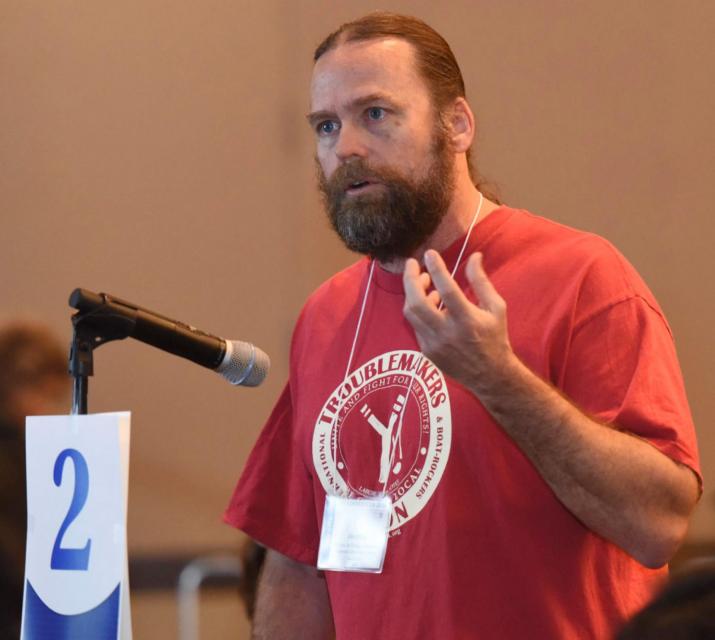 Jim Miller, from the AFT Guild and chair of the San Diego-Imperial Counties Labor Council Environmental Caucus, spoke for the resolution, saying some people will question why climate justice is an issue for educators when in fact it's exactly what we need to be concerned with.
"As teachers, our fundamental bet is on the future," he said. "Who better than us to lead the charge?"
Robert Chacanaca from the Santa Cruz Council of Classified Employees spoke about the importance of climate justice. While some delegates argued that the CFT not support divesting from fossil fuels, so that labor would have a voice in corporate meetings, Miller strongly opposed this, noting that some experts say we only have about 10 years to really do something about climate change before it's too late.
"About 50 percent of the mammals in the sea are at risk of extinction, and we're at risk of losing the coral reefs," Miller said. "What we need now more than anything is urgency and moral clarity."
Delegates heartily passed Resolution 29, committing CFT to a climate justice agenda.
— By Emily Wilson, CFT Reporter