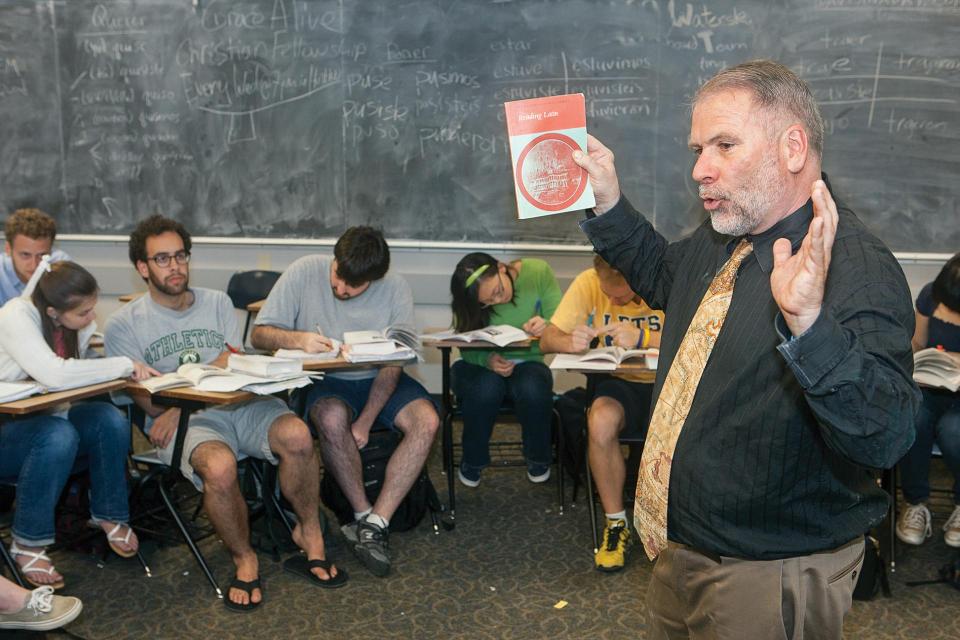 Classics lecturer John Rundin feels privileged to pass on to another generation the cultural treasures that were given to him by the previous generation. The teacher of Latin and ancient Greek is one of two recipients of this year's Award for Excellence in Teaching from the UC Davis Academic Federation.
"I live my job, love what I do, and I love my students," says Rundin. "It is a great honor."
In a packed classroom, California Teacher observed the animated and energetic Rundin bring Latin subjunctives to life for his inquisitive students. History major Caroline Whyler, who is taking her third class with Rundin, appreciates his patience and describes him as having "just the right amount of eccentricity needed to make Latin interesting. He is never boring."
Rundin credits the union with "keeping culture, the arts, and humanities alive." The newly elected president of UC-AFT Davis, Local 2023, explains, before lecturers unionized, "they didn't have a fair review process. They earned less." There were no rehire standards or job security.
"UC did not merely give us a fair grievance procedure. All the fairness in our job is due to what the union negotiated. The only reason the lecturer job is worth having is because of the union," Rundin says. "Joining a union should be like living in a town and saying you're a citizen. It is my civic responsibility to participate."
The union protects public education and fights against those who "would turn education into mere job training…into making us cogs in the machine," he says. He is angered by the "impoverished view of education reformers who don't see our role as building citizens who will make our country worth living in."
Unionism and civic responsibility are nothing new for Rundin, who has always been active politically and served as faculty union president when he taught at the University of Texas. But until he passed his six-year review at UC (the equivalent of probation) in January 2011, Rundin simply attended union meetings and kept up on the issues.
After his review, he amped up his activity and led the local's membership drive. His energy and persistence resulted in a dramatic 12 percent increase of lecturer members at Davis.
Rundin says access is the biggest challenge in organizing lecturers, who are spread across a vast area in isolated units. "You have to talk to people face to face. UC supplies lists of eligible bargaining unit members, but they list only names and departments, no phone or room numbers. I had to hunt them down by going to department administrative offices and, if I was lucky, I found office hours and room numbers." Once he found them, he explained to the lecturers how more union members meant more union strength at the bargaining table.
When local president Alex Borg stepped down, Rundin stepped up. Rundin wants to continue building local membership, and to increase member activity and political involvement. An engaged membership, he believes, is esssential to protecting public education against "the massive propaganda effort against unions waged by the right.
"Teacher unions are vital to the world of education," Rundin asserts, and "education, economic growth, and cultural amenities essential to our well-being." But, he concludes, while "UC has been a premium university, over the last couple decades, California has stepped away from its responsibility to foster this institution."
— By Mindy Pines, CFT Reporter