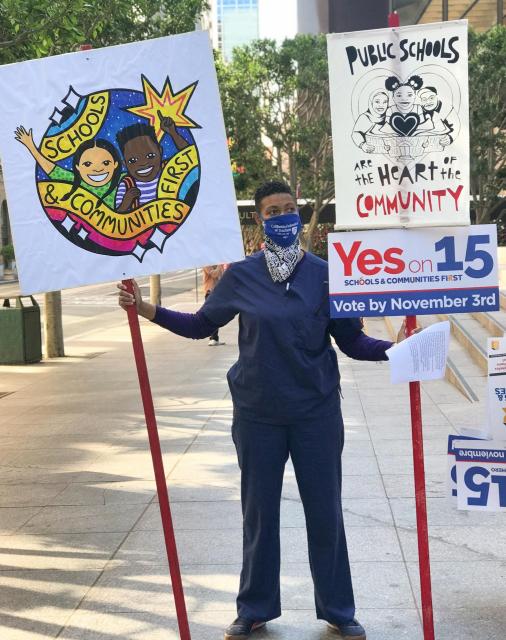 On November 3, voters went to the polls to turn things around in our country and in our state. Or rather, many went to the polls, but many more had already cast mail ballots in the days and weeks leading up to the election, a sign of the times during a year of "stay at home" orders.
Despite the challenges of holding a Presidential Election in the midst of the COVID-19 pandemic, voters across the country turned out in record numbers and sent a resounding message that they wanted new national leadership. With a total of 306 electoral college votes and a margin of 6 million votes in the popular vote contest, Joe Biden was elected president and Kamala Harris vice president.
The message from voters was clear: It is time to reset the course of our nation and regain standing in the world community. While Trump has been "reluctant" to cede the presidency, his attempts to overturn the results have largely proven fruitless and, come January 21, 2021, the United States will have a new president.
Despite California being a leader on economic and social issues, it is often overlooked in presidential contests, as the state's 55 electoral votes — more than any other — are generally a safe bet for Democratic candidates. However, CFT members were eager to do their part in this critical Presidential Election.
Working through the AFT, members completed hundreds of volunteer shifts, making calls to fellow AFT members in battleground states Arizona, Colorado, Nevada, Wisconsin, and Florida. They urged their union colleagues to vote for the Biden-Harris ticket and, in attempt to flip the U.S Senate, AFT-endorsed senatorial candidates.

Stinging loss of Prop 15
Although much of the attention was directed to the national stage, elections in California proved once again to be contentious and expensive. The ballot was packed with propositions, and many of them spoke to the union's values of equality, justice, and fairness — a more just tax policy (Yes on Prop 15), affirmative action (Yes on Prop 16), labor rights (No on Prop 22), and criminal justice (Yes on Prop 17 and No on Prop 20). As always, CFT partnered with labor and progressive organizations to bring about positive changes for schools, workers, and communities.
Not all of our efforts were successful. The most stinging defeat was losing Prop 15, a measure the CFT has worked for years to bring to the ballot. This proposition was the first real attempt to reverse the unfair property tax policies that favor wealthy corporations and starve schools and communities of billions of dollars a year.
Sadly, we fell short by about half a million votes. But this is not the end of our work to bring tax fairness to California. With the union's community allies, the CFT will continue the conversation and identify sources of revenue public schools and colleges need and deserve.
Prop 16, the effort to restore affirmative action to California, also failed. And the ,ll-moneyed interests behind Yes on Prop 22 — including Uber, Lyft, and Doordash — outspent organized labor 10-to-1 and succeeded in rewriting labor law in their favor to deny gig workers access to basic labor rights and protections. These fights are also far from over.
There was positive news too. CFT-backed Prop 17, which allows people who are on parole to vote, passed. And voters defeated Prop 20, which would have rolled back significant sentencing reforms that CFT helped to pass in 2014. Criminal justice reform has long been a CFT priority and speaks to the union's deeply held values of equality and racial justice.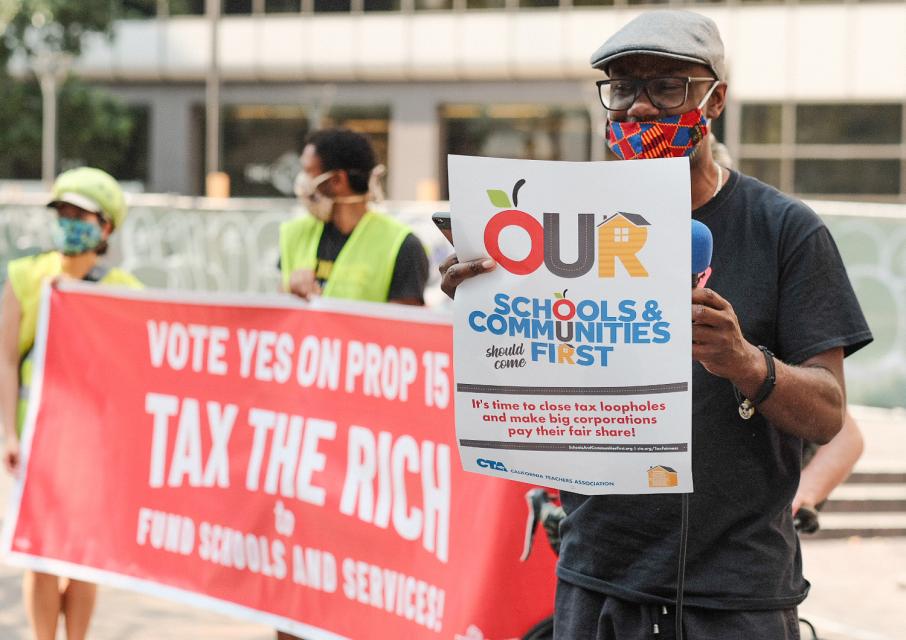 Local elections matter
This election had its share of challenges. With the COVID-19 pandemic, our most time-tested ways of talking to members about elections — in person and at the worksite — were not possible. But the inability to meet in person didn't deter members from getting to work. CFT members made over 72,000 phone calls about Prop 15 alone.
Many locals engaged in socially distanced literature drops on the weekends and held Zoom meetings and candidate forums to get out the word about critical local races. CFT distributed signs and buttons, shared the Educators Choice online voter guide widely, and partnered with Central Labor Councils to get out the vote.
The work that CFT locals put forth paid off. Several locals were able to successfully implement the tactics available to us this year to create wins for their districts.
The Tamalpais Federation of Teachers passed Measure M, a critical parcel tax for their district that will protect educators' jobs.
In the Los Angeles community colleges, the Los Angeles College Faculty Guild and the AFT College Staff Guild worked together to run an aggressive and wide-ranging campaign to re-elect four of their board members. Their efforts were met with a resounding success, and all will return to the board.
The Los Rios College Federation of Teachers also pulled off a clean sweep and elected three members to their district's board of trustees.
PreK-12 locals succeeded in local board elections as well, with the Oxnard Federation of Teachers and School Employees, the North Monterey County Federation of Teachers, the Newport Mesa Federation of Teachers, and the Novato Federation of Teachers electing new union-backed candidates to their boards, to name just a few.
• As always, members also rose to the challenge of running for office. Paul da Silva, a retired professor at the College of Marin ran for a seat on the district board and, backed by his union, the United Professors of Marin, was handily elected. In another major election victory, VanCedric Williams, a CFT Vice President and treasurer of United Educators of San Francisco, successfully landed a seat on the Oakland Unified School Board.
This list is far from exhaustive, but it highlights how local elections truly matter and that local unions showed up and turned out, even amidst the most extraordinary circumstances.
Now that the dust is settling, we might do well to remember that Election Day is a snapshot of a moment in time that captures how voters feel about particular candidates and issues on a particular day. But the organizing between elections, the conversations with our members and communities about the issues that matter to us, are a year-round endeavor. Those are what ultimately moves the dial when the next election rolls around. So let's celebrate the victories and don't mourn, but organize.
— By Jessica Ulstad, CFT Political Director