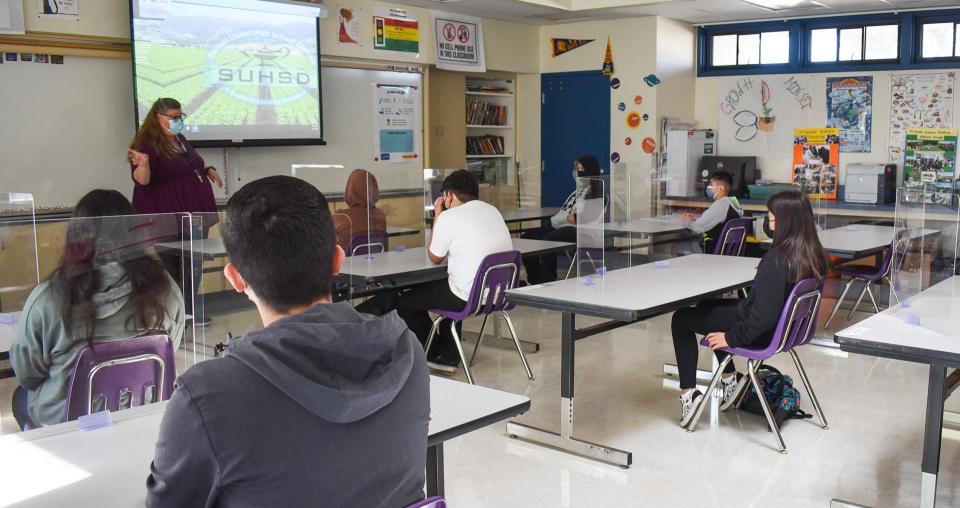 Salinas teachers manage Roomers and Zoomers
Teachers at the four middle schools and five high schools represented by the Salinas Valley Federation of Teachers went back into the classroom on April 27, with options for families to remain in distance learning.
Local President Kati Bassler says the number of students returning has been consistent with the rest of the nation, with about 30% of the high school students returning and the rest staying in distance learning, and about 50% of middle school students coming to the schools.
Bassler says the local decided to do concurrent teaching (what she calls "Roomers and Zoomers") although that's challenging for the teachers.
"What's making it manageable is they'll have seven kids in front of them and 23 doing distance learning," she said." The instruction is very explicit, so they'll tell the students at home, 'OK, you'll have 15 minutes to work on this and I'll set my time and mute my computer,' and then they'll work with the kids in front of them and then go back to those at home. Every teacher has to figure out content and what works in a classroom."
Bassler says some good things have happened, including the district installing more than 800 access points for fast wifi connections, and a plan for in-person summer school as well as night school for the students who work to recover credits. In addition, more than 950 out of a thousand of the local's members have been vaccinated. When teachers became eligible for the shots in early March, Bassler says the local would text and email members to let them know where they could get a shot and offering to release them from work.
Planning for the next school year has been conservative, Bassler says, preparing for the possibility of going in and out of hybrid teaching and looking at different schedules.
"What has saved all of us is having good relationships with our members," she said. "Our members trust us and when there's a change usually the messaging comes from us."
In spite of the complications of being back in the classroom, Bassler says there are positives.
"I will say the joy that teachers and kids have experienced being back on campus is overwhelming," she said. "The laughter in the halls and kids playing has brought life into the school."
Pajaro Valley teachers see almost 95% vaccination rate
COVID hit many families, staff and teachers in their district hard, says Nelly Vaquera-Boggs, president of the Pajaro Valley Federation of Teachers. With the California Department of Public Health issuing regular changes in guidelines, the union negotiated for continued safety protocols while Vaquera-Boggs says the district made rushed changes to previous agreements in an attempt to meet basic requirements about student spacing in the classroom. "It was frustrating for teachers as they waited to hear the final agreement, but they're thrilled to be in person with their students," she said.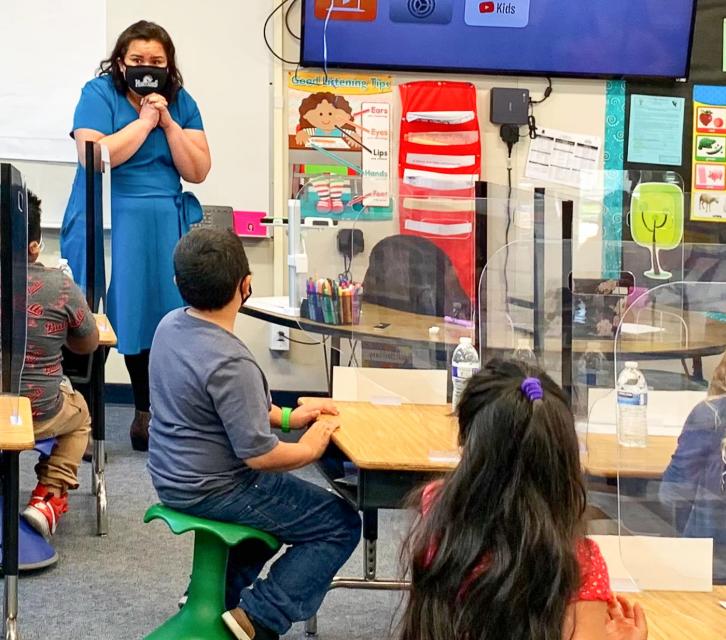 The district encompasses about 50% of Santa Cruz County and a few sites in North Monterey County, which serve the students of many essential workers such as agricultural, education, medical, and hospitality workers. Vaquera-Boggs says there is also a small part of the district that serves students in a more affluent area.
Vaquera-Boggs says the union negotiated for teachers to have the choice of opting in to teach in person, and the district reopened on April 5, with a hybrid model of virtual classes in the morning (so students could be with the same teachers for consistency) and a 90-minute in person program in the afternoon.
"Some families were very vocal about schools reopening full-time, but others were very concerned about safety," she said. "That's apparent by the number of students who have chosen in-person instruction. Those who didn't may have transportation concerns or are feeling the trauma and grief due to the loss of family members, or other damaging effects of COVID."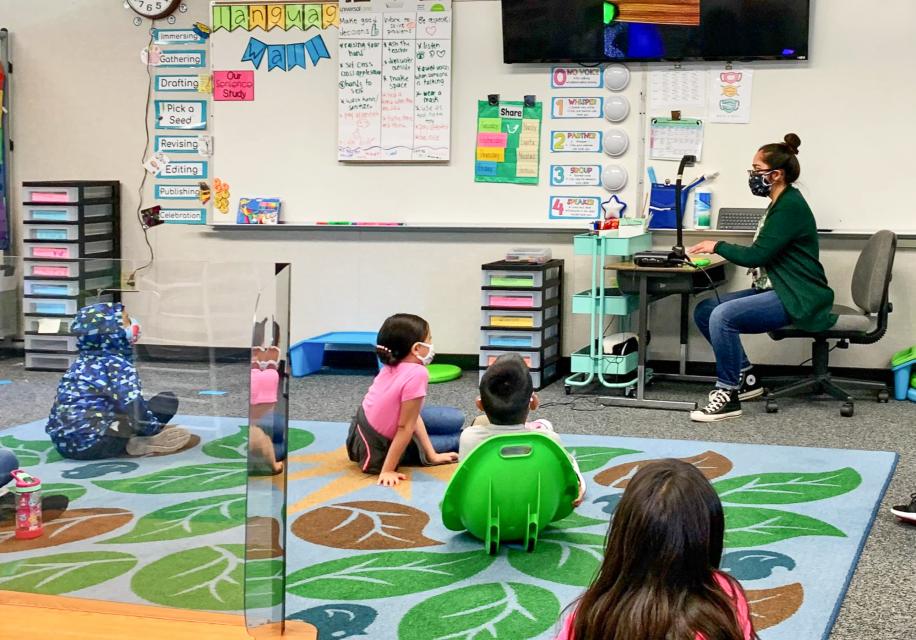 Vaquera-Boggs signed a joint letter with other union presidents in the county in February, asking to have teachers prioritized for vaccinations, and the County Office of Education worked with Dignity Health to get everyone vaccinated before reopening. Vaquera-Boggs, also a CFT vice president, says close to 95% of teachers took advantage of the vaccinations, and now the local is advocating that students over 16 be vaccinated.
The students will come back full time in the fall, and Vaquera-Boggs says they're negotiating strategies to have in place, so that everyone will know what to expect if, for example, if a student has COVID.
Newport-Mesa teachers endured multiple on/off transitions
The Newport Mesa school district will go back full time next semester as well, says Tamara Fairbanks, president of the Newport-Mesa Federation of Teachers. In her district, schools have been open, on and off, starting with distance learning in August then shifting to a hybrid model in September.
In December, right before a surge of COVID, secondary schools went back to distance learning, because the high schools didn't have custodial staff as they were quarantining. Since the end of spring break in April, the elementary schools have been 100% open for in-person learning while secondary schools are open four days a week.
"It's been quite a rough transition for a lot of our people," Fairbanks said. "Every transition whether from distance to hybrid, or from hybrid to full in-person, had a very short time between the announcement and implementation."
Fairbanks says there was a huge parent push to get schools opened up, with some denying COVID.
"The Costa Mesa side of the district has strict mask mandates and is in lockstep on all the safety protocols," she said. "Newport Beach is the complete opposite, and you can get harassed if you wear a mask."
The local pushed to have all the safety protocols in place for students to come back, Fairbanks said, and they negotiated a mask mandate for all students as well as air purifiers for all rooms.
Fairbanks says the local sent out information from AFT and the Orange County Health Agency to aid members in vaccine education and navigating websites to find an appointment. She thinks about 70% of Newport-Mesa members are vaccinated, and she says that since the local pushed for the vaccines as well as safety measures, they are having a smoother time with the elementary schools being fully open.
UTLA holds out for strong safety protocols
Los Angeles public schools reopened on April 12, with first and second grade going back, the upper grades the next week, and secondary schools opening April 26.
Juan Ramirez, the AFT president of United Teachers of Los Angeles, says back in February, when information about the virus was more unclear and constantly changing, what they needed to reopen kept changing as well. But as things became more clear, he says UTLA had three demands — everyone on the school site be vaccinated, the county be out of the purple tier, and have safety protocols in place.
Ramirez says because some areas in Los Angeles were hit so hard with COVID, they knew not all parents would send their children back to school. So the morning is in-person and the afternoon virtual, with the teachers at schools five days a week, teaching from their classrooms.
Ramirez says the union decided not to do concurrent teaching because they thought the teachers would focus on the kids in the classroom and have a hard time paying attention to those learning at home.
"I want to emphasize the safety of our students, members and community is a priority," Ramirez said. "A lot of our students are from low-income families and don't have healthcare. If someone gets infected, we don't want that to be an explosion of cases."
Students from lower income areas have been more hesitant to show up, Ramirez says, since their communities were so affected by COVID. About 25% of the students from those neighborhoods have come back for in-person instruction.
Students will return full time in the fall, Ramirez said.
"We're hoping things continue to get better," he said. "We still think in-person teaching is the best way to teach."

— By Emily Wilson, CFT Reporter