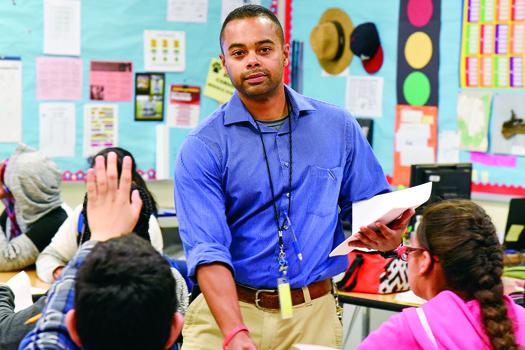 Carlos Howe began working as a security officer for the Hawthorne School District in 2000, but he wanted more. After earning his bachelor's degree in criminal justice administration, Howe joined the Santa Monica Police Department. It wasn't a good fit.
"My hair was on fire everyday. I had recently married and was a brand new father, but it was dangerous and I was always gone, so I switched gears."
Howe returned to school, this time following his wife, brother and sister into teaching. He earned a multi-subject credential at Cal State Dominguez Hills and was soon back at the Hawthorne district, where he has just finished his first year teaching math and science to sixth graders. He also coaches football. It's a great fit.
"It's a rewarding career and the schedule can't be matched. I think I made an excellent decision."
Howe's timing was good too.
"Almost everyone in my college class who applied for work was offered a job. It wasn't like that before, when school district budgets were short. And some of my fellow students went on to get their masters degrees."
CFT-sponsored legislation could assist many more classified employees like Howe and help stem the statewide shortage of teachers. Assembly Bill 2122 by Kevin McCarthy (D-Sacramento) would provide grants to school districts and county offices of education to help classified staff earn four-year degrees and teaching credentials.
It's a rewarding career and the schedule can't be matched. I think I made an excellent decision.

— Carlos Howe, teacher and coach, Hawthorne Federation
The districts and county offices would apply for competitive grants. Those that receive a grant would be required to notify classified employees that funds are available. Each district would determine how to award grants to applicants based on criteria from the Commission on Teacher Credentialing.
Economic factors are one of the hardest obstacles for returning students. As envisioned now, participants would receive up to $4,000 annually to pay for tuition and books.
Maureen Peacock went from paraeducator to credentialed teacher. When Peacock was young, she aimed for a health-related career. She earned a bachelor's degree in nutrition with a minor in gerontology and worked with seniors until her first child was born. She and her husband then launched a business in Mexico and didn't move back to Tuolumne County until 1998.
"I could have easily returned to a hospital or licensed care facility, but I needed a job that fit our daughter's schedule and kept weekends free for our family."
While looking for work, Peacock volunteered at her daughter's school and found her time with the students very rewarding. She earned an emergency credential and worked as a substitute teacher for six local elementary schools, then accepted a permanent position as an aide working one-on-one with special education students for the Tuolumne County Office of Education.
When her director suggested looking into internships, Peacock found a three-year program through the San Joaquin County Office of Education that allowed her to continue working full-time while earning her teaching credential with a speciality in moderate-to-severe disabilities. It also meant a three-hour commute for class two or three nights a week.
"The $4,000 would have been an incredible help. Every round trip to Stockton was over 100 miles, and gas cost up to 
$5 a gallon then."
Peacock and Howe aren't alone. Each year, growing numbers of classified staff and paraeducators overcome a range of academic and economic challenges to earn teaching credentials. In the process they are raising their incomes, diversifying faculty ranks, and helping to fill the teaching shortage.
"This path was out of my comfort zone, but I learned how strong I am," concluded Peacock. "I know I've made a difference in the lives of my students, and I'm a better person because of what they have taught me."
Related story: Read about an Oxnard paraprofessional who made the shift to teaching in California Teacher.
> Read the full text of CFT-sponsored legislation AB 2122 that provides grants to districts and county offices to assist classified employees with college expenses.