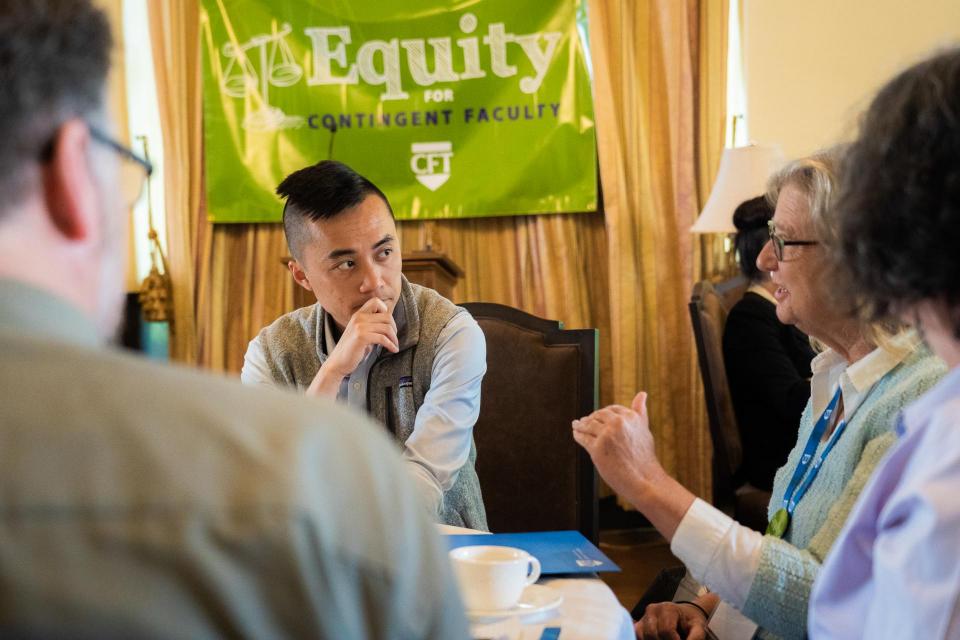 From the Bay Area to San Diego, and from the Central Valley to the Mojave Desert, part-time community college faculty, along with full-time faculty and student allies, gathered at Sacramento's famed Sutter Club on Monday morning, May 1, to go forth and make California legislators aware of the critical need for part-time faculty healthcare and pay parity.
Prior to their convergence on the Sutter Club, attendees spent two hours preparing for the event. They listened to CFT lobbyists discuss talking points regarding the push to keep healthcare funding in the state budget, pass pay parity in AB 1752, and lift the per district teaching cap in the community colleges from 67% to 85% in AB 1856. Next, they broke into teams and practiced their pitches to lawmakers, from opening greetings to telling their personal stories to asking for legislative commitments, all within the 15-minute meeting time they would later be allotted.
Having come off the previous day of plenaries and workshops at the CFT Part-Time Faculty Conference, team members were ready to put their skills into action. One of the more inspiring things to see at the conference was the team building and solidarity that occurred within locals who sent teams comprising both part-time and full-time faculty. Of particular note was the group from the El Camino College Federation of Teachers.
Local 1388 had a particularly strong motivation for being there. Presently, for their healthcare needs, part-time faculty at El Camino College receive only $75 a semester, not enough to cover even over-the-counter treatment for a minor ailment, let alone a serious medical condition or a visit to the doctor.
ESL instructor Laila Dellapasqua, who like many part-timers, works in multiple districts and in excess of a full-time load, was able to speak her truth regarding the challenges of healthcare and the need for pay parity with legislative staff from the offices of Assemblywoman Luz Rivas (D-San Fernando Valley) and Lisa Calderon (D-Whittier). Both staffs were receptive and Dellapasqua, also the local's incoming vice president for part-time faculty, was impressed that there was no "pushback."
Another El Camino adjunct, Annette Owens, accompanied CFT Senior Vice President Lacy Barnes to meet with Christina Garcia (D-Bell Gardens) and was surprised to learn how Assembly staff were in some cases acutely aware of the struggles adjuncts face with lack of healthcare and low pay. One staffer is a current student at Sonoma State University and Garcia herself is a former part-time instructor.
Later Owens returned to the Sutter Club and found herself drawn to the "amazing stories" she heard other faculty telling legislators and legislative staff. She called the conference a "good bonding experience" overall.
Full-time faculty allies like Tobin Keller, president of the Cabrillo College Federation of Teachers, was there to support and advocate for his part-time colleagues. Keller spoke with Assemblyman Alex Lee (D-San Jose) and later with John Laird (D-Santa Cruz). In his speaking with Lee, he found an assemblyperson who was not fully aware of the issue, but who became quickly interested and supportive.
As for Laird, a long-time Santa Cruz area politician, Keller found himself able to readily talk not just about part-time healthcare and pay parity, but also higher ed issues like closing the failing Calbright, ending course repeatability restrictions, and funding initiatives like the CFT-sponsored Billionaires Tax.
Student voices were also part of the mix. Two students involved in Lobby Day were Nedy Velasquez and Ana Serrano, both labor interns for the AFT Guild, San Diego and Grossmont-Cuyamaca Community Colleges. Velasquez, who has lobbied previously on immigrant rights, found herself struck by the stories many part-time faculty told. "I had no idea that they dealt with all that kind of stuff," she said.
Velasquez was part of a team that spoke to legislative staff for Senate President Pro Tem Toni Atkins (D-San Diego) and Scott Wiener (D-San Francisco). With regard to Wiener's staff, she observed that the staff members seemed very surprised and affected by the stories they heard.
Serrano accompanied Velasquez's group to speak with the staff of Senate Pro Tem Atkins. She noted the age of some of the younger staff and imagined herself in that position, in part as a student, and in part as someone who herself would like to work in legislative public policy. Velasquez envisions a future in labor organizing.
Both student interns came away empowered by the whole event. Serrano spoke to how the Lobby Day gave her a strong feeling of "how things work, and "how you can be a part of it." As for Velasquez, she stated simply, "It was great to hear people believe in themselves."
— By Geoff Johnson, assigning editor of Part-Timer, member of the CFT Part-Time Faculty Committee and the AFT Guild, San Diego and Grossmont-Cuyamaca Community Colleges