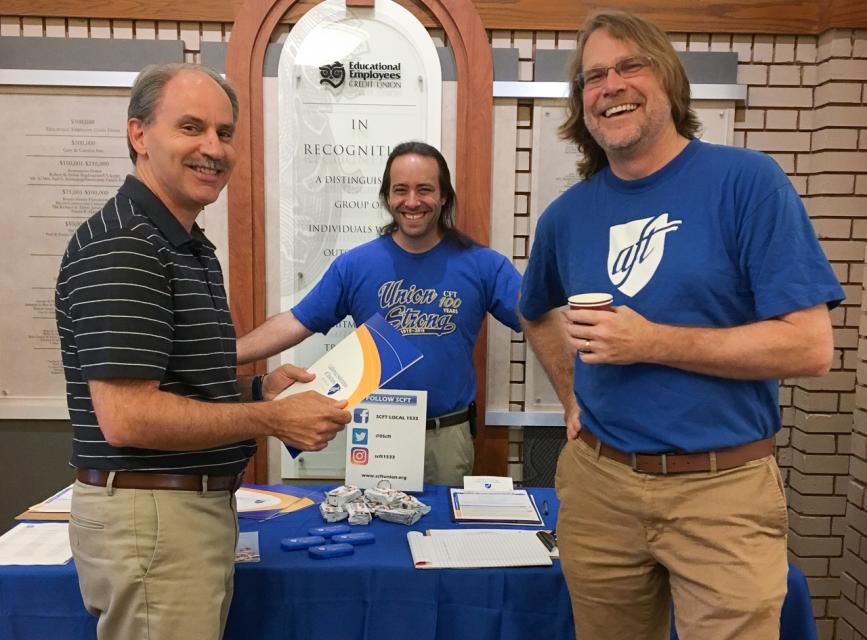 One of the great powers of a union is its ability to uplift the living conditions and status of its members, not just at the bargaining table, but within the structure of the union itself — when the seemingly most marginalized members assume leadership roles.
In local unions representing all faculty, there has been a recent trend of the membership electing a part-time faculty member to lead the union, with significant support from the full-timers. There is perhaps no better example of this, though he might be reluctant himself to say so, than Keith Ford.
Just a few years back, Ford was an adjunct English instructor teaching at multiple campuses and still having to rely on food stamps to help feed his family of three children. Today he is the president of one of the larger community college union locals in California, the State Federation of Teachers, AFT Local 1533. It was a position he was elected to with the overwhelming support of both part- and full-time faculty, earning over twice the vote of his nearest opponent.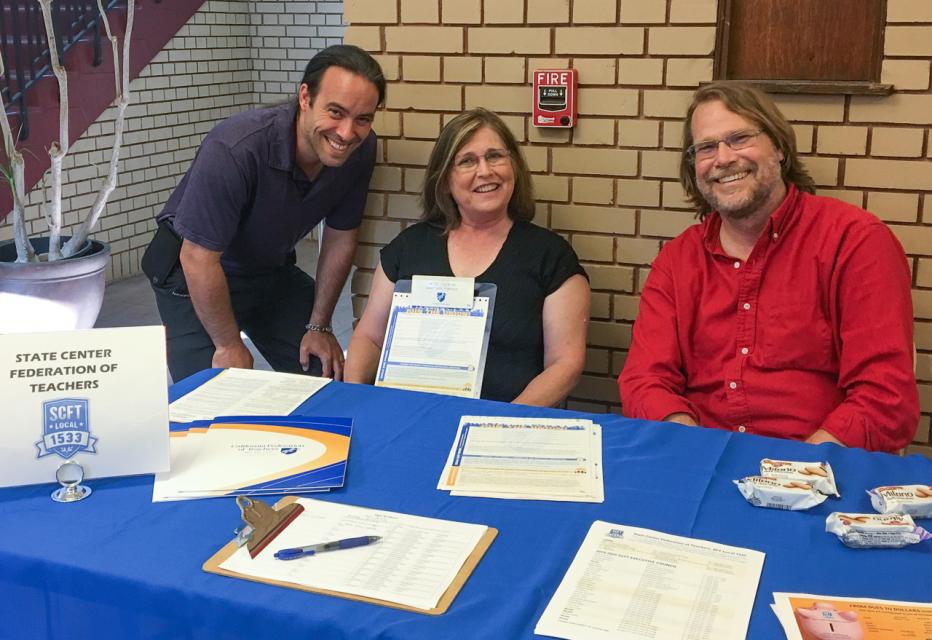 "I think the world of him…he stepped into a tough role," said Maria Ortiz, State Center's former grievance chair and chief negotiator who recently retired. As Ortiz explained, State Center has seen the retirement of many of its powerful and experienced senior leadership, most notably Lacy Barnes, senior vice president of the CFT, who had served as Local 1533's inimitable leader for the last eight years.
In fact, it was when Barnes stepped down as local president that Ford, who had previously served as the local's secretary treasurer, wondered out loud if a part-timer could run for local president and actually win. Barnes then asked him, "Why not?"
Even earlier, when Barnes had interviewed Ford to be a local organizer, he recounted the experiences of his mother who was active in her classified union. Barnes was so impressed that after the interview she commented to one of her colleagues, "That's going to be our next union president.…he checks off all the boxes." She also thought he could be the one union president who could carry the adjunct cause effectively.
Ford comes from a strong union background. Not only was his mother the president of a classified employee union with the Teamsters, but he himself had been a member and trustee of a UAW local as a graduate student.
The State Center Federation represents about 1,800 faculty who work at Fresno City College, Reedley College, Clovis Community College, and community college centers in Madera and Oakhurst. The bulk of Local 1533 members are adjuncts.
Ortiz mentioned that one particular talent that Ford shows is his capacity to listen. She sees him as "kind and gentle" when hearing out members concerns. Another skill Ortiz remarked on was Ford's ability to recognize his limitations as a new leader, and his desire to reach out to others, which has alieved many apprehensions full-time faculty may have had when he was elected.
Now in the role of president, Ortiz has characterized Ford as being "smart" in the sense that knows when to "play politics," or to try and talk through problems with management rather than being immediately confrontational. At the same time, to be an "adamant defender of the contract" when need be.
Presently, the State Center Federation is facing a challenge in that the cost of member healthcare premiums has jumped sharply, and the administrators are resistant to covering the additional costs. Ford has been insistent that the district bargain on the matter. Notably, when speaking to this issue, Ford also expressed concern for classified employees, as Ortiz noted, demonstrating his realization that the local is also part of a larger labor community.
Since becoming president, life has changed a lot for Ford in some respects, but remained the same in others. Prior to becoming president, he, as a part-timer, was working at several institutions, teaching approximately 200 percent of a full-time teaching. Now as president, he is on a one-year full-time contract with the district teaching a 120 percent load in addition his union work, for which he is paid an additional 40 percent FTE. Now Ford works "only" 160 percent of a full-time load.
While his one-year contract may not make Ford a "part-timer" anymore, it does make him a temporary or contingent faculty member just the same. He worries that he could possibly not receive a contract next year, which could leave him without a job and Local 1533 without a president.
It is this awareness that keeps Ford focused on adjunct issues. He treats his being in the presidency "as a privilege," says Ortiz. The privilege, in fact, may be AFT Local 1533's.