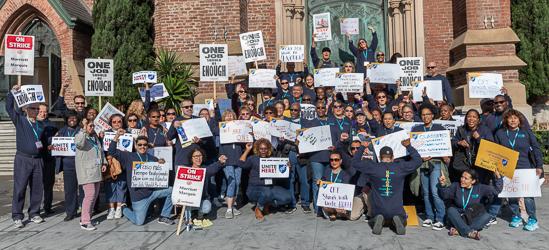 "Good morning, San Francisco!" Luukia Smith called out to a sea of striking Marriott hotel workers and their supporters. Among the crowd were CFT classified employees who had bussed from the Classified Conference on October 20 to join the downtown rally.
"I am an accounting technician at El Camino College and the president of the Classified Council of the California Federation of Teachers," Smith continued. "We represent bus drivers, food service workers, instructional aides, custodians, noon duty aides, HVAC workers, and many more. We care about educating California's students; we care about the work we do; and we care about our families – we know that one job should be enough!"
To raucous cheers, Smith shouted, "We are proud to stand with the workers of Unite Here — together we are union strong. Let's make sure these corporations hear our voices and treat the workers — all of you — with respect!"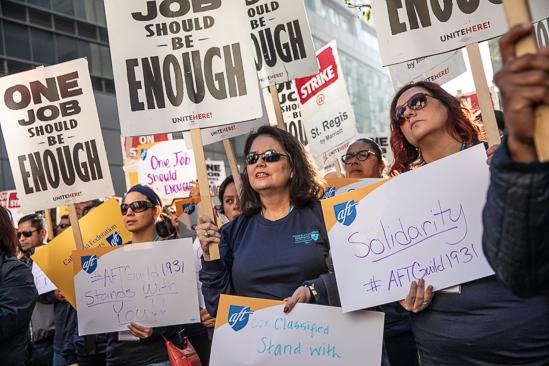 That respect finally arrived on December 3 when the Local 2 Marriott workers in San Francisco won a fair contract after being on strike for two months. These workers – and those who previously got agreements in San Diego, San Jose, Oakland and other cities – stood up to the one of the biggest hotel chains in the world and won! That's the power of working people standing together. Check out this great article from Vox on how these brave workers prevailed.
And it's not over. Unite Here Local 11 workers at 24 Los Angeles-area hotels took a strike vote On December 6. The CFT supports the heroic workers who are willing to risk it all to improve their own lives and strengthen our movement.
See our photo album from the Classified Conference on Facebook.