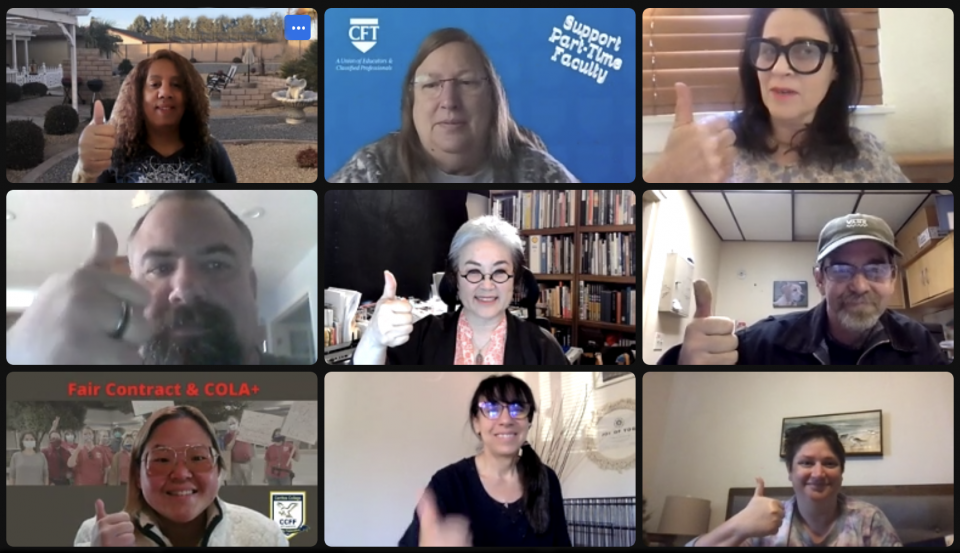 We invite local union leaders, activists, and rank-and-file members to please join us and kick off this phase with faculty power!
In Phase 1 of the Part-Time Faculty Campaign, our collective efforts secured $200 million in ongoing funding for part-time faculty healthcare in the California state budget. Now in Phase 2, we are launching coordinated collective bargaining as members begin to mobilize and bargain in their home districts to secure this funding in contracts or MOUs.
The CFT hosted a series of regional in-person meetings to help locals prepare for this negotiation. Now CFT is hosting two Zoom meetings for those who were unable to attend in person. Each meeting will last an hour and a half. Please register your attendance below.
Here's our agenda for the Zoom meeting.
Welcome: 15 min
Campaign Update: 15 min
Planning: 30 min
Debrief and Next Steps: 20 min
Adjourn: 10 min
Faculty wellness is student success, and having stable, affordable healthcare is more important than ever!