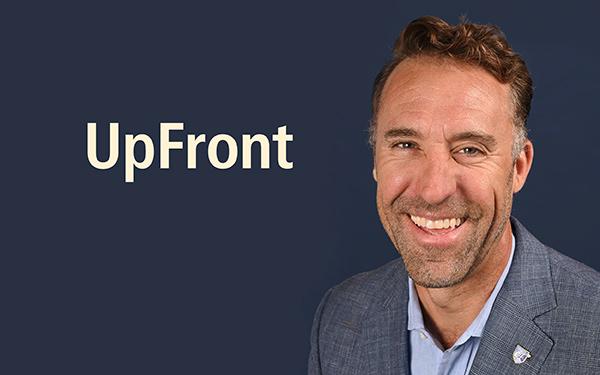 By Jeffery M. Freitas, CFT President
What a year it has been. In March, as the coronavirus hit and "shelter in place" orders were issued, CFT leaders immediately started communicating with members about the situation. We held online meetings, shared resources on our website, and hosted a CFT Member Townhall that 11,000 members joined.
In May, in reaction to George Floyd's murder, CFT members and locals joined actions and demonstrations, posted statements in support of Black Lives Matter, and worked to enact policy changes locally and statewide. Late summer brought an early onset to wildfire season, and we have stood by our members to provide supplies and assistance where it is needed most.
No one could have predicted the challenges 2020 has brought (and now the recent passing of the heroic Ruth Bader Ginsburg), but CFT members have done an outstanding job rising to the challenge and standing in solidarity with one another. We have simultaneously been dealing with a pandemic, the realities of institutional and personal racism, and the effects of extreme weather due to climate change.
In this moment, our union and our members have shown such strength and commitment to our shared values and to one another that it makes me proud to say I am a CFT member, that I am an AFT member.
The challenges now before us will require years of hard work and intentional actions. Addressing systemic racism and climate change will not be the work of one year or one political cycle. But we do have an opportunity to take a definitive step forward.
As we approach the November election, we can elect a new president and vice president; pass much-needed reforms through the state ballot measure process; and elect representatives who will fight for public education at the state and local levels, including on school boards and boards of trustees. This is work that we must do to turn the tide, and our members are stepping up. They are adjusting to the "all virtual" moment by phone banking, text banking, and holding online meetings to educate other members on the extreme importance of this upcoming election.
The latest Gallup Poll shows that 65 percent of Americans approve of unions, a level of support that hasn't been seen in 20 years. Pundits may argue the cause of this increase, but I believe it is because of what we do to fight for our community partners, and our work to secure an equitable and high-quality education for every California student. What we do goes beyond what our paychecks require, and our communities are taking notice.
As the U.S. Constitution says, we have a right to organize to provide a collective voice to our members. The public understands the importance of our collective action and that we are a critical part of the democratic process. They have seen our stance against the devastating policies of the Trump administration, including the harm that Betsy DeVos has inflicted on public education.
Our values have been demonstrated by our standing up for members, improving our communities, and through our local union calls to action across the state. It is truly incredible. Let me share a few examples.
In Marin County, unions from several districts joined together after county officials attempted to mandate in-person instruction without requiring masks or social distancing. The locals held a car caravan to protest that decision. Their actions got results, and those districts are currently teaching safely by distance learning.
In the Hawthorne School District near Los Angeles, the district wanted to quadruple insurance premiums for classified employees. In response, members held virtual meetings, attended board meetings, and won a much better contract. Equally impressive is that the ratification vote was a drive-thru ballot drop-off that created an opportunity for members to safely see and talk to their union leaders.
Santa Cruz County was one region affected by devastating wildfires caused by the severe lightning storm in August. Our locals — the Greater Santa Cruz Federation of Teachers, the Santa Cruz Council of Classified Employees, and the Cabrillo College Federation of Teachers — contacted members to see if they were safe, provided assistance by distributing supplies to evacuees, and even raised funds for those who tragically lost their homes and possessions.
The Salinas Valley Federation of Teachers, the Pajaro Valley Federation of Teachers, and Los Rios College Federation of Teachers are just a few of the locals that participated with their communities in Black Lives Matter events to demand the end of racist policies in our institutions.
Each of these examples occurred in just the past few months. In a normal year, our members would be away from home on summer vacation, taking a restful break at home with family, or just doing a lot of reading and relaxing. But we are not in "normal" times. CFT members know we must join together in the spirit of union solidarity and help one another — friends and family — and fight for and with the communities to which we have dedicated our life's work.
When the cabin fever, the orange skies, the oppressive heat, and hate-filled words start to affect me, I know I only have to turn to my union siblings to lift my hopes and spirits. You should know it, too. Our individual actions and our collective strength as a union will go a long way towards making the future brighter. We must act. And it makes me proud that I see action amongst our ranks every day. I'll say once again: I am proud to be a CFT member and honored to be a part of this union.
Stay safe and take care.