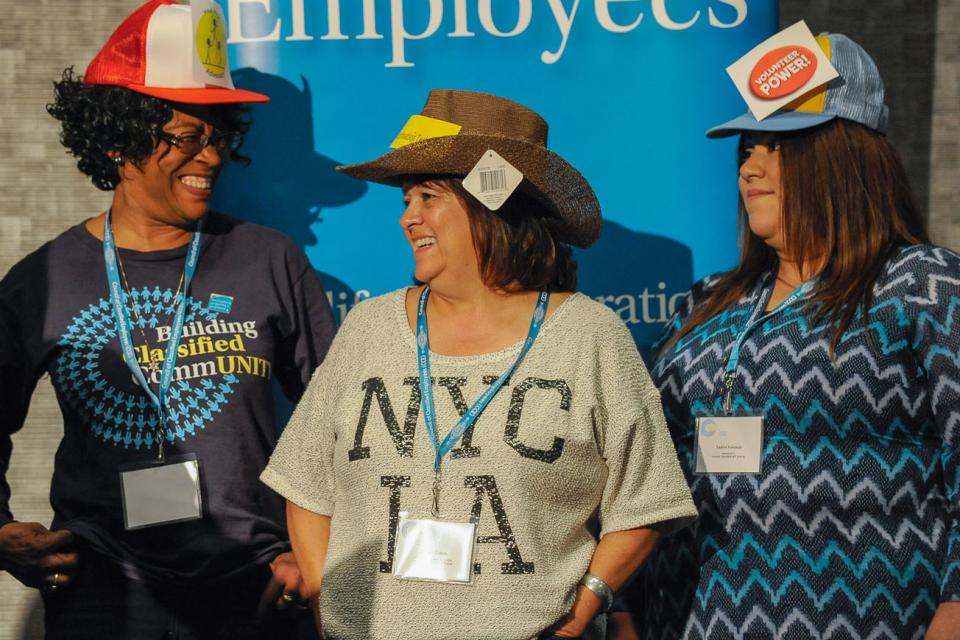 At their annual conference, the Council of Classified Employees celebrated the diverse work of support staff in a dazzling panoply showing the many hats they wear.
CCE Southern Vice President Carl Williams called out classified job titles one after another. Secretary, paraprofessional, groundskeeper, custodian and media technician. Admissions and records technician, safety officer, library technician, accounting coordinator, and bus driver.
Attendees mounted the stage to collect the hat with their job title on it, filling the stage with members depicting the wide-ranging work of classified employees.
Then the tenor of the call-outs suddenly changed. Williams summoned "relationship experts" because the kids come to us for sage advice about their friends and family. Then "crystal ball" was the call: The kids expect us to know everything before it happens. Dr. Phil: The kids want us to be mediators, between them and their friends and family members. ATM machine: The kids want money for lunch or change for the vending machines. Mentors: We support students during the ups and downs of their lives.
More and more members who resonated with those support roles took the stage. By the end, a jam-packed stage demonstrated more clearly than ever before the incredible variety of jobs classified employees do with special skills, kindness, and compassion.
Guest speaker Tom Torlakson praised the work of classified employees at the December 5-7 conference, saying classified rehiring needs to be prioritized following the "the last rugged five years," during which so many classified workers were laid off.
"You are the food service workers providing the 4.5 million nutritious meals, the bus drivers driving kids safely to school every day, the office aides, the custodians, saying the 'how do you do's?' to the students as they come and go from campus."
The state superintendent of public instruction called CFT educators the "Dream Team," thanking members for their support. Torlakson defeated Marshall Tuck in his reelection bid on November 4, despite millions of dollars poured into Tuck's campaign by conservative school reformers in the final weeks of the campaign.
"Wow, we did it. Side by side," he said. "You're awesome."
"I'm here to say thanks for fighting a battle that we knew was going to be hard. Some of the richest people in the world tried to defeat us — the people who want to privatize our schools," Torlakson explained. "Walmart put in $41 million. They wanted to rename California 'Walmart University' and we said 'No.'"
But we knew how to combat that, he said. "Our friends and allies saw through the deceptions and distortions. As the school team, we did our homework. We know how Californians value education — they don't value it by looking to millionaires," he explained. "The tens of thousands of phone calls, the precincts you walked — we sent the strong message that every public school is worth investing in and not one is for sale."
Torlakson also thanked CFT for its lead in passing Prop. 30, the 2012 measure that has put cash back in district coffers. "Prop. 30 wouldn't have happened without CFT," the superintendent said. "Keep doing the work, the valiant work, with your passion and skills."
— By Jane Hundertmark, CFT Publications Director
CLASSIFIED MEMBERS OF THE YEAR
Kathy O'Byrne Shewchuk, United Educators of San Francisco, is a special education paraprofessional at Balboa High School who works with students in a caring and confident way, especially students who have specific medical needs. She is a master of the union phone bank.
Robin Watkins, AFT Guild San Diego, is a library technician at Miramar College and the union's classified vice president there. She represents classified, and sometimes faculty, in grievances, serves on a voluntary benefits association, and coordinates site wellness committees.
Gary Potts, Pasadena City College, is a network administrator and supports students through a mentoring program and coaching basketball. A font of institutional knowledge, he was instrumental in his unit choosing AFT their union and is union treasurer.