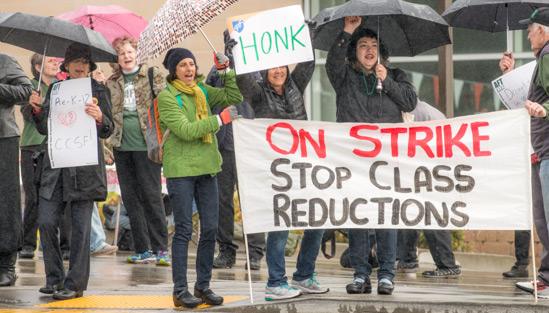 The faculty union at City College of San Francisco pulled off a one-day strike on April 27, despite the administration's claim that the strike was illegal. To avert another strike, the college agreed to a union contract with substantial raises by July.
Strikes in higher education are rare. This was the first in AFT Local 2121's 40-year history. Most instructors are part-timers and often lack the social bonds needed to take risky action together. Striking can be perceived as hurting vulnerable students. City College, with nine campuses built to serve 100,000 students, also faced the threat of closure due to an accrediting controversy.
Beginning in 2012, the school's accreditor manipulated accreditation for political and other purposes, demanding massive administrative restructuring. For four years, faculty has rallied community and political support to keep the college open. San Francisco voters passed a parcel tax to better fund the college, and the accrediting agency is under national scrutiny and may lose its authority, but the fight has cost the school dearly.
With the threat of another strike this fall, the administration agreed to a 9.6 percent retroactive salary increase and a 10.6 percent increase for the coming year, for both full- and part-time faculty, with no concessions on working conditions.
Enrollment dropped, followed by state funding. Administrators planned to cut programs by 26 percent. And despite the new, voter-approved revenue, college administrators insisted on pay cuts. By the time the contract expired in 2015, faculty members were living on salaries 3.5 percent lower than in 2007. With the administration dug in, the union needed to build the capacity to strike.
The "S" word was scary. Although there was the risk of alienating members who might view strike talk as reckless, agreeing to the concessions would mean permanent downsizing and less access for students. Agreeing, even to salvage accreditation, would cost the institution its soul.
Local 2121 leaders discussed the pros and cons with members and gave them the choice to prepare to strike or not. A Contract Action Team began to make one-to-one contact with co-workers. They asked each member, "Will you vote to raise dues temporarily to establish a strike fund?"
The strategy was to show the administration that faculty members were willing to strike. In one-to-one conversations, activists could address fears and concerns without asking members to commit to a strike. A vote to build a strike fund functioned as practice for a strike vote. Of 1,500 members, 650 signed commitment cards promising to vote yes, fewer than 10 percent declined.
During ongoing negotiations, administrators tried to split faculty between the roughly 650 full-timers and 900 part-timers. Because the strike fund conversations had addressed this, members anticipated the district offering full-timers a better deal. They were not caught off guard when the administration offered nothing to part-time faculty, but a 4.5 percent increase for full-timers. Since members knew the negotiating team would hold out for equal raises, unity held.
In September, the strike fund vote set a turnout record. More than 600 faculty voted, with 93 percent in favor of raising dues to start a strike fund. Next came a petition, with signers committing to strike if necessary. In March, the union topped its record again, with more than 800 members voting to authorize a strike, 92 percent yes. By April, the union had assessed 1,000 out of 1,500 unit members as positive toward a strike — enough to confidently call a walkout when needed.
The administration and the union still had to get through state-mandated mediation before an economic strike could be called. Management used this process to its advantage, prolonging negotiations toward a second summer, when a strike would be weaker.
The union hit back with unfair labor practice charges alleging bad faith bargaining, which allowed the union to call a defensive strike for April 27. The administration claimed the strike would be an illegal pressure tactic, and threatened legal action. But even if a court finds against it, a one-day strike is over before an injunction can be issued. Union delegates voted to go ahead.
The strike was a show of force. Even though management closed campuses for the day, and despite pouring rain, faculty, students, and community members turned out to picket. Later in the day, more than 1,000 people filled San Francisco's Civic Center, community support which gave faculty a great boost.
With the threat of another strike this fall, the administration agreed to a 9.6 percent retroactive salary increase and a 10.6 percent increase for the coming year, for both full- and part-time faculty, with no concessions on working conditions. On August 23, over 600 members voted to ratify the contract, 97 percent in favor.
Local 2121 is now leading a campaign to stop class cuts and asking voters to make City College free for residents and workers by passing Proposition W on the November ballot.
— By Michael McCown, a staff organizer for Local 2121's contract campaign and strike. Read his full analysis in Labor Notes.

SNAPSHOT: Community College Council history
San Francisco's Local 2121 is the third union to strike among the CFT's community college local unions. The Compton College Federation struck in 1983 and the Peralta Federation in 1985, although Peralta called its events "sickouts."