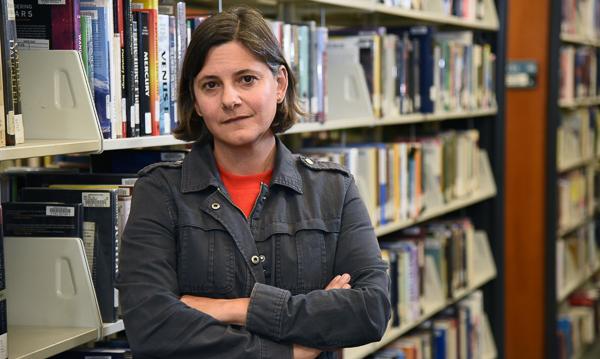 Stephanie Rosenblatt, president of Cerritos College Faculty Federation, and a librarian at the college, has seen what happened to counselors in her district when performance metrics were imposed on them.
Speaking about the school administration officials, Rosenblatt said, "They want to game the system – they don't care if it's quality counseling – they just want a bunch of education plans. The education plan is supposed to be the artifact of an important conversation, but they just want to check off these productivity measures," she said. "Our counselors have master's degrees and some have PhDs – they went to school for student contact, not to be chained to their desk all day, writing education plans."
With Gov. Jerry Brown signing into law a new formula for community college funding – which awards districts money based on students earning degrees and certificates in a certain amount of time – Rosenblatt worries that administrators will pressure faculty members to move students along quickly in pursuit of funding rather than in service of student learning.
That's why CFT strongly opposed the student performance metrics in this funding bill. Historically, districts have been funded based solely on Full-Time Student-Equivalents or FTES, but the new funding formula combines FTES, student financial need, and student performance indicators.
"It turns us into diploma mills," said Community College Council President Jim Mahler. "Administrators are going to figure out ways to game the system and they're going to follow the money."
Rosenblatt says she sees administrators at her school doing that already. For example, now her school has an agreement with Cal State Long Beach that if former students from Cerritos transfer there and complete the degree they started at the community college, Cerritos can claim the degree.
"What the hell is that?" Rosenblatt asked. "I'm not sure what the productivity measures are, but we do know we have a college president who is concerned with dollars over quality. And you can quote me on that."
The Legislature allocated more than $430 million to implement the new formula. Coast Community College has gotten about $16 million of that, says Rob Schneiderman, the president of the Coast Federation of Educators.
That's great for now, he says, but no one knows where the money will go or what the productivity measures will look like and how they will affect students.
"We have a lot of students with Pell grants and fee waivers and our school has students with associates' degrees eligible for transfer," he said. "That's a big driver of this funding bill, and it's working for us now, but there's concern that there's going to be a race to the bottom if other districts see us making a lot of money, and they lower the bar, and then we lower the bar further."
Coast College does a good job of retaining its students, Schneiderman says, and that's part of the reason why the college received a sizeable chunk of money. He's glad the school has gotten recognition for that, but like Rosenblatt, he's concerned that students will be pushed into classes they're not ready for, setting them up to do badly and drop out.
"I'm against high-stakes testing, but eliminating placement testing completely is crazy," he said. "If they've only taken pre-algebra in high school, it's absurd to think they'll survive in college algebra."
Low-income students will benefit with the new funding formula, Schneiderman says. But he's concerned that colleges will focus on them to the exclusion of others.
"When I look at the metrics, it looks like schools are going to go to low-income high schools and target students who have passed an AP class or two – they could get free tuition and books," he said. "That's great for those students, but hopefully the pendulum doesn't swing too far so all of a sudden a student with a Pell grant who passed high school with a high GPA is worth a fortune. If we only focus on them, it's fantastic for them, but bad for other students."
The president of AFT Local 2121, the faculty union at City College of San Francisco, Jenny Worley, says her concern is that the funding focuses on students right out of high school and neglects those with other needs. She says faculty members are trying to be optimistic.
"It's going to push people to graduate, which is good," she said, "But it's pushing for everyone to become more like a typical junior college, and focusing less on things like adult education. It's going to put a lot of pressure on faculty in the math and English departments to pass people on."
To pass on students who don't have the skills they need in these subjects is a huge disservice, Rosenblatt says, to teachers as well as students.
Mahler says the CFT will develop legislation in the upcoming session that will remove the student performance metrics. Rosenblatt would love to see that happen.
"I'm worried that the same way they are trying to de-professionalize counselors with productivity measures, will happen with all faculty," she said.
Other state budget news for the community colleges:
The budget directs $50 million to new full-time positions, and another $50 million in one-time funding for adjunct office hours.
Gov. Brown's idea for a fully online community college was approved and is scheduled to start offering courses next fall. Because the community colleges already offer online courses, CFT strongly opposed this idea as redundant and expensive. Rather than spend money on things proven to help students, the state will spend a projected $240 million over its first seven years on the new online college.
— By Emily Wilson, CFT Reporter