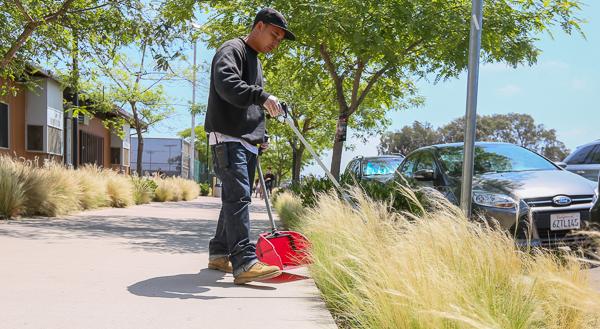 The Environmental Protection Agency has said the active ingredient in Monsanto's Roundup and other weed killers is safe for humans when used according to directions. The World Health Organization, however, classifies glyphosate as a "probable human carcinogen" and California lists it as a chemical known to cause cancer.
In August, a San Francisco court ordered Monsanto to pay $289 million to a Bay Area school groundskeeper who used the weed killer regularly. Jurors determined that Roundup caused or contributed to DeWayne Johnson developing non-Hodgkin's lymphoma, and that Monsanto failed to warn him of health hazards due to exposure. The ruling found the company "acted with malice or oppression" and included $250 million in punitive damages.
The eye-popping award has brought attention to the more than 5,000 similar lawsuits against Monsanto, which German pharmaceutical giant Bayer recently bought. The trial shook the manufacturer's credibility.
"All these years they said Roundup was non-carcinogenic," said Gerry Vanderpot, an irrigation technician with the San Diego Community College District. "This ruling makes you re-think that."
Monsanto developed and introduced Roundup to the market in 1974, after DDT was banned because of its harmful effects on the environment. Emails released during the case showed how far Monsanto has gone to shape public opinion.
The non-profit investigative news organization Fair Warning reported about a science-for-hire firm that produced a study, paid for by Monsanto and other glyphosate producers. The study found no risk from glyphosate residues on food crops, and "no solid evidence" that exposure at "environmentally realistic" levels could cause birth defects or developmental problems for children.
"All these years they said Roundup was non-carcinogenic. This ruling makes you re-think that."
Johnson, a father of three, started spraying Roundup several hours a day to control weeds in 2012. Three years later he was diagnosed with non-Hodgkin's lymphoma. On the witness stand, he testified to the pain and suffering he experienced while showing the skin lesions that appeared all over his body. According to his doctors, Johnson may have only months to live. His wife testified that she had to work two jobs to help pay for his medical bills.
Vanderpot has worked for the San Diego district for 18 years. He has been at Mesa College, the largest of the district's three campuses in terms of enrolment and acreage, for the past year. His team includes five gardeners and a crew leader. They regularly use Roundup and other herbicides, but he has never developed medical problems, and always knew he was operating within established procedures.
Staff undergo yearly training in the proper use of hazardous materials and protective equipment, including boots, gloves, long-sleeved shirts and safety glasses. Hazardous materials are labeled according to their level of risk, from "Caution" up to "Warning" and "Danger."
Vanderpot said crews also use non-chemical approaches, such as pulling weeds by hand, but herbicides are more cost-effective. "We use herbicides so we can control the acreage we have with the number of staff we have."
Roundup, he explained, is a post-emergent herbicide to knock out unwanted growth. Another brand, Dimension, is a pre-emergent chemical to prevent weeds from growing on playing fields and large expanses of grass. In some cases, both are used. San Diego staff, he added, use hand-held sprayers, not the industrial-sized tank that Johnson reportedly used.
"I read that he (Johnson) had been covered from head to toe," he said. "We apply Roundup in small containers – one or two ounces mixed in about two gallons of water."
Vanderpot said all San Diego employees must also fill out Material Safety Data Sheets whenever they use any chemical, even bleach or fertilizer. Employees log how much of every chemical they used and how they applied it.
About pesticide use reporting on campus
In 2014, Gov. Jerry Brown signed CFT-supported Senate Bill 1405, requiring safe use and accurate tracking of pesticides on school campuses. Industry lobbyists had previously blocked two similar pieces of legislation.
With pesticides being common at urban and rural schools, SB 1405 aimed to prevent a tragedy. The National Academy of Sciences reports that most high-level pesticide exposures are to children, and that children are affected more than adults.
Under the law, schools and colleges are required designate someone to document all pesticide use, develop a long-term plan to prevent pests with minimal hazard to humans, post information on the school website, and provide annual training for everyone who handles pesticides. SB 1405 went into effect July of 2016.
— By Steve Weingarten, CFT Reporter
> Read about the Bay Area groundskeeper who won the landmark ruling against Monsanto.