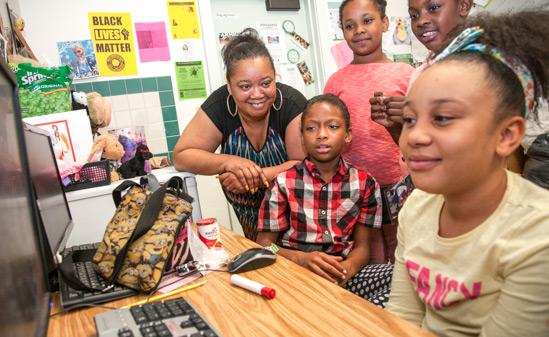 The first time most parents or guardians of a Berkeley student meet Jocelyn Foreman is soon after bad news has knocked on their door. Be it a death in the family, an eviction notice, a pink slip, or any crisis that throws a household into chaos, Foreman is there to help.
Last year, for example, a fourth-grader lost her brother and several of his friends while swimming in a local river. The girl was getting emotional support from her family, which has also faced homelessness, but she needed more.
Foreman formed a "caring circle" of fourth- and fifth-grade girls to discuss "every issue from grief to puberty."
"We're all bearing something. We learn how to bear our burdens," Foreman said. "Today that little girl is in fifth grade and shows up every day on time and ready for class. And I never miss getting a hug from her."
Foreman belongs to a five-person team of family engagement coordinators based at Malcolm X and John Muir Elementary Schools. The team is well versed in culturally responsive practices and trauma-informed strategies. Its members often connect within families to assist children in all grades from early education to high school.
How can you discuss academics when you don't know where your next meal will come from? How can you discuss attendance when you don't have shelter?
In a circumstance such as the grieving fourth grader, Foreman typically sits down with the Response to Intervention team to coordinate services. The team includes stakeholders in the case, from the parents, classroom teacher and administrator, to full-inclusion specialists and mental health counselors.
Their academic mission is to close the achievement gap by ensuring that students have the resources they need to succeed. First things come first.
"How can you discuss academics when you don't know where your next meal will come from? How can you discuss attendance when you don't have shelter?"
Once Foreman helps the family secure their basic needs, they move to facing the student's challenges at school.
"The primary goal of family engagement is to create systems that produce equitable outcomes for all students," Foreman said. "We can't close the achievement gap with fear-based or punitive-based approaches."
Jason Arenas of the Alameda County Office of Education estimates there are about 55 family engagement positions for the 225,000 students in the county's 18 school districts. Arenas said the coordinators have helped districts make more authentic connections with families, especially with low-income and non-English-speaking households and foster youth.
The trend is growing thanks to Sacramento's emphasis on parental involvement. This is the third full year that Foreman's team has been funded under the Local Control Accountability Plan that the Berkeley district launched in 2014.
Foreman draws on broad personal experiences. Before she began working with the Berkeley School District as an instructional aide, she helped run her family's group-homes for troubled kids for 20 years.
"My biggest successes have been with foster kids," Foreman said. "A lot of these kids go right under the radar. No one even knows they exist, but this has been my lived experience. My goal is to get those kids back to their homes and the schools they were attending."
Foreman has also served as a vice president of her union, the Berkeley Council of Classified Employees.
"This is my passion," Foreman said. "The district can't put a dollar figure on how I feel when a family thanks me because they'll be able to eat or have a place to sleep tonight. I feel like I'm the lucky one."
— By Steve Weingarten, CFT Reporter