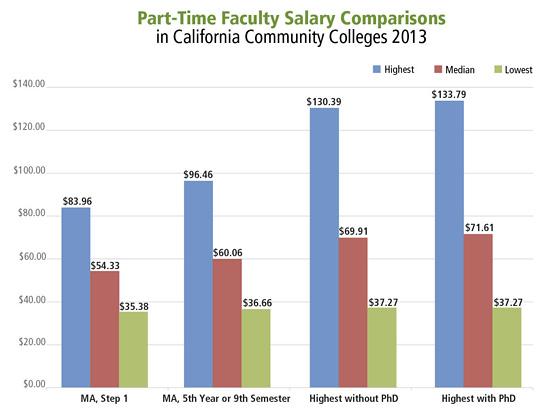 Collaborative union effort leads to promising new tool for bargaining
A new CFT study has, for the first time, ranked compensation for part-time faculty throughout California and found that salaries vary dramatically across the state.
"The rallying cry of adjunct faculty has always been 'equal pay for equal work,'" says Los Angeles City College adjunct instructor and CFT Part-Time Committee Co-Chair Phyllis Eckler. The committee, working with the CFT Research Department, authored the analysis, which compares the salaries of part-timers in all 72 community college districts.
"Until this study, it was difficult to compare the pay of part-time faculty with that of full-time faculty doing the same job. This really is an 'apples to apples' comparison."
—Phyllis Eckler, Co-Chair, CFT Part-Time Committee
Designed as a tool for contract negotiations and salary schedule comparisons, the study includes the comparative rank of each district on the basis of hourly pay for part-time and full-time faculty, while excluding the pay that full-timers receive for office hours, governance and committee meetings.
"Unlike previous studies," explains Cabrillo College digital media instructor and committee Co-Chair John Govsky, "the CFT study teased out factors such as office hour pay, which vary wildly from district to district and can skew the data. Now we can see where salaries ranks in the state."
The study converts salaries to hourly rates and compares them, excluding office hour pay, in four areas:
• Master's degree – Step 1;
• Master's degree – Fifth year or ninth semester;
• Highest salary (including longevity) without a doctorate; and,
• Highest salary (including longevity) with a doctorate.
Starting salaries for part-time faculty holding a master's degree range from a low of $35 per hour to a high of $84 with a median of $54. For those holding a doctorate with longevity, the breadth is equally large with a low of $37, a high of $134 and a median of $72.
The study includes district-specific information such as the number of steps and columns on a part-timer salary schedule, how part-timers move through the salary steps, if there are paid office hours, and the 2012-13 Full-Time Equivalencies (FTEs), and General Fund revenue rankings. It does not include information about district-paid medical benefits for adjunct faculty.
The CFT analysis took many months and required extensive review by members of the Part-Time Committee, the Community College Council, and local union leaders to ensure both the data and assumptions used were as accurate and complete as possible. The methodology and assumptions are included as part of the final study.
Further analysis may be required in the coming years, but the first release of the study provides much-needed research to help part-time faculty members secure better wages and benefits at the bargaining table.
"This can be an extremely valuable tool for locals that do not fare well in the rankings," adds Govsky. "If the data show your local on the lower end of the scale, the local can more forcefully argue for raises."
—By CFT Staff