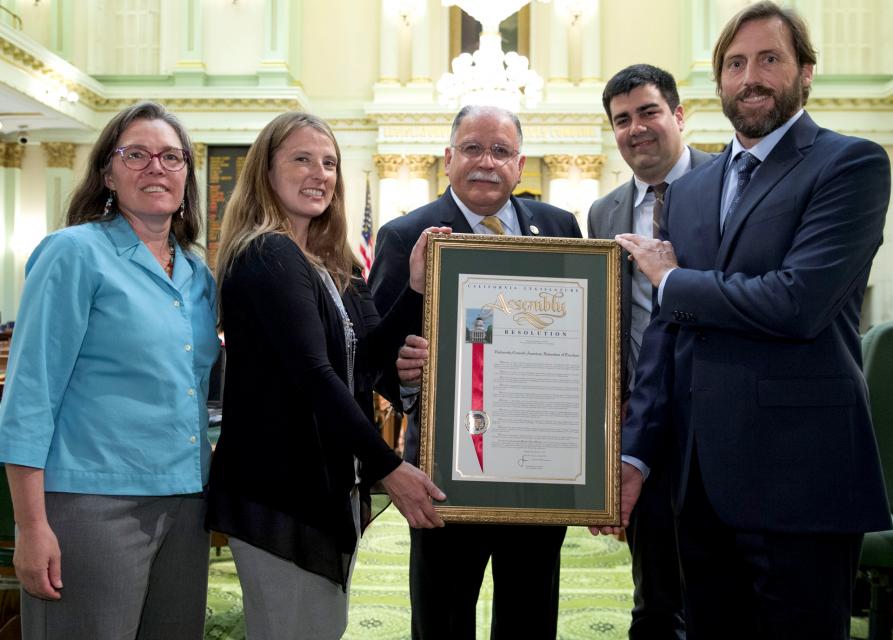 Assemblyman Jose Medina, D-Riverside, Chair of the Higher Education Committee, recognized the University Council-AFT on the Assembly Floor during UC-AFT's first group lobby day at the State Capitol on April 1.
"It was a very encouraging and motivating experience to by honored on the floor by Assemblymember Medina," said John Rundin, who teaches the classics at UC Davis and is UC-AFT Vice President for Legislation.
"Our members who participated in the event left feeling successful and empowered. This was the beginning of very good things for us at UC-AFT. I would like to thank the CFT for making our first lobby day a success."
Before becoming a state legislator, Medina was a teacher at Riverside Poly High School and served as an elected trustee of the Riverside Community College District. For his dedicated work on behalf of education, CFT honored Medina with its Legislator of the Year Award in 2016.
What follows is the text of Assemblymember Medina's statement:
Members,
I rise to introduce the executive board members of the University Council-American Federation of Teachers. Up on the gallery, I have here with me:
Mia McIver, President of UC-AFT
John Rundin, Vice President for Legislation of UC-AFT
Bill Quirk, Executive Director of UC-AFT
Daniel Schoorl, Executive Board member of UC-AFT
Joy Hagen, Executive Board member of UC-AFT
UC-AFT is a union of 370 librarians and more than 5,000 faculty employees who are employed at the 10 campuses of the UC and who are not members of the Academic Senate of the University of California.
UC-AFT faculty members teach approximately one-third of undergraduate student credit hours within the UC and are integral and essential to the education of students at the UC.
UC-AFT faculty are dedicated to carrying out the education, research, and service mission of the UC, and believe that faculty equity and student success go hand in hand.
UC-AFT faculty join together to advocate for high-quality education as a public good.
The University Council is affiliated with the California Federation of Teachers (CFT) and the American Federation of Teachers (AFT), as well as the American Federation of Labor and Congress of Industrial Organizations (AFL-CIO) and its local central labor councils.
Please help me welcome the executive board members of the University Council-American Federation of Teachers.
Thank you.