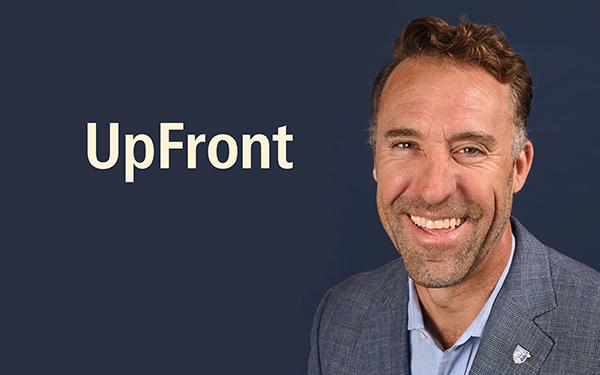 By Jeffery M. Freitas, CFT President
In my communications with CFT members about school closures and sheltering in place during the past two months, I have often signed off, "Stay safe and take care." For me, that is more than a convenient turn of phrase.
As we enter into the third month of the COVID-19 pandemic, we are in the midst of a crisis unlike anything most of us have experienced in our lifetimes, and when this story is retold years from now, I have no doubt it will be recorded as a turning point in history. I know most of you are, like me, tired, stressed, and worried.
Working from home to deliver education to our students while caring for families is a challenge that teachers and staff have never known. Many of our classified members continue to work on campus on the frontlines of food service, cleaning and maintenance. Everyone is uniquely affected, and nothing in our professional training could have prepared us for this moment. I know, though, that you are committed to our students and to our union, and that commitment is deeply inspiring and a cause for hope.
When I sign off from a Facebook Live broadcast or end an email with "Stay safe and take care," I have your safety and your physical, mental and emotional wellbeing in mind.
Across the state, CFT members are continuing to work for the good of our students under the most extreme circumstances — a reality at the top of my thoughts. We also need to move safely and carefully out of crisis management and into recovery, including federal, state, and local conversations about reopening our schools and college buildings and restarting our economy.
We can face the challenges ahead by caring for one another and fighting together for a more just future. We face problems that were unforseeable at the start of 2020. For example, we recently learned that due to COVID-19 the projected funding for education through the Proposition 98 guarantee is $18 billion lower than the January proposal, and it represented only a nominal increase.
Soon Gov. Newsom will release his May Revision. We have begun to talk about safely reopening schools in the fall, an undertaking fraught with logistical and public health challenges unlike any we have faced.
We know that a human life is worth more than any figures on a quarterly financial report. Our economy may recover slowly and painfully, but that is preferable to risking the lives of teachers, support staff, students, and entire communities. As CFT begins to chart the course forward with our partners in labor, education, the governor's office, and the Legislature, the North Star that guides us must be protecting lives and ensuring the health and safety of our school communities.
There are certain public health guarantees that must be in place before we begin opening the doors to our physical classrooms. And California is a diverse state, and our schools reflect that diversity, meaning that there is no "one size fits all" approach for every school or college district in California.
The past few months have underscored the central nature of local collective bargaining, as we quickly and effectively made major changes to how we deliver education. Collaboration between labor, management and the community will be key to statewide success.
We are working with CFT members and local unions to develop state guidelines. The AFT is leading the way nationally with its recently issued "Plan to Safely Reopen America's Schools and Communities." Health and safety guarantees based on expert medical advice must be in place before we even contemplate what a school day next fall might look like.
We already know some ways our schools must look different: We need enough Personal Protective Equipment, or PPE, for every teacher, staff member, and student. We need to prepare for deeper and more frequent worksite cleaning. We need training for classified workers who are being asked to take on maintenance tasks in a new era with new procedures.
We need to think about what "social distancing" means in classrooms, on school buses, for recreation and physical education, and in art, music, and lab-based classes. We need age-appropriate guidelines: a kindergarten classroom, for example, is a different world than a community college chemistry lab.
We need reasonable accommodations for teachers, staff and students whose age and health may put them at higher risk, perhaps necessitating a hybrid of in-person and distance learning.
And finally, we must be prepared for a possible "second surge" of COVID-19 in the months ahead, especially if the federal administration doesn't take the necessary steps to safely and cautiously reopen our communities. In that case, we must be ready to once again close schools quickly if conditions become unsafe for in-person learning.
The considerations for reopening schools and colleges to in-person learning underscore one reality: California, with assistance from the federal government, must commit to properly fund our schools. This means working with our labor partners, the governor, and the AFT to secure $1 trillion in federal funding to keep states and local governments fully funded, and ensure that essential services — including public education — are able to meet the needs of our communities.
Restarting our state and national economies depends in many ways on getting kids back to school. California's community colleges and four-year universities are our economic engines. Economic plans cannot leave public education behind. We will need more — not fewer — dollars as we prepare to safely reopen our schools. This is the work that awaits us.
As we set off on the long road ahead, I ask you to fight with me for public education, our members, our students, our communities. Together, we can meet the moment and come out stronger on the other side.
Stay safe and take care.