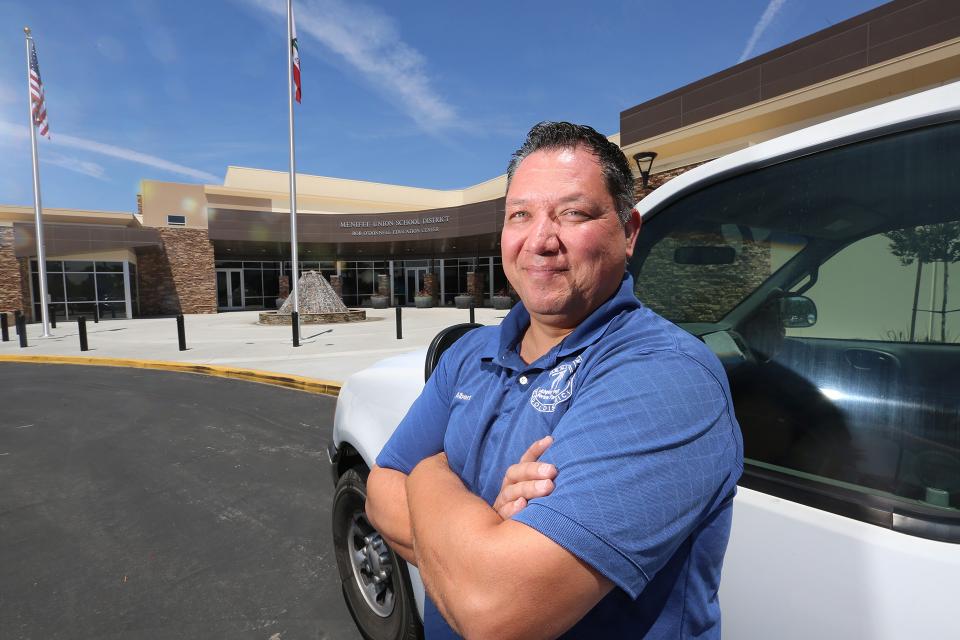 A recent video that went viral on social media showed a bus driver being attacked by angry parents in St. Louis. Bernard Benson knows how parents can lose their tempers. He has been driving school buses in the San Joaquin Valley for six years.
"A detour makes a driver late and parents get mad because of the delay. It happens all the time. It goes with the territory," he said, adding, "Most of the time we're looked at like the good guys because we get kids to and from school."
Benson, who heads the Lemoore Federation of Classified Employees, AFT Local 4870, said well-trained drivers learn to handle problems before they get out of hand. That can happen, he said, with middle school boys beginning a rocky road through adolescence.
"There are conflicts, but they can be managed."
Now, in an era of campus shootings, Benson is asking for and getting additional training for a potential hostage situation. His biggest concern is an attack on a school bus full of children.
"We're basically unprotected."
Before going to work for Lemoore schools, Benson worked for 28 years in state prisons, including about six years as a hostage negotiator. Eight lockups dot the local landscape, from Avenal and Delano to Madera and Wasco.
Much further south, the Menifee Union School District faced budget problems in 2016 and looked at rising transportation costs. The district opted for drastic measures — contract out its entire school bus operation to Hemet Unified, a Riverside County neighbor.
The Menifee Council of Classified Employees – AFT Local 6109 – working with the CFT, negotiated a detailed Memorandum of Understanding with all parties to protect more than a dozen employees' jobs, seniority and benefits.
That might have been the end of the story, but the Menifee district wasn't satisfied with Hemet's performance. When the transportation contract ended in March, the Menifee district asked Local 6109 to help bring back the drivers, mechanics, and clerical staff.
Today, local President Albert Lopez, who took office in 2017, after the MOU was signed, is working with CFT Field Representative Carolyn Richie to make sure both districts honor the January 2016 agreement.
"Many staff will return with their years of seniority, their insurance, a smooth transition – everything," Richie explained. Some workers understandably had to move on to other jobs.
Menifee has added an additional position – transportation scheduler – and expects to have its bus routes ready when summer school begins in June.
"Some people said we would never see those members again, that an entire contracted-out department had never returned," she said, "They may have been right, but in Menifee, the union's persistence paid off."