March 20 was the last day of on-campus classes for about 18,000 San Diego City College students. The college has maintained a food pantry for needy students, faculty and staff, but AFT Local 1931 stepped up the emergency response in September with monthly giveaways.
"It's joyful to see everyone — students, staff and faculty — come together to help. My happiness was seeing everyone smile," said Neary Sim, a Guild member and instructional office specialist in the School of Behavioral and Social Sciences.
Each distribution has helped feed at least 600 households. Volunteers assemble balanced meal supplies from boxes and crates of apples, onions, beans, rice and other basic staples. How much food people get depends on how many people live in their home. Any leftovers from the giveaways go on the pantry's shelves.
About 40 miles north, the Palomar College Council of Classified Employees is also distributing food to needy families. Nearly 30,000 students are enrolled on the San Marcos campus.
"Helping neighbors is a really good feeling during COVID time," said local President Anél Gonzalez.
AFT Local 4522 and its outreach partners — the Palomar Faculty Federation, AFT Local 6160, and the San Diego & Imperial County Labor Council — held bimonthly distributions all summer, and scaled back to monthly giveaways during the political rush leading up to the November 3 election. There will also be November and December distributions.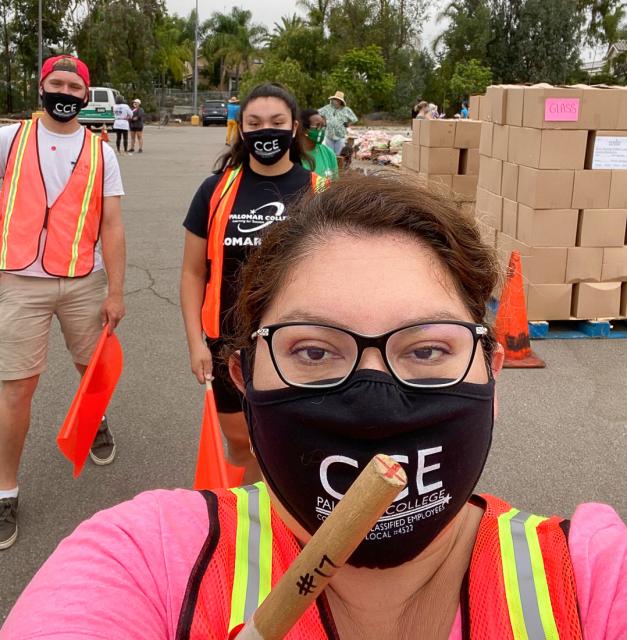 Like San Diego City College, each Palomar distribution helped feed about 600 households. The "contact-less" giveaways have drawn a colorful army of volunteers, including many unions and student groups like the college cheerleading squad and women's basketball team.
"We've seen people from all walks of life," Gonzalez said. "We know many are students because we see their parking stickers as they drive through, but these distributions are for everyone."
A few years ago, Palomar College converted a staff lounge into a food pantry for students and others. Throughout the year students and community members rely on this service to feed their families. Classified staff contributed to the food pantry in an annual event widely known as Pack the Pantry. But the nutrition center has not been available during the COVID campus closure.
Gonzalez said the local negotiated a COVID-19 memorandum of understanding that includes personal protective equipment (PPE), temperature checks, and contact tracing. Local 4522 has focused on keeping all staff employed and saving everyone's health coverage.
The campus has been mired in a deep financial crisis since late last year, but there have been no layoffs and the automatic cost-of-living allowance in their contract remains in effect. Nevertheless, a survey conducted by the local showed the pandemic has economically harmed 27 percent of union households.
Local 4522 has been affiliated with the Labor Council "for as long as I can remember," Gonzalez said.
The difference now, she added, is the union has strengthened local ties. The local works with ironworkers and others in the North County Labor Alliance and donates to the North County Food Bank, which supplies their giveaways.
Standing up for social justice isn't easy in North County. The conservative mood was reflected in Republican Darryl Issa's win for the local seat in Congress held by now-disgraced U.S. Rep. Duncan Hunter.
Plus the local supported three candidates for the Palomar College Board of Trustees. Although only one endorsed candidate won, the local is looking forward to positive change because the new trustee, Roberto Rodriguez, has deep ties to education, union values, and working people.
"COVID and the election pulled all unions in the area together," Gonzalez concluded, "but these crises also moved us closer to the community. This is the first time we have been involved this broadly."
—By Steve Weingarten, CFT Reporter