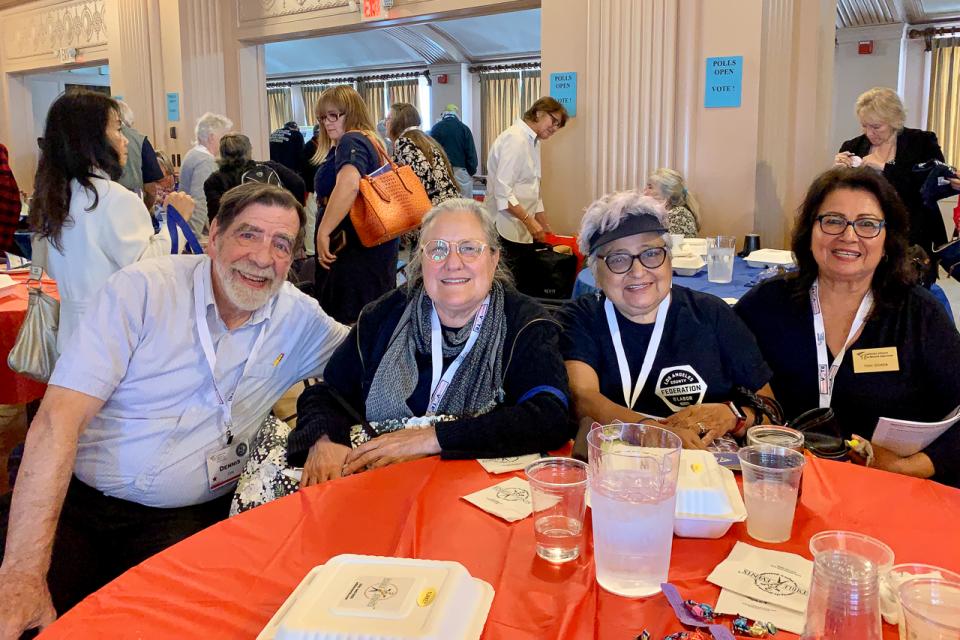 One of the things Hene Kelly likes most about the California Alliance for Retired Americans is its democratic structure where the concerns of all its members get heard.
Another thing Kelly, a vice president of CARA and its legislative director, appreciates is that she thinks CARA goes beyond listening — they act.
Kelly attended the recent CARA Convention in Sacramento where attendees learned how to strategize and make change.
"We got to learn how to do things and to teach how to lobby and how to speak and how to run a rally and write an op-ed," she said. "So they can do the work."
There are local groups of the statewide organization, called CARA Action Teams or CATs, and along with working on CARA's three basic issues — pensions, Social Security, and Medicare for All — they also put time into issues the members bring up, like pedestrian safety.
Every convention ends with some sort of action, Kelly says. This year they rallied in front of the Capitol for Schools and Communities First, a CFT-supported ballot initiative to put $12 billion back into education.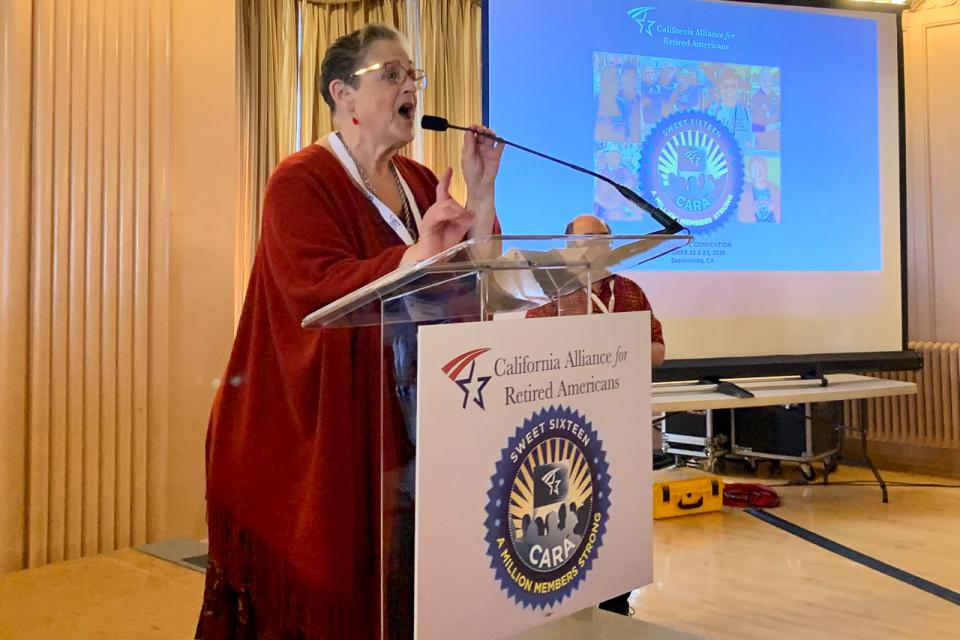 Through the CATS, CARA targeted five congressional districts this past year, says Margaret Shelleda, a former CFT executive director, and CARA board member. They held forums on Medicare and Social Security and educated senior voters. That had an impact, Shelleda says.
"We had senior ambassadors take on calling at least 20 seniors, and they made regular phone calls to talk about the issues," she said. "We're nonpartisan, but we try and open people's eyes about the positions their congressional representative is taking on Social Security and Medicare. Those districts had a higher percentage of people voting and we flipped them. In conjunction with community groups, we can make an important contribution with our ability to reach into other communities and take on issues."
Shelleda sees CARA as unique in bringing together community groups and union retirees. This broadens her perspective, she says, and also helps spread the union message.
"Other groups see the solidarity that unions have around certain issues and the power they have," Shelleda said. "And it's been eye-opening to see some of the issues they're taking on like safety and street crossing and the size of print on prescription drug labels or some of the housing issues."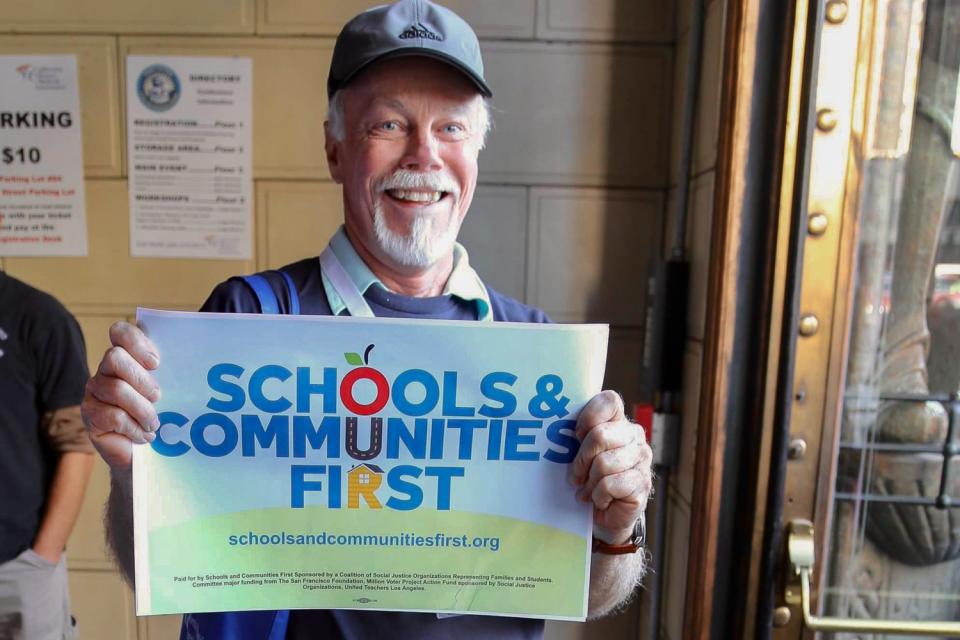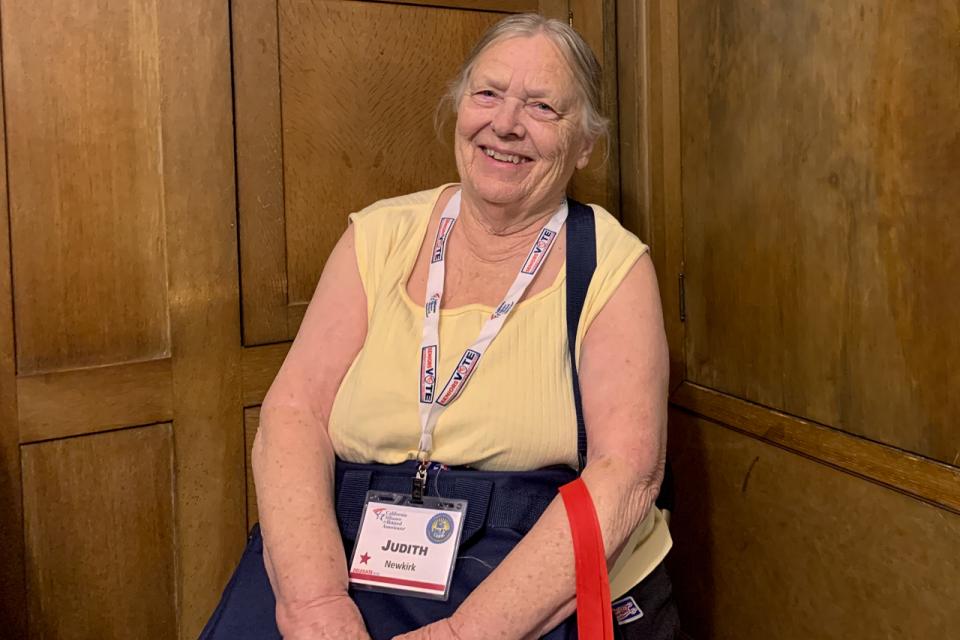 Working with union groups besides the CFT is helpful for Susie Chow, a member of AFT Local 1021-R, the Retiree Chapter of United Teachers Los Angeles. That's why she made the trip up from Southern California to Sacramento for the convention.
"It's important to find out what CARA is doing in terms of legislation," she said. "And I really appreciated talking to leaders in labor about the issues they have and comparing compensation and what's interesting to them. Many times the commonality is affordable housing and Medicare for All."
Chow appreciated hearing about Medicare for All from one of the speakers, Dr. Paul Song, with Physicians for a National Health Program. She also enjoyed the lunchtime speaker, Josh Kornbluth, a visiting artist at the University of California, San Francisco's Memory and Aging Center, who's making an online video series called Citizen Brain. Kornbluth showed some of his humorous videos and talked about the importance of empathy.
Michael Nye agrees that Kornbluth's presentation was a highlight. Nye, who was the longest-serving elected secretary treasurer of the CFT, now serves as an officer in the Council of Retired Members.
Like Shelleda, Nye thinks the CATs are effective, and he's had first-hand experience, presenting to local groups like the West County Democratic Club. Lots of CAT members do presentations or gather petition signatures at their local senior clubs, he says.
The convention working groups were the best part of the convention for Ann Killibrew, who, like Nye, serves as an officer on the Council of Retired Members. Killibrew, from the Retiree Chapter of the San Francisco Community College Federation of Teachers, found it stimulating to talk to other union activists.
"At the Labor Caucus, there were all these interesting people from different unions. They weren't all CFT people — there were these other activists from all over, like builders and electricians," Killebrew said. "I'm thrilled CFT is involved in a much broader spectrum of union life."
One of CARA's top priorities in the coming year is the Schools and Communities First ballot initiative to close tax loopholes for commercial property. Kelly, for one, is confident of the ability of CARA members to make an impact through organizing.
"Every year we do a lobby day in Sacramento, where we talk to our legislators," she said. "Next year, we're going to do something nobody else does and go to their district offices. There are old people everywhere, and every person who goes to their office is their constituent."
Kelly says the organization's members have also committed to getting 10,000-15,000 signatures for the Schools and Community First campaign, which they can do with community support, Kelly says.
"When you're in a union, you need the community behind you," she said. "We're all working on making sure people can retire and live in dignity."

— By Emily Wilson, CFT Reporter

CARA Convention attendees from CFT locals
Dennis Cox, Kandra Kargo and Judith Newkirk, ABC Federation of Teachers-Retired, Local 2317-R
Hene Kelly and Sandra Mack, United Educators of San Francisco-Retired, Local 61-R
Margaret Shelleda, CFT/AFT
Michael Nye, CFT Member-at-Large
William Philipps, Santa Cruz Federation of Retired Educational Personnel, Local 9990-R
Susie Chow, Bonnie Coleman, Eva Giese and Harriet Hammons, United Teachers Los Angeles-Retired, Local 1021-R