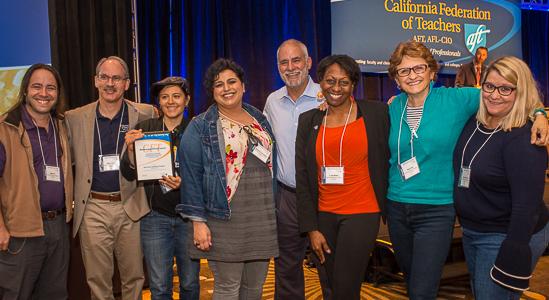 The forthcoming Supreme Court ruling in Janus vs. AFSCME poses a serious threat to union strength. Any union is only as strong as its membership base, and when unions have higher percentages of the workers in its unit as active members, they are stronger at the bargaining table, and better able to protect its workers from violations of their rights.
Clearly, CFT's community college locals have gotten this message and put it in into action. Six of the eight memberships awards given out at the CFT Convention went to community college locals (by comparison K-12 locals, with a larger core of full-time educators, usually have higher membership). Each local awarded had increases of well over 100 members in their respective bargaining units, with some locals enjoying as much as a 26 percent increase in overall membership.
Topping the list in numbers was the AFT Guild, Local 1931, representing the San Diego and Grossmont-Cuyamaca districts, having signed 302 new members, the majority of those being adjunct instructors. The Guild's success, in large part, is a combination of giving several faculty release time to sign up new members, and strategic examination of class schedules. Presently the Guild has an overall membership rate of over 90 percent.
"I've found that the best time to get new faculty to sign is by catching them after their classes," said Perla Vizcarra, a Guild membership vice president at San Diego City College. "And contrary to what you might imagine, everyone I've spoken to, whether they sign or not, has been agreeable," she added.
A double-award winner in terms of both numbers and percentage increase was Adjunct Faculty United in North Orange County, which enjoyed a 26 percent membership increase, which breaks down to 207 new members.
Executive Director Judi McDuff to an extent downplayed the numbers, saying they "didn't do anything special…it's the Janus thing." Adjunct Faculty United is working even harder on signing members and started a new membership drive in early May.
The State Center Federation of Teachers in Fresno experienced not only an increase of 13 percent to the existing membership (with 75 percent of that increase being adjunct faculty), but also got adjuncts to contribute to the COPE (Committee on Political Education) fund in such numbers that their collective contribution just exceeded the full-timer contributions, according to Treasurer Inez Zuniga. These are adjuncts who know the power of union and are acting upon it.
Other award winners were Sacramento's Los Rios College Federation of Teachers (214 new members), and the Glendale College Guild, with a percentage increase of 20 percent.