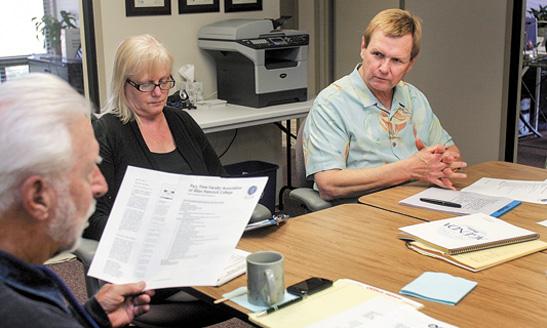 English instructor and president of the Part-Time Faculty Association of Allan Hancock College Mark James Miller says that one of the accomplishments of which he is most proud is "getting administrators to recognize how important part-time faculty are. Part-time faculty used to be invisible to them, or seen as just interchangeable parts. That's not the case anymore."
Allan Hancock part-timers have a grievance procedure and "real seniority rights," which Miller describes as the result of a 10-year battle and perhaps the most important achievement of his local.
When told that basic rehire rights would force districts to retain incompetent teachers, Miller retorted, "Show me where on students' transcripts their courses are flagged if they're taught by part-time faculty; show me that students have to pay more for full-time faculty." Absent such distinctions, Miller says, part-time faculty deserve all the professional respect afforded their full-time colleagues.
Miller got active in his local around 1999, shortly after AFT Local 6185 was chartered. At that time, Allan Hancock part-time faculty were among the lowest paid in the state. Miller had a union background before becoming a college instructor, having worked as a welder and a rigger before getting injured on the job and going back to school while he recuperated.
Once hired to teach English at Allan Hancock, he initially thought he didn't have time to get involved with the union. After witnessing a dean verbally abusing several part-time faculty, he decided to run for the executive board. He became vice president and was elected president in 2001.
Over the years, the local has consistently improved conditions and compensation for its members. "What people don't always realize is that you have to be in it for the long haul," Miller muses. "The change we want to see is the product of years of sustained work." Progress can sometimes be sped up with creativity. Miller points to a campaign in which the union made and broadcast radio commercials exposing the district's uncooperative attitude during bargaining. It didn't take long before the administration had more to say than "No," leading eventually to bargaining gains.
…You have to be in it for the long haul. The change we want to see is the product of years of sustained work.
The local continues to grow. Between October and December of last year, 60 part-timers joined the union; another 30 joined since the new year. Sustained outreach, including person-to-person conversations in which bargaining unit members sometimes discover that they are not yet actual union members, has made possible this more than 50 percent increase in membership.
An enhanced website and even more frequent email communications have also helped connect people to the local, along with a one-hour presentation about the benefits of union membership that Miller gives during staff development days at the start of every semester.
Beyond the college, Miller writes at least once a month for the Santa Maria Times on higher education, labor rights
and poverty. They've had an effect, he says, in raising awareness and linking the college to the broader community. Sometimes he shares his columns and reader responses with his own students to illustrate the potential power of the written word. "You can change things," he says, "if you know how to write and how to speak, and if you stick with it."
Miller is looking forward to a new project to motivate further change: producing a documentary about part-time faculty at Allan Hancock and interviewing instructors about how they began teaching, their expectations when they started, and how they make ends meet.
"People are often astonished to learn about the lives of part-time faculty," he concludes, "and the only way we can change this situation is by making people aware of it, doing even more to get into the community and speak about our issues."
By Linda Sneed, CFT Vice President and English instructor at Cosumnes River College