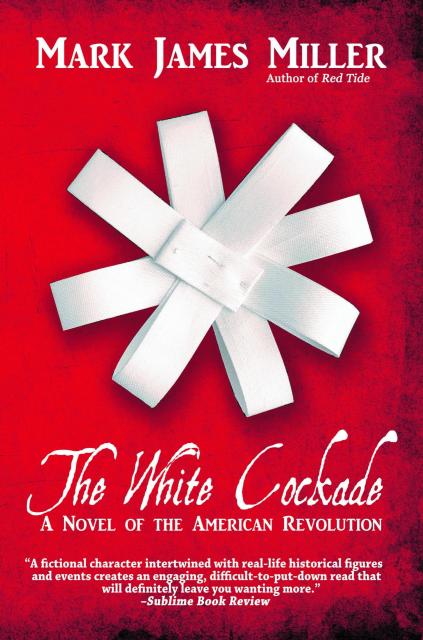 Mark James Miller's second novel, The White Cockade, was published on September 30 to numerous advance accolades including from the Kirkus Review.
Miller started teaching English part-time at Allan Hancock College in 1995 and quickly realized that the "treatment of part-time faculty left a lot to be desired" and that 70% of the instructors at the college were part-time, a figure well over the state average. Only four years later, Miller helped organize an AFT union for part-timers at the college and has been president of the Part-Time Faculty Association of Allan Hancock College, AFT Local 6185, since it was formed in 1999.
While Miller's dedicated to unionism has been steadfast, so has his passion for writing. Miller enjoys the unique distinction of having a regular newspaper column, and pens regular musings for the Santa Maria Times. He writes about teaching, education and the power of unions, as well as regional, cultural and humanistic issues. In his September 15 commentary (republished below), Miller talks about his new novel and the pursuit of his lifelong passion.
It's never too late to make your dreams come true
By Mark James Miller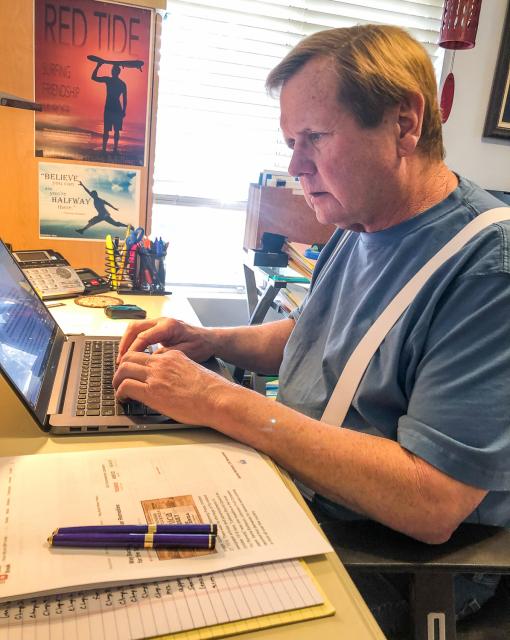 "Take your passion," ran the words of a popular 1980s song, "and make it happen." Whatever your passion is, it is never too late to make it happen.
I published my first novel when I was 64 years old: "Red Tide", published by Black Rose Writing in Castroville, Texas. I'm 70 now, and my second novel, "The White Cockade, A Novel of the American Revolution", is coming out on September 30, likewise published by Black Rose Writing.
I had dreamed of becoming a novelist since I was a boy. And while I was often praised for my writing skills in high school and college, I never thought I could actually put enough words on paper to see them emerge in the form of a novel. This was something other people could do, not something I could do.
But dreams die hard, and the urge to write a semi-autobiographical story that I christened "Red Tide" would not stop nagging at me. So I wrote it, thinking it would be more for my own amusement than anything else. But when I finished it in 2015 I sent a query to 10 small-to-medium sized publishing houses, just to see what would happen. To my surprise I received several requests to see the completed manuscript, and then two offers to publish it. This gave me enough confidence to begin another, this time a historical novel.
I grew up reading stories like "The Iliad" and "The Odyssey," "The Count of Monte Cristo," and "War and Peace". I loved the big, sprawling historical films like Ben-Hur, Spartacus, El Cid, and Dr. Zhivago. These stories of people being caught up in historical forces they cannot control, like the Napoleonic wars and the Russian Revolution, captivated me, and I saw the same kind of compelling drama in our nation's birth, as people with high ideals and strong feelings were caught up in the events of 1775 and 1776.
I spent nearly four years researching and writing "The White Cockade". When I finished late in 2019, I realized I had written two books, for at 300,000 words this was twice as long as my publisher wanted. So I essentially cut it in half, wrote an ending that brought the first part of the story to an end and left the door open for a sequel, already more or less complete.
I sent the finished product to Black Rose Writing in January 2020. The publisher promptly informed me that while he liked what he saw, it was too long. I went to work trimming the word count, no easy task, and in the midst of this the hammer of the pandemic came down. This impacted my writing time, for having to learn to teach remotely took up a good part of my day. Still, by December 2020 I was ready, and sent the new, shorter version to the publisher.
Two weeks later, in January 2021, I saw a very welcome sight, "Contract Offer," in my email inbox one morning.
"Take your passion and make it happen." We all have a passion, a dream we would like to see come true, and it is never too late to go after it. Whatever your passion is, don't lose sight of it. Make it happen.
Praise for The White Cockade
"The opening salvos of the American Revolution come to life via this historical novel that follows the impact of the war on one Boston family caught in the maelstrom… Readers witness the brutal battles of Lexington and Concord and later Bunker Hill. Miller's narrative alternates between page-turning action and sections filled with personal and family drama…The author's meticulous attention to atmospheric cultural details and descriptions of period weaponry add up to a narrative win. A vivid and entertaining war tale… Readers will hope for a sequel." — Kirkus Reviews
"The White Cockade excels as a spirited tale of family, friendship, love and loss amid the blistering conflict of the American Revolution…Succeeds in hooking the audience from its inception, as the drums of war echo louder with each chapter. Readers see Josiah Hartford's attributes evolve from: normal to hero; pacifist turned warrior; indecisive to determined – as the circumstances of war alter his life's trajectory. For fans of historical fiction, this is a must-read novel." — Pacific Book Review
"The characters are very well-developed, and the settings are vivid and realistic as we follow Josiah for a year of his life. I felt a wrenching disappointment when it ended, and I sincerely hope it is the first in a series. I want to live the next step in Josiah's story." — Sublime Book Review