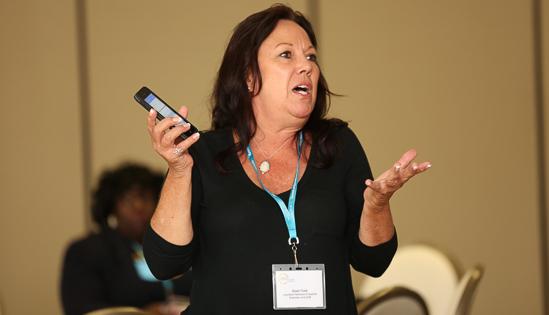 When Susan Trask was 40, she went back to school and earned a degree in ornamental horticulture at Long Beach City College. Trask has since worked as a groundskeeper at the college district, and this year she was elected president of AFT Local 6108, the Long Beach Council of Classified Employees.
"Gardening and the union," she said. "Do what you love."
Trask is one of many urban and rural district groundskeepers represented by AFT/CFT locals. Strong union-backed legislation and organizing efforts have resulted in safer use of pesticides and herbicides on school grounds and nearby.
Then the DeWayne Johnson case underscored how hazardous chemicals can be. Johnson, 46, was a school groundskeeper and pest control manager from 2012 until 2016. His job included regularly spraying glyphosate, the world's most widely used herbicide, which Monsanto markets as Roundup.
This summer, a San Francisco jury unanimously found that Roundup caused or contributed to Johnson developing non-Hodgkin's lymphoma, that Monsanto failed to warn him of health hazards, and that the company "acted with malice or oppression."
The Superior Court judge recently upheld the jury findings, but reduced punitive damages from $250 million to $39.3 million, the same compensation Johnson was awarded for his losses. The $79 million judgment remains eye-popping, given that this was the first of an estimated 5,000 similar Roundup lawsuits to reach trial.
"I remember one instructor," Trask recalled, "who said Roundup was so safe you could drink it. That was back then. I wonder what he says now."
CFT groundskeepers tell Classified Insider they are confident that safety training and policies are good because their respective school and college districts follow California's stringent guidelines.
Trask said no spraying is allowed near child development centers at either of the Long Beach district's two campuses. Most high-level pesticide exposures are to children, who are also affected more than adults, according to the National Academy of Sciences.
Irrigation technician Gerry Vanderpot said all San Diego Community College District employees must fill out Material Safety Data Sheets whenever they use any chemical, even bleach or fertilizer. The same at Long Beach, Trask said.
"It's a hassle," she said. "I hardly spray anymore. I try to pull weeds by hand instead."
Vanderpot said San Diego crews also pull weeds and use other non-chemical approaches, but herbicides are more cost-effective. "We use herbicides so we can control the acreage we have with the number of staff we have."
Some local unions address dangerous materials in their collective bargaining agreements. One focuses on the safety of employees near where chemicals are being used, thereby allowing staff to file a grievance over unsafe conditions.
Under the Coast Federation of Classified Employees contract, the Coast Community College District must give employees at least 24 hours notice before hazardous substances are used in their immediate area, and make available copies of the Material Safety Data Sheets. The employer must also try to provide alternate worksites for affected employees, especially those with allergies.
KNOW YOUR RIGHTS
California Education Code ramped up in 2014
The Healthy Schools Act of 2000 required each school to maintain four-year records of all pesticide use, and to make the records available to the public. But many of the safety measures we take for granted today weren't law until 2014, when Gov. Jerry Brown signed Senate Bill 1405. Under the stronger law, schools and colleges must:
designate someone to document all pesticide use;
develop a long-term plan to prevent pests with minimal hazard to humans;
post information on the school website; and
provide annual training for everyone who handles pesticides.
SB 1405 took a further step toward transparency by requiring schools to submit copies of their pesticide records to the Director of Pesticide Regulation and post the records on the school's website. It also required the DPR to develop training on the safe use of pesticides and the unique risks they pose to children's health.
California Labor Code contains basic safety provisions
Classified staff can also pursue civil action through the California Labor Code, which provides:
The employer must provide public employees safety devices, from hardhats, goggles, face masks and respirators, to hand and foot protection. (Sections 6401 and 6403)
The employer must do everything reasonable to protect public employees' lives, safety, and health. (Section 6300)

Public employees have the right to ask Cal–OSHA to inspect their workplace and have their union present during the inspection. (Sections 6309 and 6314)