Watch this powerful video of members talking about their hard fought win for medical benefits.
For 30 years, the Lawndale Elementary School District denied their part-time classified employees health benefits. The District scheduled part-timers so they were always a few minutes short of the ACA requirement to provide health benefits.
"At 28.5 hours a week, we were close enough to smell the Band-aids, but not to put one on," said President Carl Williams of AFT Local 4529, the Lawndale Federation of Classified Employees.
"Past superintendents all kept the system the way it was to make their budgets look good," Williams said. "They were saving money on the backs of classified employees."
"It was done very purposefully," said Saundra Martinez, who has worked in Special Education in Lawndale schools for 13 years.
"They did it so we wouldn't qualify for benefits," she added. Martinez has diabetes, but was turned away by a doctor during the pandemic because she hadn't paid a $50 bill.
Rita Roberts has worked for the Lawndale district since 1999. "I'm blessed with health coverage through my husband, but I work with so many people who don't have a partner with insurance," she said. Roberts also works with students with IEPs. "We become their safety net, but we can't do that if you can't afford an inhaler for your health," she continued.
Working in special education can get messy. "This is a job where you're often exposed to urine and feces," said Lisa Agcaoili, a 30-year veteran.
Years of short-changing part-timers has also worsened the staffing shortage, Agcaoili added. "We have people who have worked here for 10 and 20 years who are ready to walk away to a district that offers what we need. We lost some really good people," she said.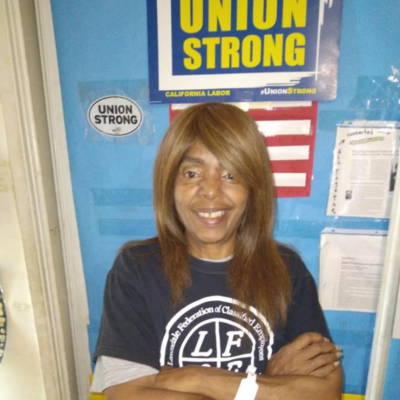 That chapter is ending. After years of activism and organizing – and a more receptive school superintendent – about 75 part-time staff will begin receiving medical benefits during the 2023-24 school year. There are about 500 employees in the bargaining unit.
"Healthcare is a human right, and these employees got the benefits they deserve," said Williams, who also heads the CFT Council of Classified Employees. "We shouldn't have to fight for it, but many of our coworkers died waiting for this day."
Incoming superintendent Virginia Castro agrees. "If you are an employee of the Lawndale school district, you have the right to certain things. Our classified staff needs to feel they are appreciated and valued as much as teachers and other employees, " she said.
The change came just in time for Agcaoili, who made an impassioned call for health benefits at the bargaining table. She is now very ill, but is finally receiving medical care.
"Castro is a superintendent with a heart," she said.
Williams is looking forward to a partnership with Castro. "Her background is from a district where employees have healthcare, and she understands the work of classified staff."
"There's nowhere to go but forward and up," Castro said.
— By Steve Weingarten, CFT Reporter