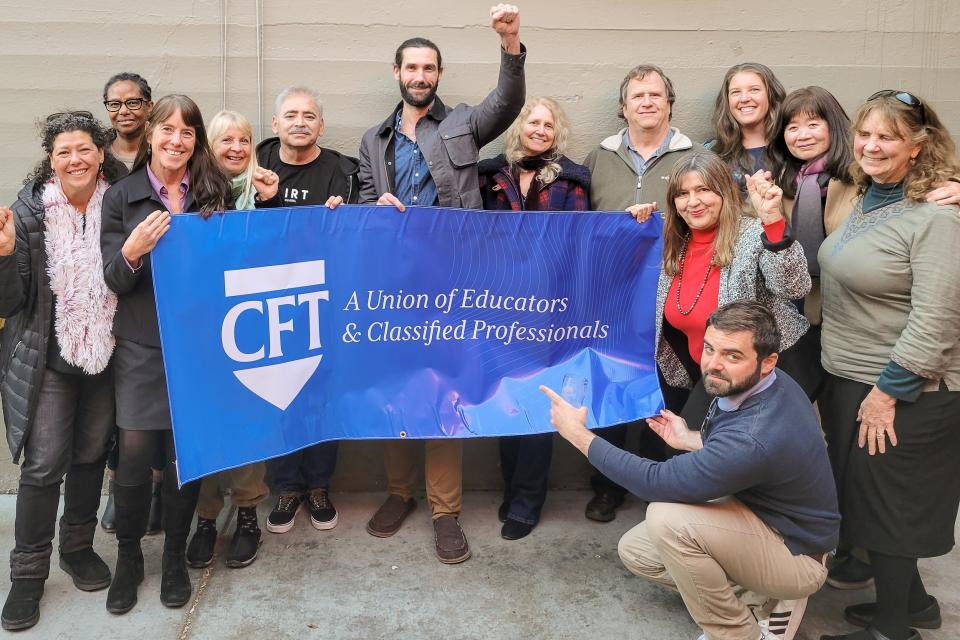 On April 11, faculty at the Dominican University of California watched excitedly as the National Labor Relations Board in San Francisco conducted a ballot count resulting in a resounding 84% yes vote for union representation with the AFT/CFT.
The new local union — the Dominican University of California Faculty Federation of Teachers, AFT Local 6604 — will represent 103 full-time faculty members at the private liberal arts college in San Rafael. The university was founded in 1890 and offers more than 60 majors, minors, and concentrations.
Dominican faculty are looking forward to building their new union with the same intensity of collaboration that brought them to the successful union vote. One of the key organizers, Thomas Cavanagh, a PhD professor in the School of Business, is proud of the effort and thrilled with the results of the vote.
"Helping to unionize the Dominican faculty has been one of the proudest accomplishments of my life," Cavanagh said. "I'm continually amazed by the quality of the people who work here, and I'm excited that we will now have a binding process to advocate for our students, ourselves, and our university."
Veronica Fruiht, another organizer and professor of psychology with a doctorate, called the victory a testament not only to the desire for change in the workplace, but to the open and authentic discussions faculty had during the organizing process. She praised faculty for listening to one another and joining together on shared values and goals.
"Less than a year ago we were a handful of faculty chatting about how to make our workplace more sustainable and wondering if anyone would stand with us in forming a union," Fruiht explained. "I've watched my colleagues become leaders and activists, stepping outside of their comfort zones to try and make work better."
Fruiht was also heartened by the support of university administrators, who she said, "have been brave enough to really 'walk the walk' of the social justice mission they stand for in supporting our organizing efforts."
Laura Greiss Hess, who teaches occupational therapy and also holds a PhD, said communication was key to their victory. "Our team was in frequent contact about how to best reach out to our full-time faculty and include all voices, making sure no one was left out." She said throughout the organizing effort, they "kept collaboration, community, and communication at the forefront."
CFT President Jeff Freitas congratulated the faculty on their union victory and pledged to support them as they negotiate their first contract with the university.
"We are honored to welcome the full-time faculty at the Dominican University of California into the CFT family," said Freitas. "We are eager to negotiate a contract with the administration that recognizes the contributions faculty make every day to the students and the mission of the university."
Business professor Cavanagh said he was incredibly grateful to his faculty colleagues, the CFT, and the brave workers at places like Amazon and Starbucks who served as an inspiration throughout the Dominican organizing drive. "I'm not sure what the future holds but, for the first time in a long time, I'm feeling hopeful."
— By CFT Staff