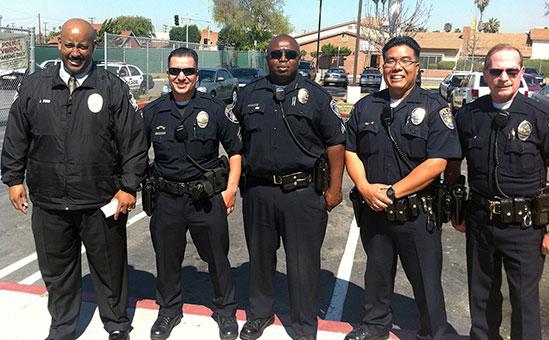 Generations of Compton rappers have created an indelible portrait of their city's mean streets. Life in this Los Angeles suburb isn't easy.
Jermaine Ford and the 17 members of the Compton Unified School District police are a "thin blue line" sworn to keep the 36 schools and additional dozen district facilities safe. Their job hasn't gotten any easier, either.
The force once had twice as many personnel, and salaries have barely moved for those who remain. The state of California recognizes Compton as a post-certified police department, but it had 36 officers before a new chief began budget cuts about six years ago. Management has been so unresponsive that officers have worked eight years without a contract.
Compton officers recently voted unanimously to affiliate with the AFT/CFT, and Ford expects to speak with a stronger voice when he returns to the bargaining table as head of the Federation's newest California local.
Pay raises are the local's top priority. Additional proposals include amending the insurance for patrol cars to cover accidents while officers are on duty, not just responding to an emergency.
The new local looks forward to negotiating a strong new contract.