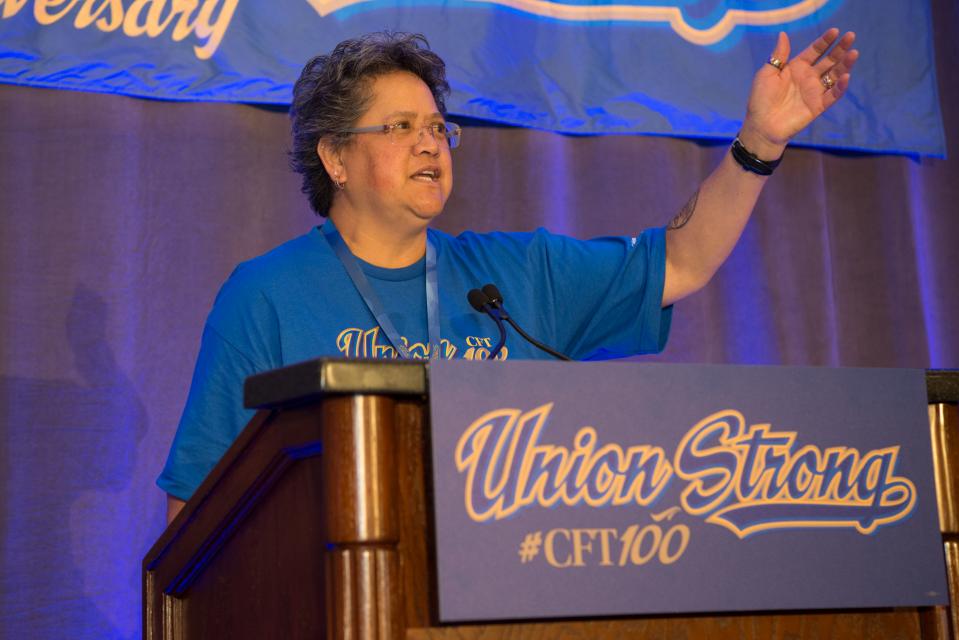 Delegates had a lot to celebrate as they convened for the CFT's 100th Anniversary celebration in March.
The state's largest local union, United Teachers Los Angeles, had held a wildly successful strike less than two months earlier. And the union's block of classified employee members were set to begin the CFT's second century with their highest union profile yet.
Over the next three days, the delegates would vote to rebrand the Federation to highlight their role, and to elect a classified employee to the union's second-highest post.
"When I joined in 2001," said incoming CFT Secretary Treasurer Luukia Smith, "there was never a thought that a classified employee would sit at this level of leadership."
No event at the Los Angeles convention was more fundamental – or cathartic – than voting to rebrand and be known as "CFT: A Union of Educators and Classified Professionals."
Delegates to the 2016 Convention had resolved to explore a name change, and the CFT created a task force that has since met several times to discuss alternatives.
This year's Resolution 1 said, "Because of our name, the CFT is known as a teachers' union," adding, "We are equally proud to represent a broad spectrum of educational workers."
"A name tells the public who we are," the resolution continued. "CFT classified members have long wanted a name that reflects their membership."
The resolution also promised internal and public education campaigns that reaffirm "the value of all our members, particularly our classified members."
The bottom line, said Smith, is that CFT will make a bigger consistent effort to educate parents that "many people are involved in a child's education. A child probably sees three or four classified employees before they even get to the classroom."
Since her election, the incoming secretary treasurer has been studying "the lay of the land," including the CFT Constitution & Bylaws and staff contracts. Union accounting and financial matters are handled through the CFT Administrative office in Burbank. She is confident the Federation is on solid economic ground.
"Right now we're sitting pretty good. We were worried about Janus and cut our budget in the event that membership dropped. The issue of funding public education is also in a good place. The UTLA strike set the bar higher."
Council of Classified Employees delegates elected Lawndale Federation President Carl Williams to succeed Smith as CCE president. They also elected San Diego's Tina Solórzano Fletcher as Southern Vice President, San Francisco's Janet Eberhardt as Northern Vice President, and Cindy Lopez from El Camino College, as secretary.
"The rebranding was a big deal, a good start," Williams said, "but there's so much more. It just gets better from here."
Williams sees his biggest challenge as motivating local union leaders to get active. He has led the Lawndale Federation since 2008, regularly attends CFT trainings, and has been an officer of the CCE, but has no direct experience with many locals.
"I've only seen them on paper," he said. "We need to bring everyone together. Each local is autonomous, but we still need each other."
Williams plans to pull all classified presidents together for legislative training, and to get real numbers on how many members have left since the Supreme Court's Janus decision last year.
Smith was recently released from El Camino College and Williams has gone on leave from Lawndale. Both will be based at the CFT Burbank office. The new leaders take office on May 24, at the close of Classified School Employees Appreciation Week.
Classified employees win national recognition
The AFT also shined a national spotlight on classified staff by lobbying Congress to recognize their vital role in education. Democratic Senator Patty Murray of Washington and U.S. Rep. Dina Titus of Nevada sponsored the Recognize Inspiring School Employees (RISE) Act.
"What's amazing about RISE," said AFT President Randi Weingarten, "is that a bipartisan bill passed the Senate unanimously in an era of deep political division."
Nominees from each state will be judged on their work, their involvement at school and in the community, their leadership and commitment, and enhancing the image of classified employees. The national winner will be recognized at an annual Classified School Employees Week event. Only classified staff in K-12 schools are currently eligible for the new award.
"Anyone who works in a school will tell you that non-teaching staff are essential to the work we do," Weingarten said. "This is the culmination of a tremendous effort by our members and leaders to raise the profile of some of the hardest-working people in our schools."